Priya Serrao crowned Miss Universe Australia 2019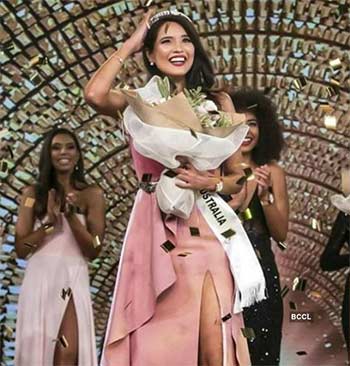 Another Australian beauty of Indian origin was honored with the biggest of beauty crowns, the prestigious Miss Universe Australia. Priya Serrao, an Indian born Australian was recently chosen as 2019 Miss Universe Australia, one of the grandest beauty pageants in the country!
It's a proud moment for the country people as another Indian residing in a foreign country has received this grand honor. In an intense finale round, Priya successfully defeated 27 other finalists to wear the title of 2019 Miss Universe Aus. The 26-year-old said, 'I still can't believe everything that's happened in the last 24 hours. A huge thank you for all your support so far. I can't wait to get started!' while announcing her victory on Instagram.
Priya Serrao is a law and public policy student, who intends to raise awareness about multiculturalism, and diversity, despite winning the title of Miss Universe Australia. Born in Belmanny, Karnataka Priya starting years were spent in Oman, and later she moved to Australia at the age of 11 years.
Before entering the beauty pageant, Priya doesn't hold any prior modeling experience. And that's the reason she wasn't sure to be actually crowned with the title of Miss Universe Australia. She holds two different university degrees in Arts and Law. Serrao describes herself as a nerdy person, with a normal 9 to 5 job at Victorian Government's Department of Jobs, Precincts, and Regions.
declared the winner of 2019
Australia's biggest beauty pageant
Miss Universe Australia
Australian beauty of Indian origin
Indian born Australian
law and public policy student
Victorian Government's Department