Priyanka Chopra Joins UN General Assembly Meet In New York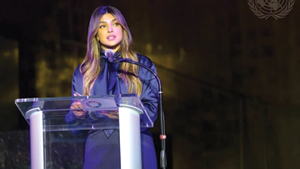 Priyanka Chopra and her achievements have always made us proud. Recently, she attended the United Nations General Assembly Meet in New York. She became the Global UNICEF Goodwill Ambassador back in 2016 and has been working for child welfare ever since. This time, she felt extremely honored and privileged to join the UNGA meeting as a representative of UNICEF and share her thoughts. Priyanka took to her Instagram handle to share her experience, including photos and videos of the event, with her followers.
She expressed her sheer pride in walking through the UN gates for the second time as a UNICEF representative. With this year's top priority being Sustainable Development Goals, she expressed the need for urgency in transforming the objectives of Sustainable Development into reality. She profusely thanked UN Secretary-General António Guterres for giving her the opportunity to attend the event and share her views.
Chopra also participated in the Transforming Education Summit. It was difficult for her to believe that almost 2/3 of children across the globe cannot read and understand a simple story. In this respect, she quoted the opinions of the US Secretary of Education, Dr. Miguel Cardona, and poet Amanda Gorman. Both of them stressed the necessity of getting every child educated as education is everyone's birthright.
Chopra had the opportunity to meet the Nobel Laureate Malala Yousafzai at this event. She shared some of her photographs of herself with Yousafzai, Gorman, and other celebrated participants on her Instagram handle.
Priyanka Chopra
UN General Assembly
Malala Yousafzai
Amanda Gorman
Global UNICEF Goodwill Ambassador