Punam and Atit
It took Punam and Atit eleven months to begin dating after first connecting through an online dating website. Punam, a physician in General Surgery and Atit, a manager at ExxonMobil, became close friends after their initial contact online, but had their official first date in Houston at a World Series baseball game months later. Atit's classy, traditional, and kind values impressed Punam right away.
In May 2018, Atit and Punam explored the picturesque landscapes, castles and beaches of Portugal and Spain together. On one such beautiful day of exploring the outskirts of Sintra amidst violinists serenading them, Atit got down on his knee and proposed. Atit's beautiful and heartfelt words are forever etched in Punam's mind as her 'Yes' is in Atit's.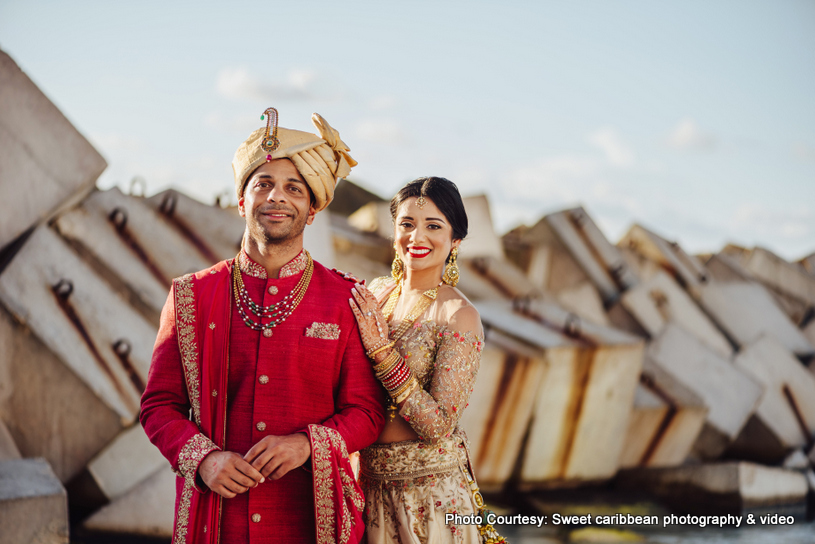 Atit and Punam sought the help of wedding planner Juan Carlos Castillo to coordinate and plan the details of their wedding. They chose Cancun, Mexico, as the destination for their wedding and reception due to the easy accessibility from Atit's hometown Houston and Punam's family home in Florida. Juan Castillo's expertise as a wedding planner ensured that Punam and Atit were able to enjoy the process with weekly conference calls. A couple of quick trips to Mexico by the bride and groom were all that was needed to finalize the menu, venue, and décor.
An outdoor pithi ceremony with vibrant décor and Bollywood music at Punam's home in Florida was one of the pre-wedding rituals. It gave the wedding guests a chance to meet each other. Their wedding week coincided with Halloween, so the bride and groom along with their guests dressed in costume and partied the night away. On the day of the wedding, Atit and twenty of his close friends rode a yacht and came ashore on jet skis. Atit astride a white horse accompanied by dhol players led the baraat to the ceremony.
Punam's parents warmly welcomed Atit and escorted him to the mandap. After he was seated, the ring bearers, flower girls, and bridesmaids walked down the aisle. Punam, escorted by her father, looked gorgeous and stole Atit's breath away as she glided down the aisle.
Atit and Punam made their grand appearance as the newly married couple to Calvin Harris' "Feels So Good." After their first dance to Arijit Singh's "Pal ek pal," Atit surprised Punam by picking her up in his arms as fireworks exploded in the sky marking their special moment. However, Punam, a trained and accomplished dancer, managed to surprise Atit as well with her solo performance to "Deewani Mastana" making the deeply touched Atit forget the words of his speech.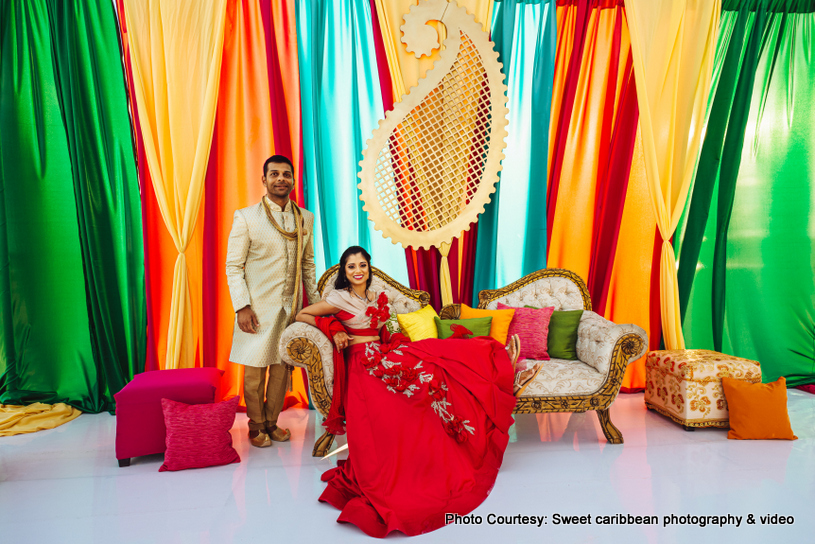 ---
BANQUET HALLS Hyatt Ziva Cancun | BEAUTICIANS-COSMETICIAN Sara Tamargo | DISC JOCKEY S&S Production & Entertainment | EVENT PLANNER Juan Carlos Castillo | HORSE Drums In Paradise | MEHNDI Lemons & Mehndi by Styling Trio | PHOTOGRAPHER Sweet Caribbean Photography & Video | PRIEST Bernardo Soriano
---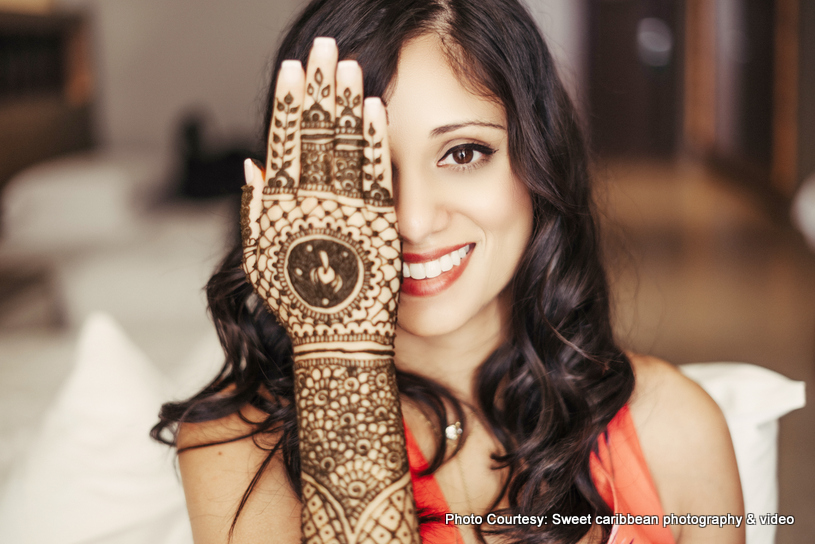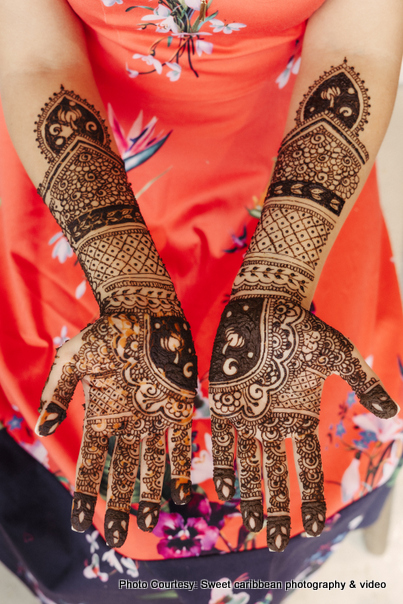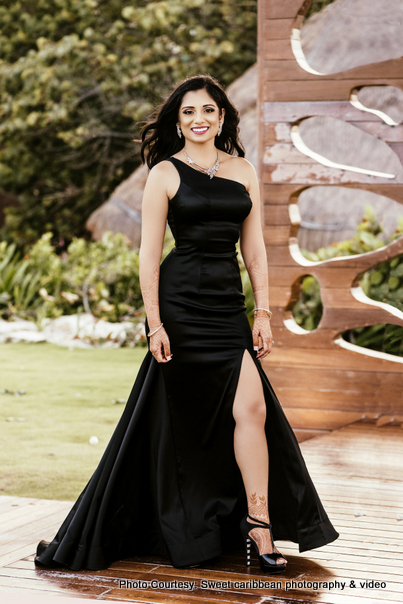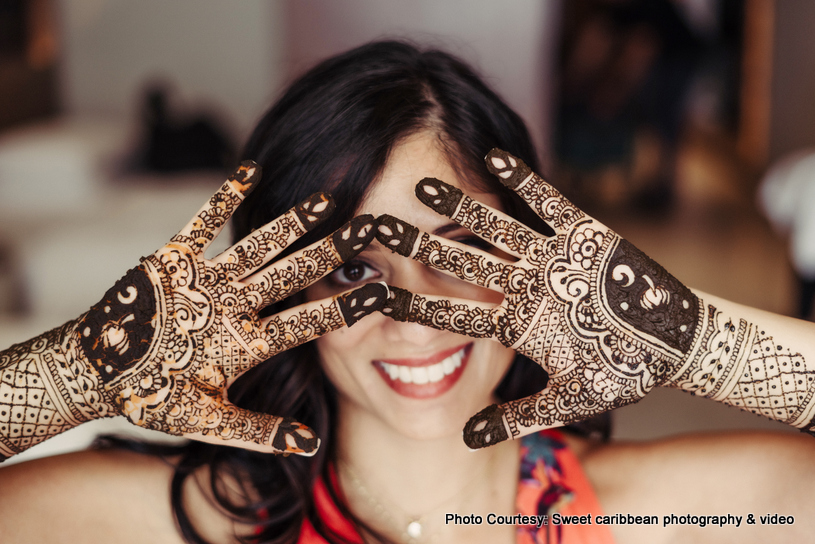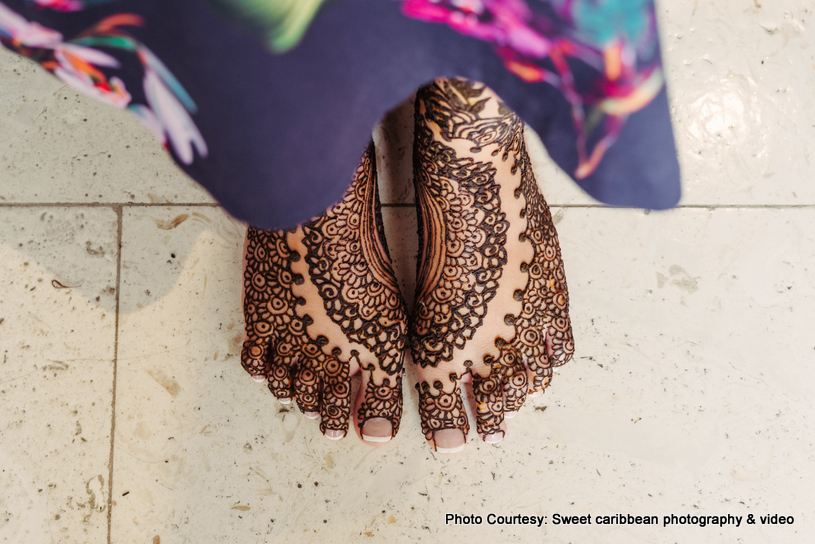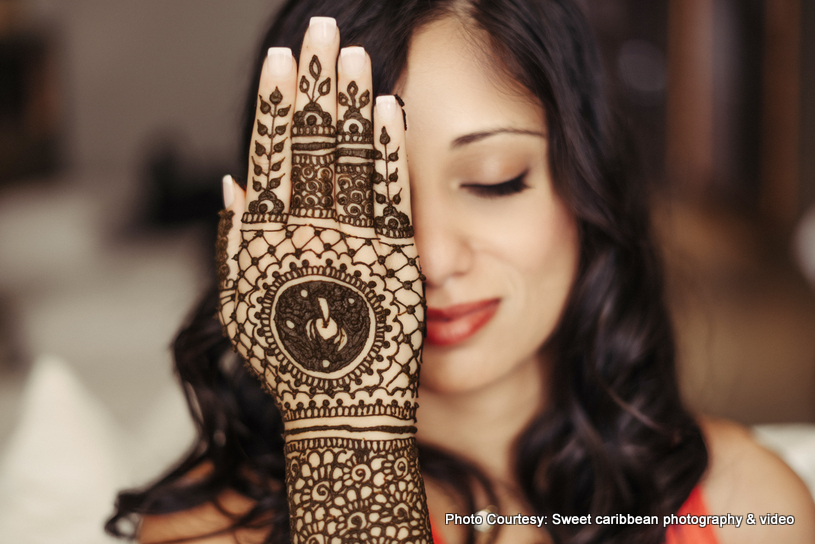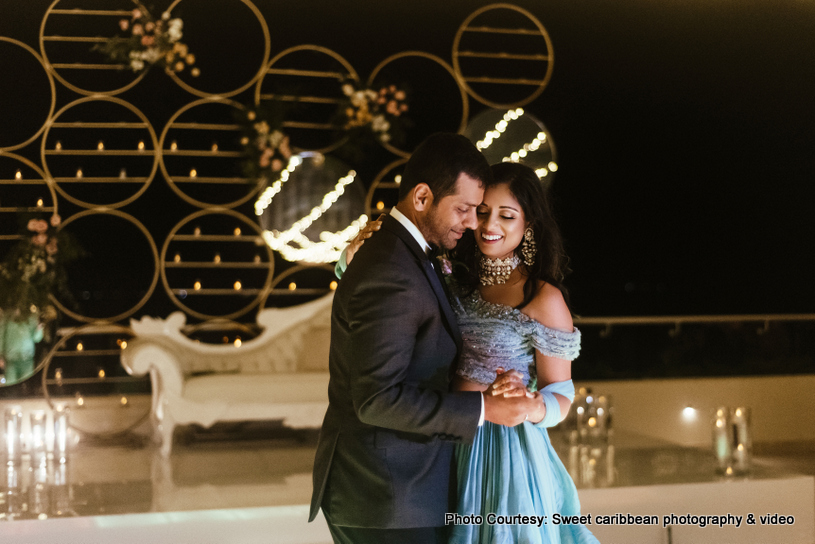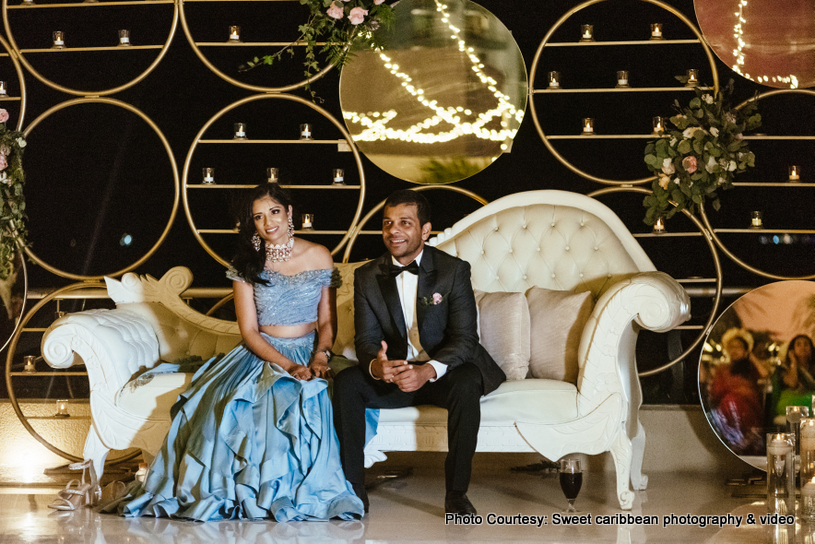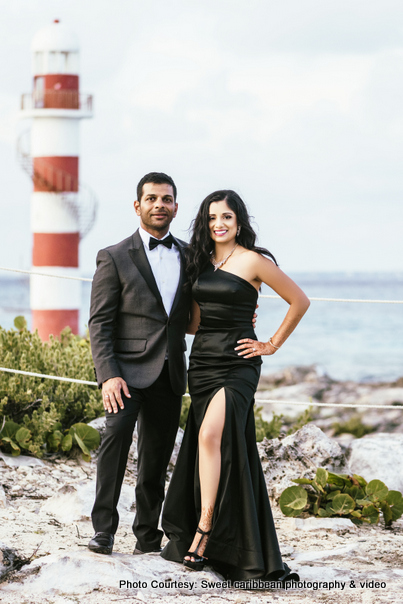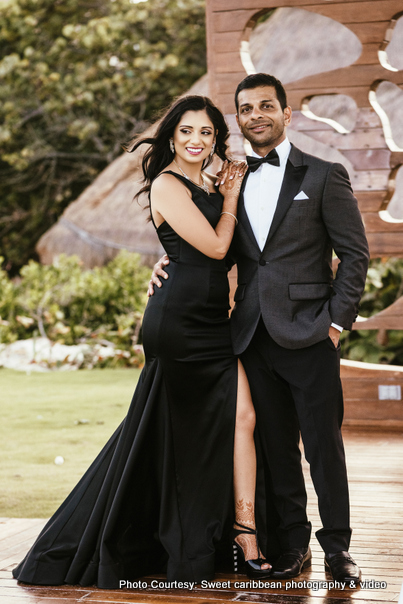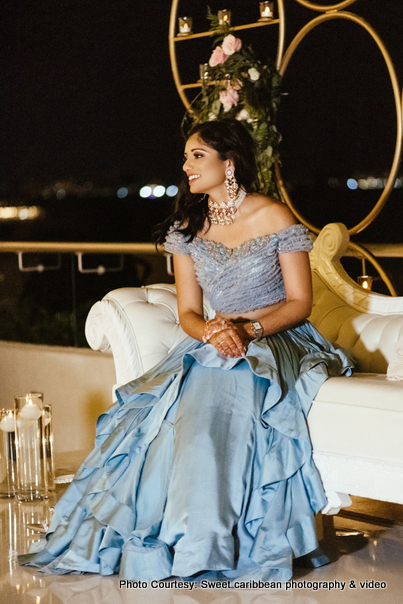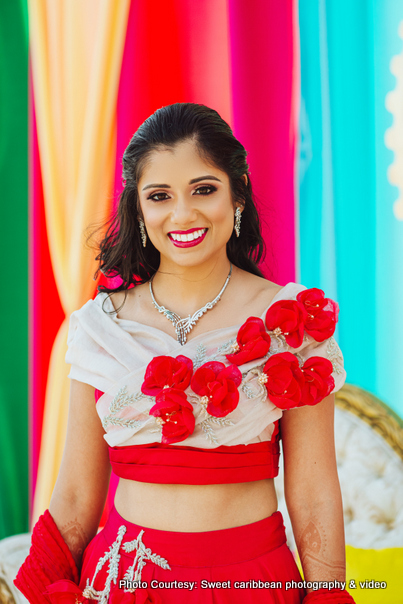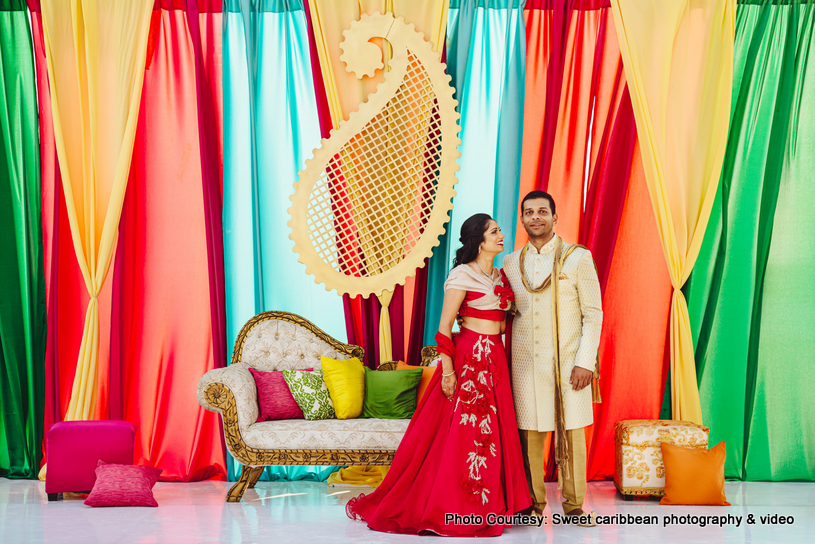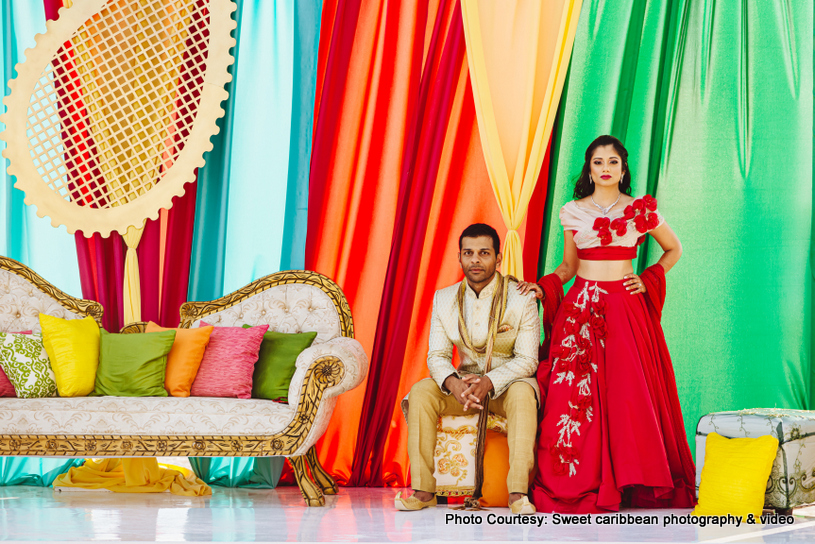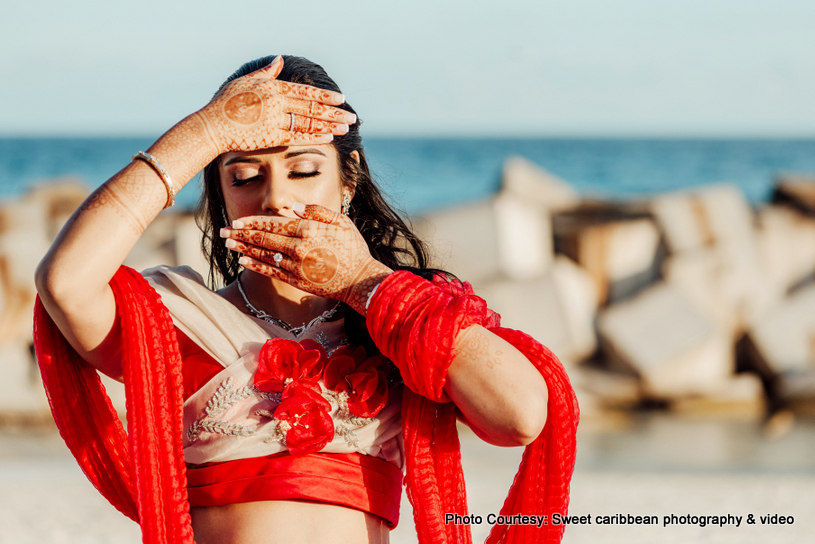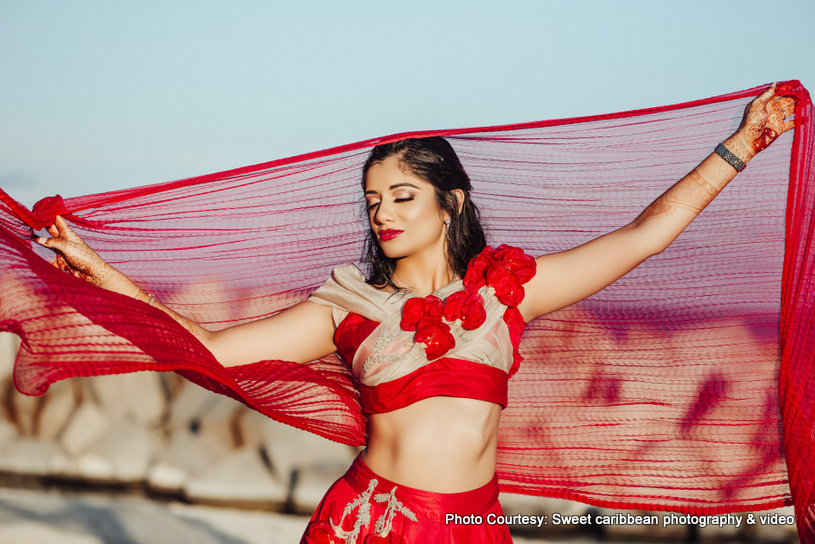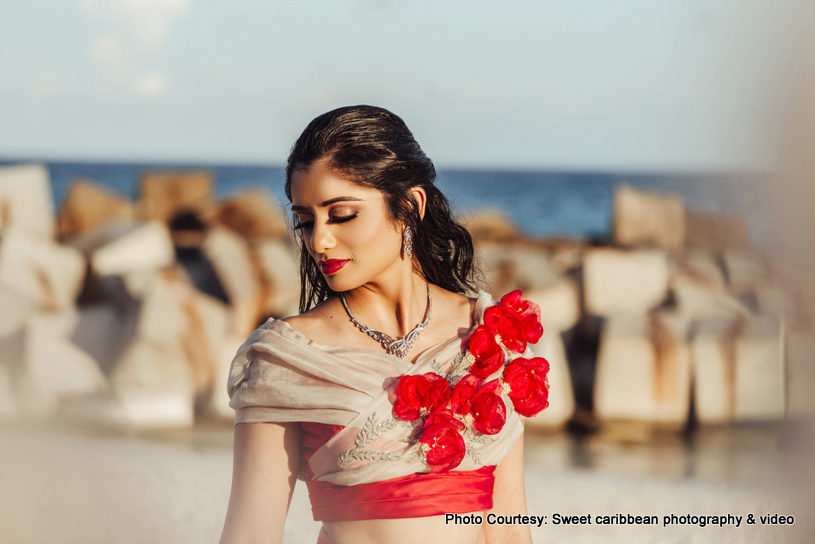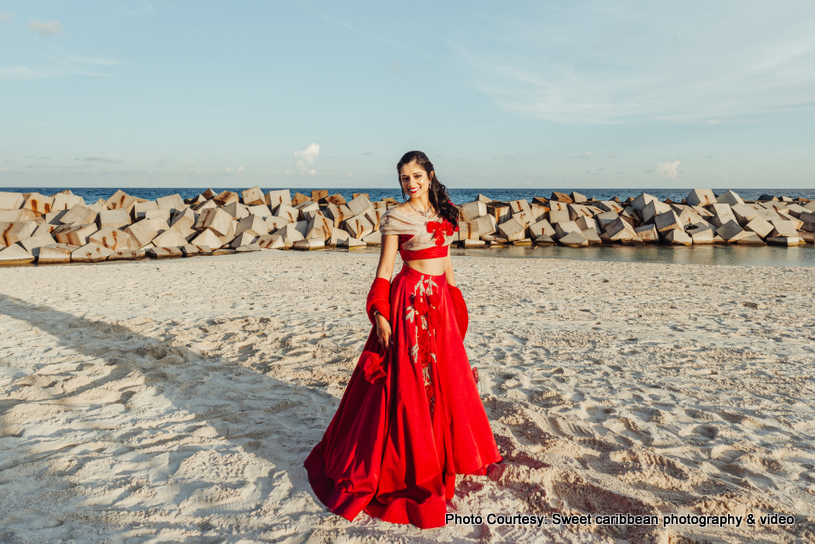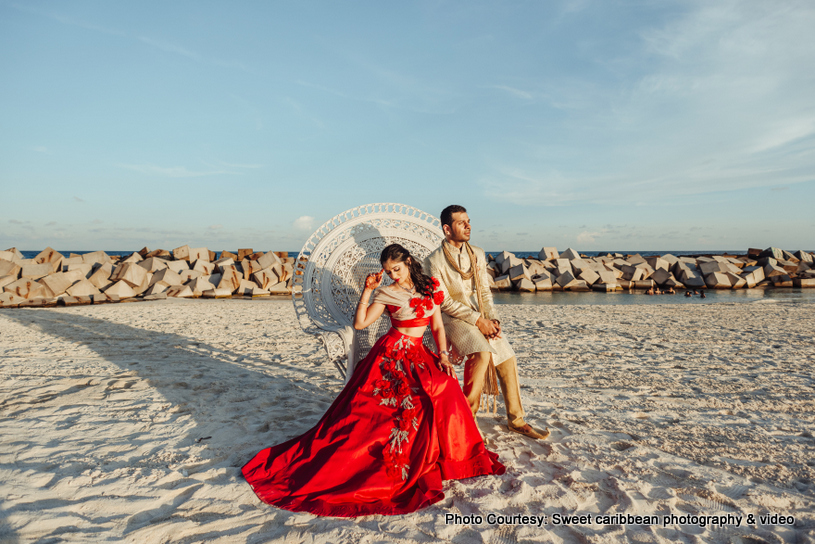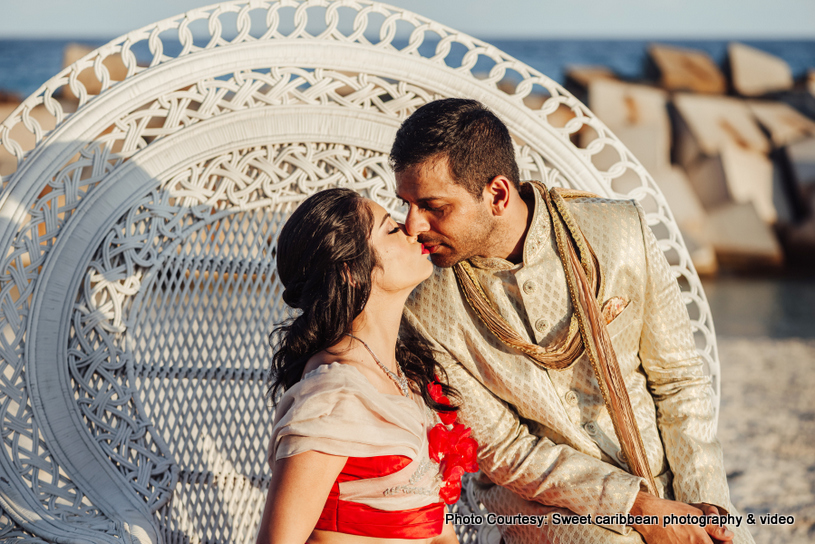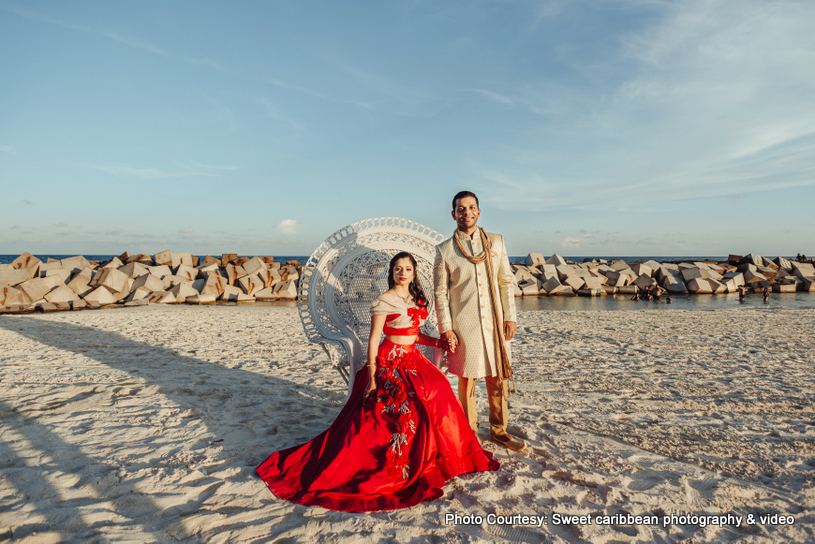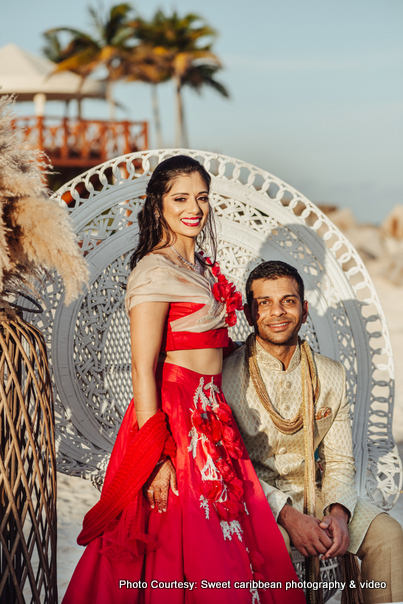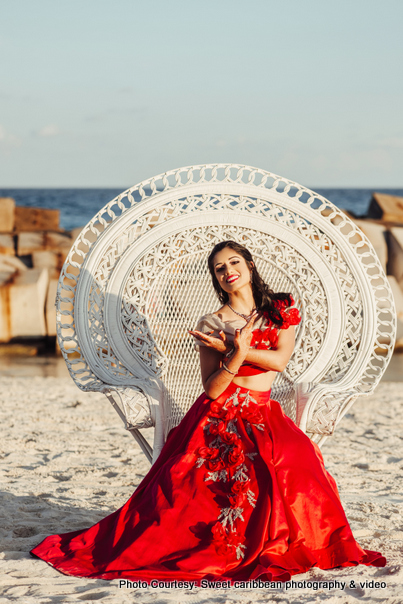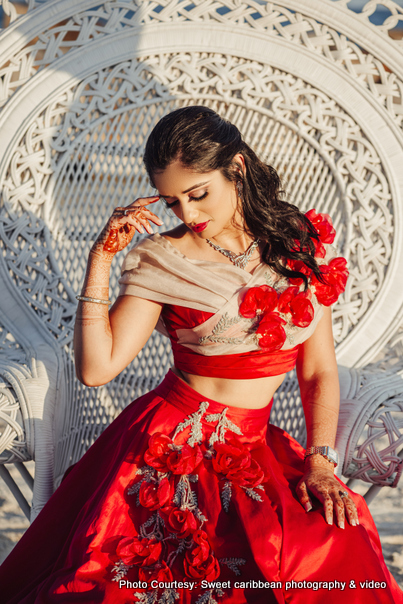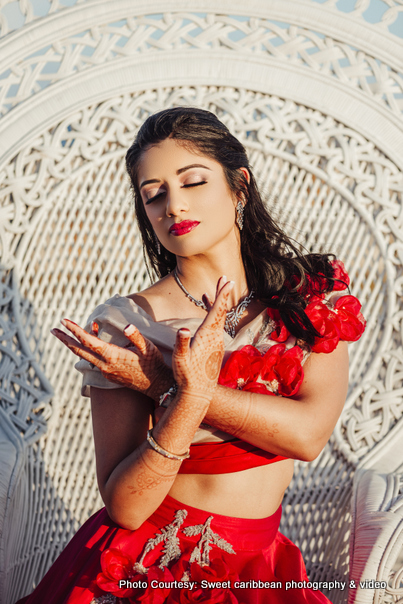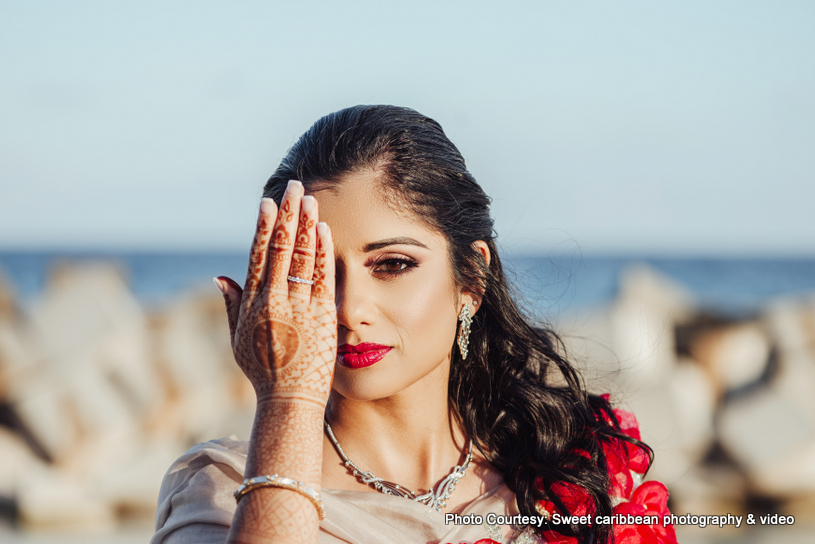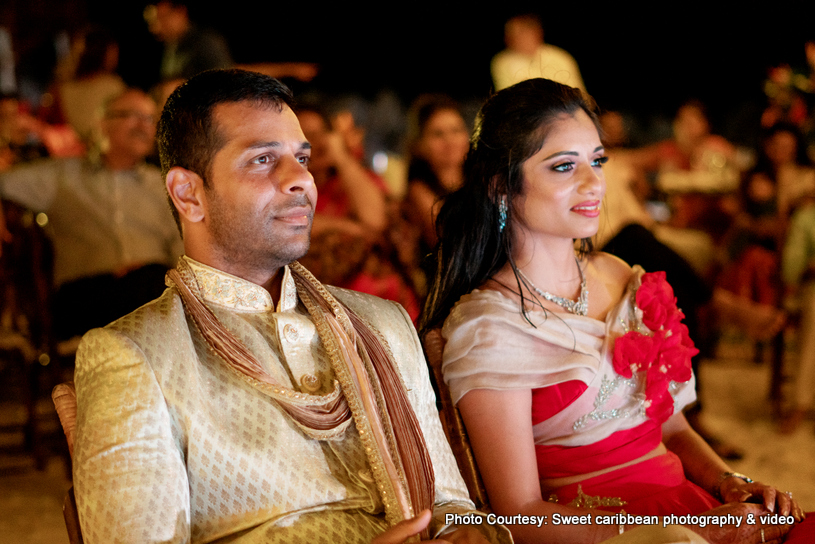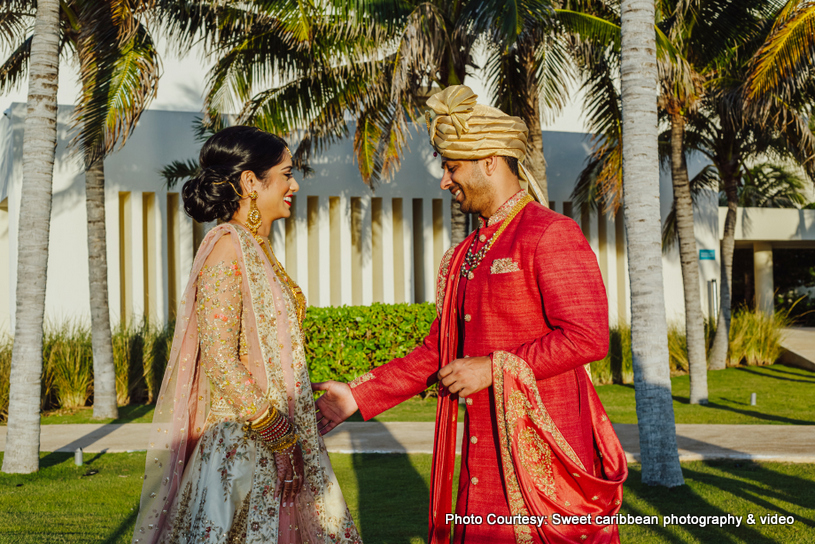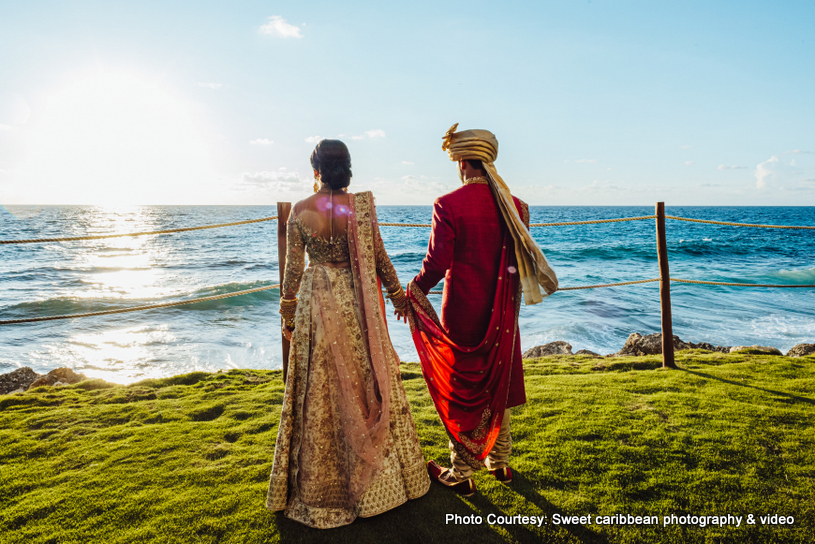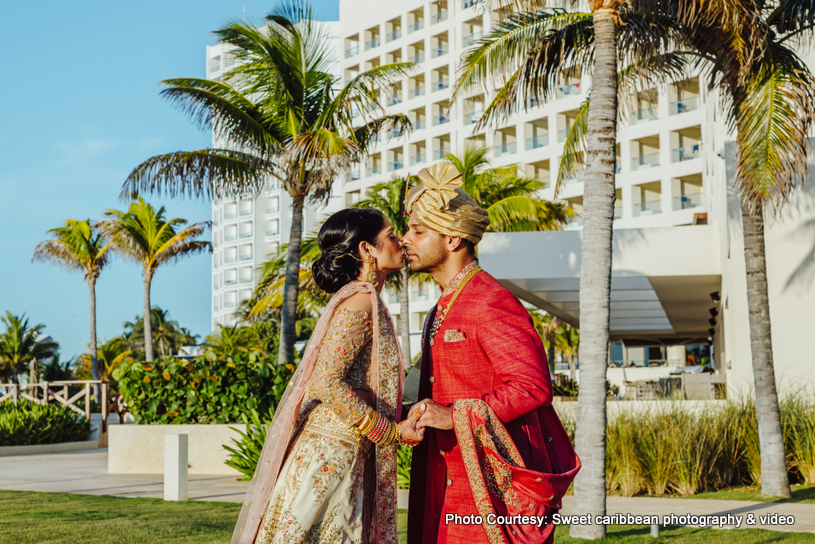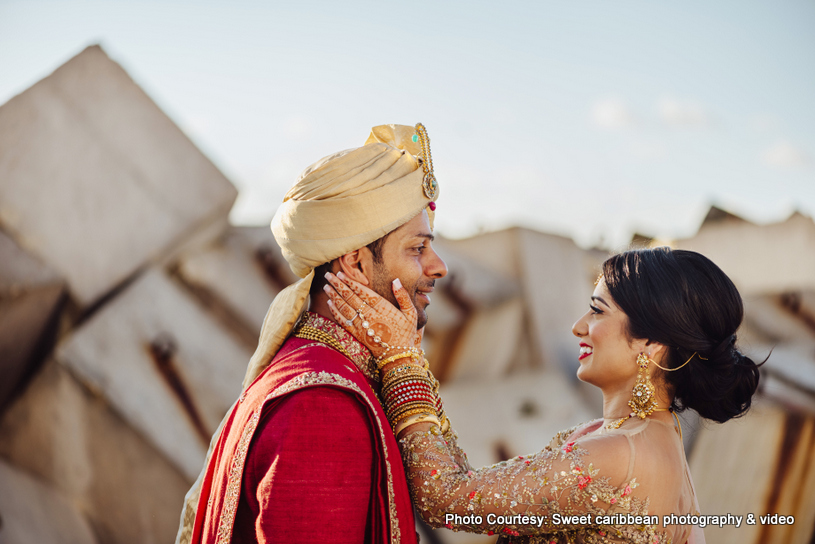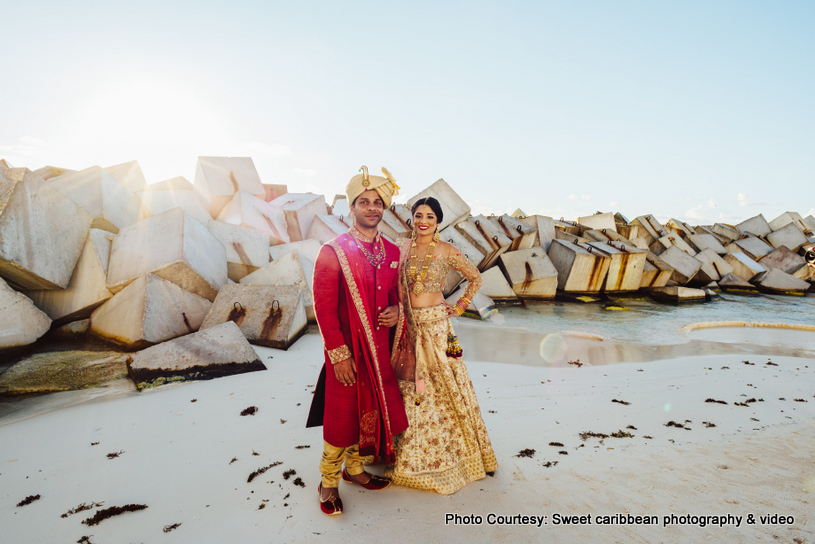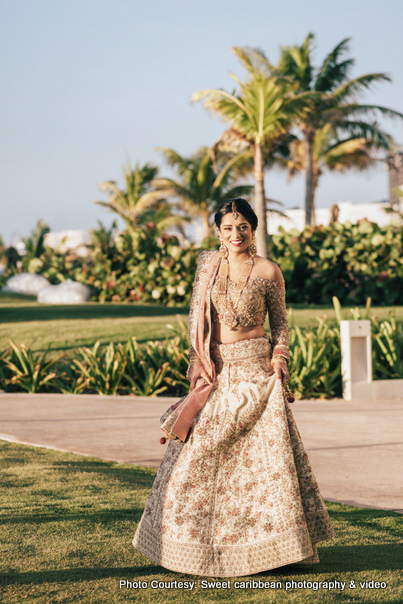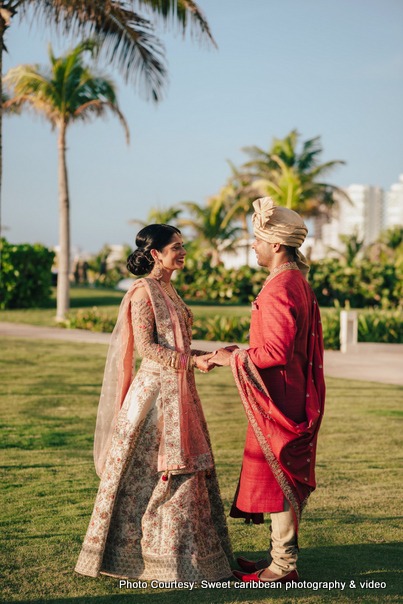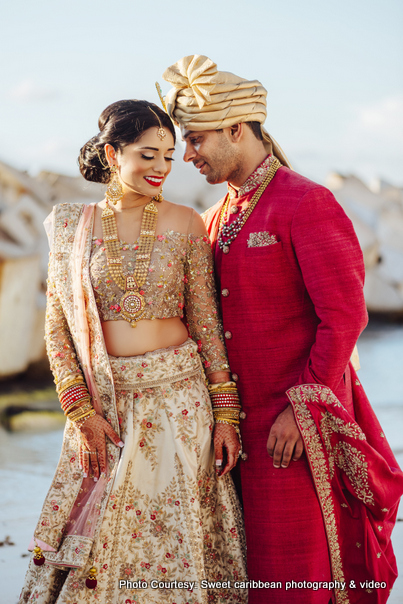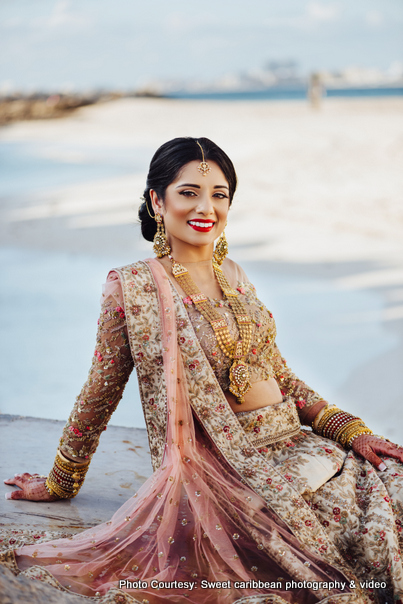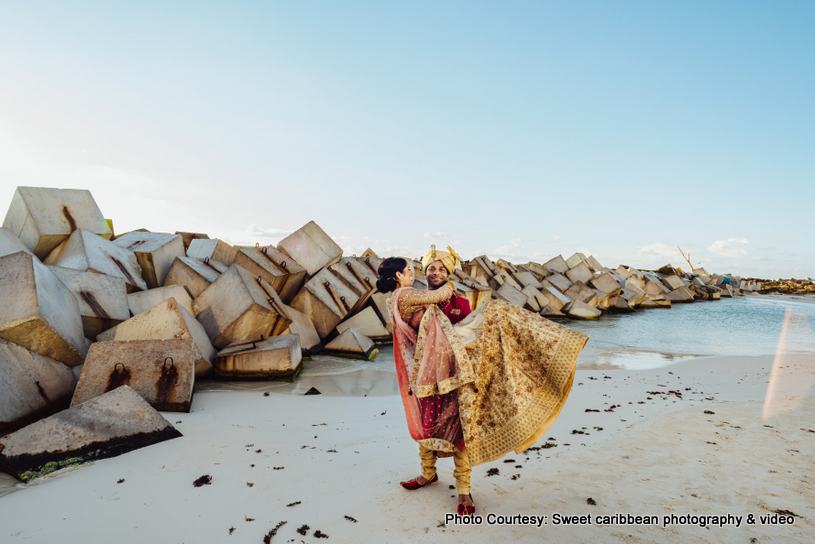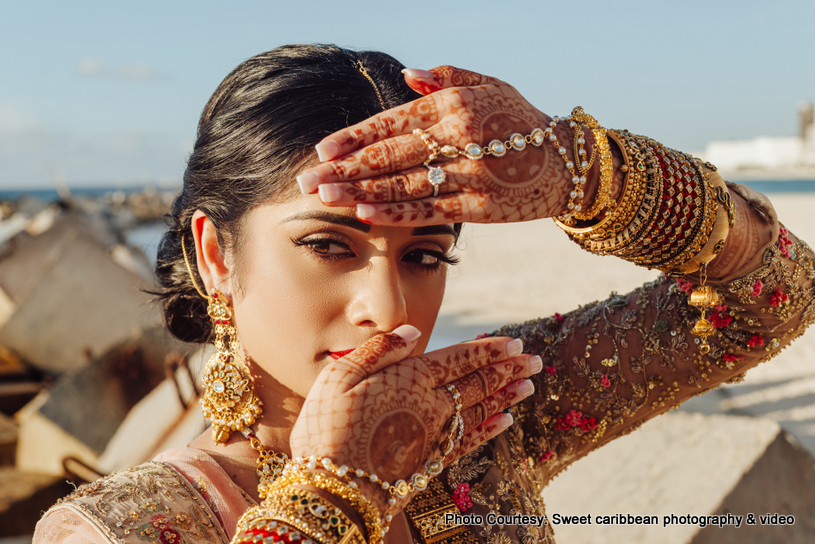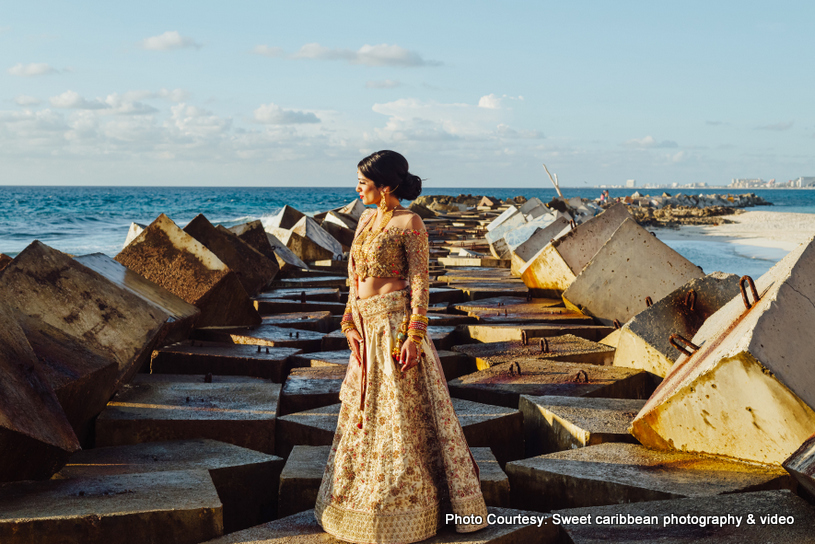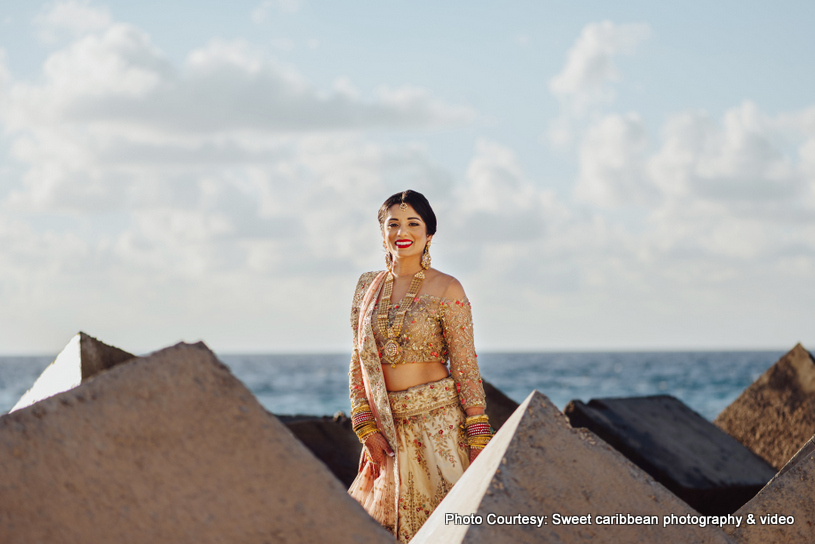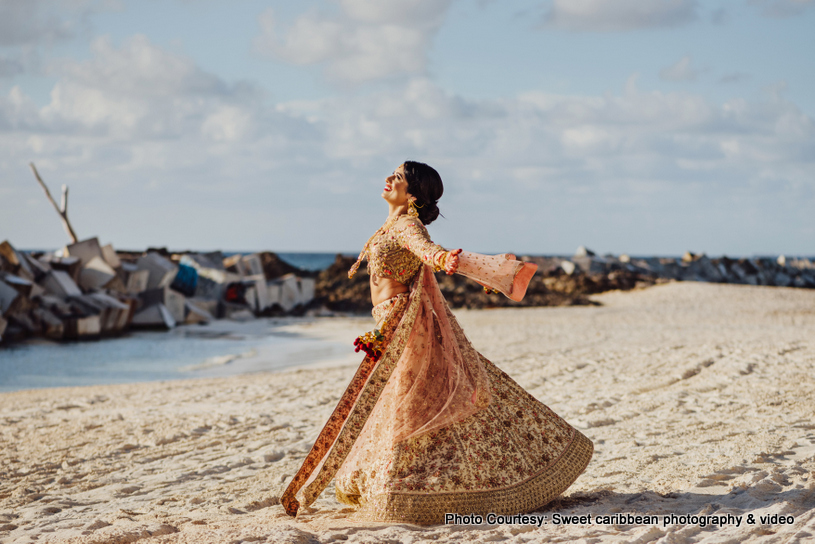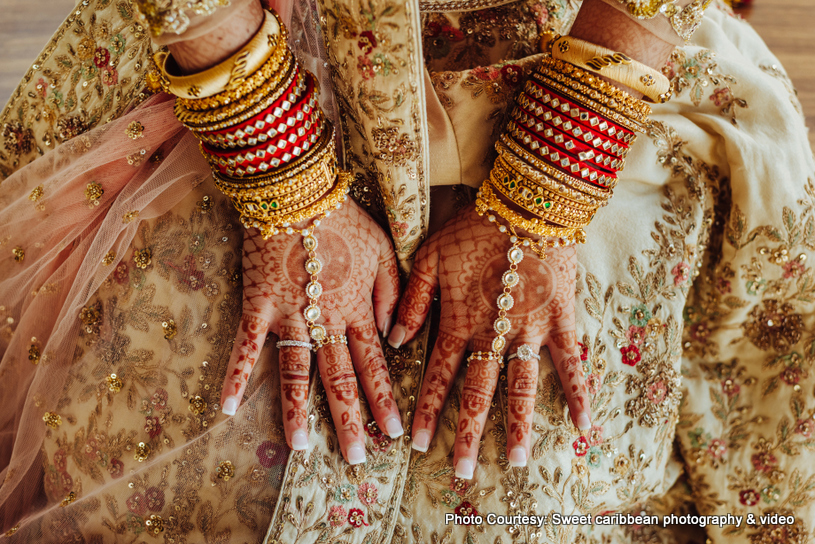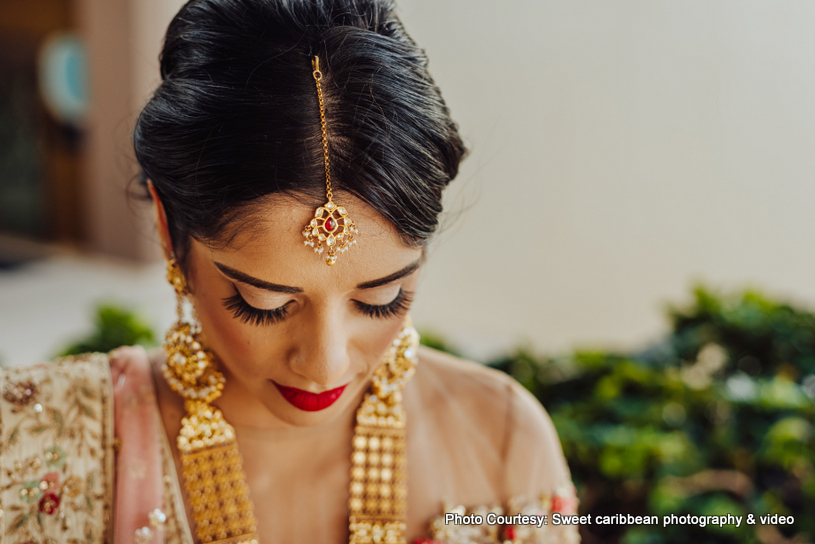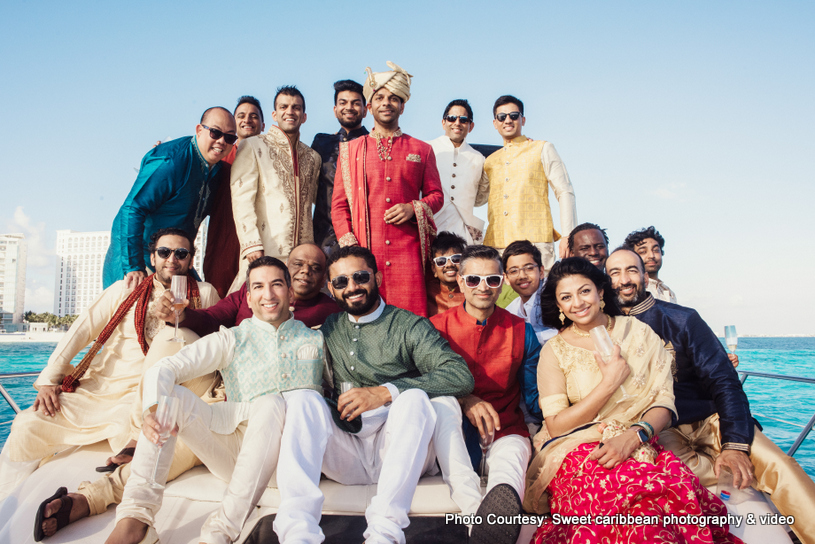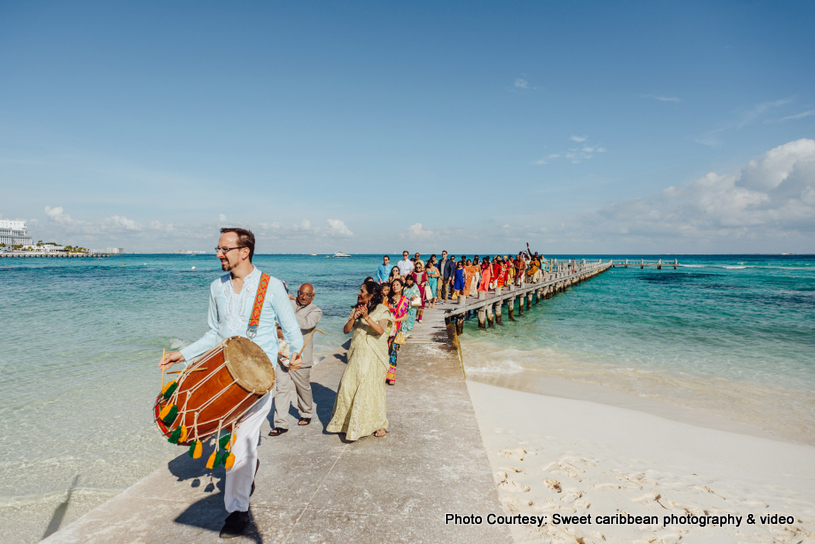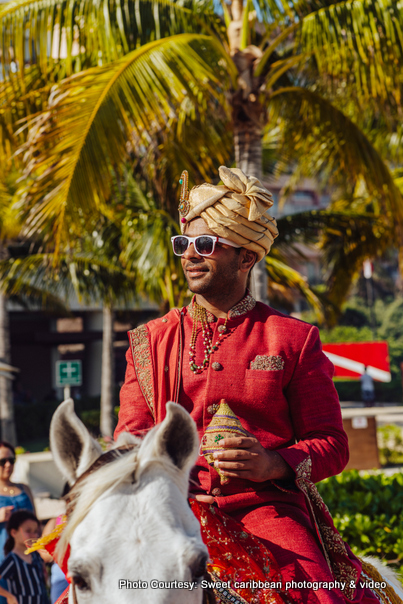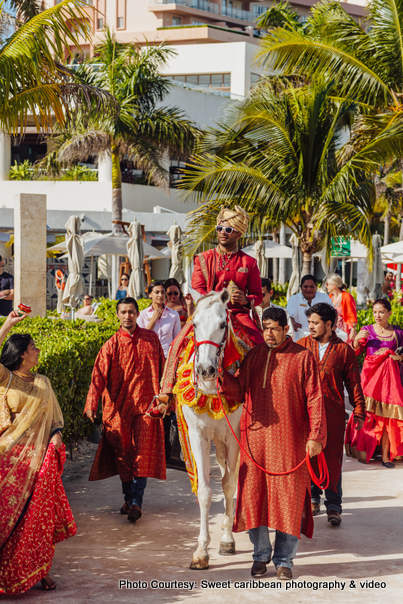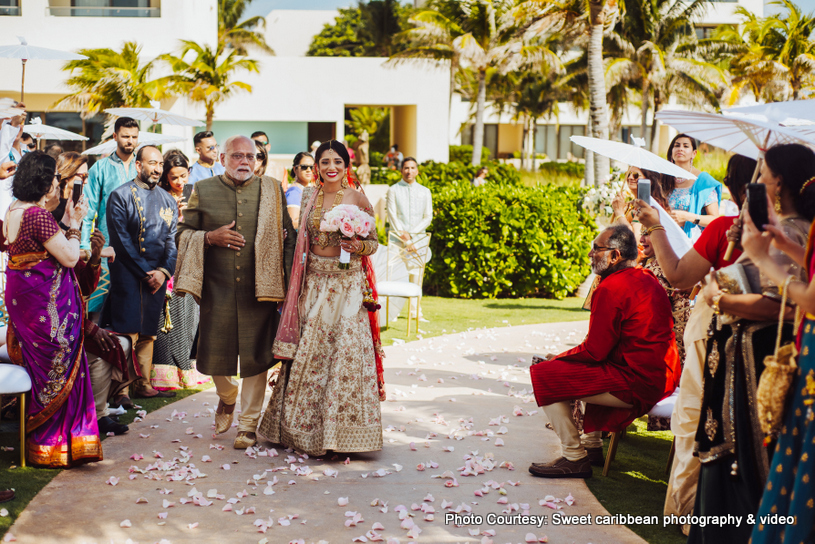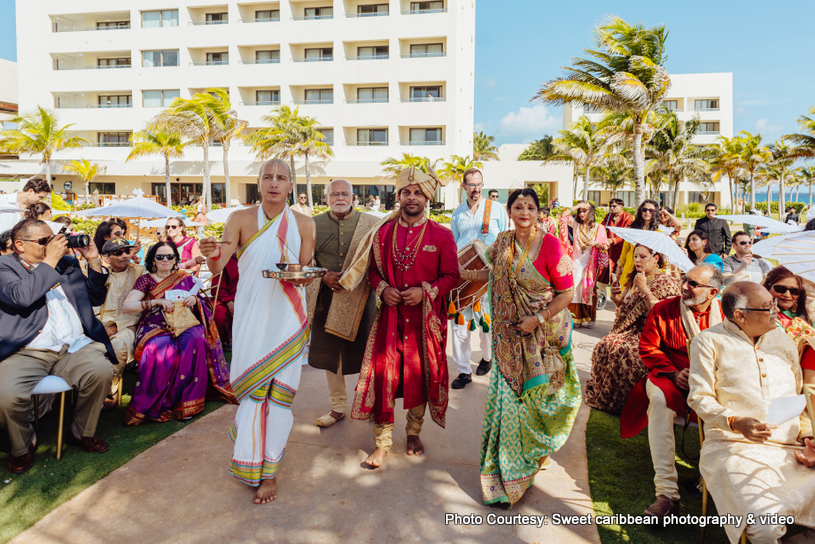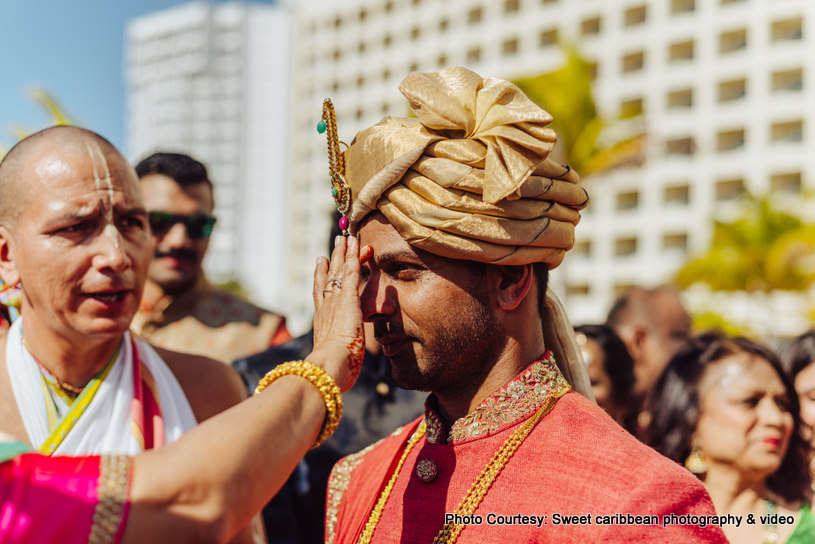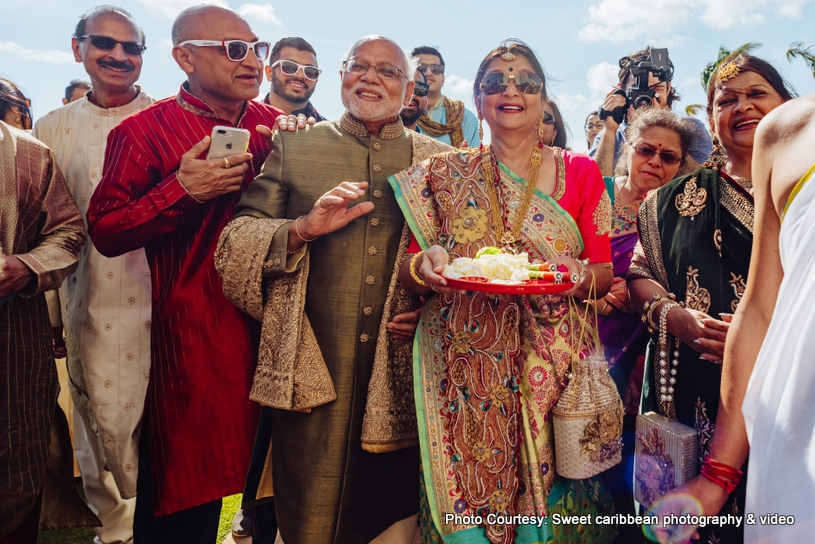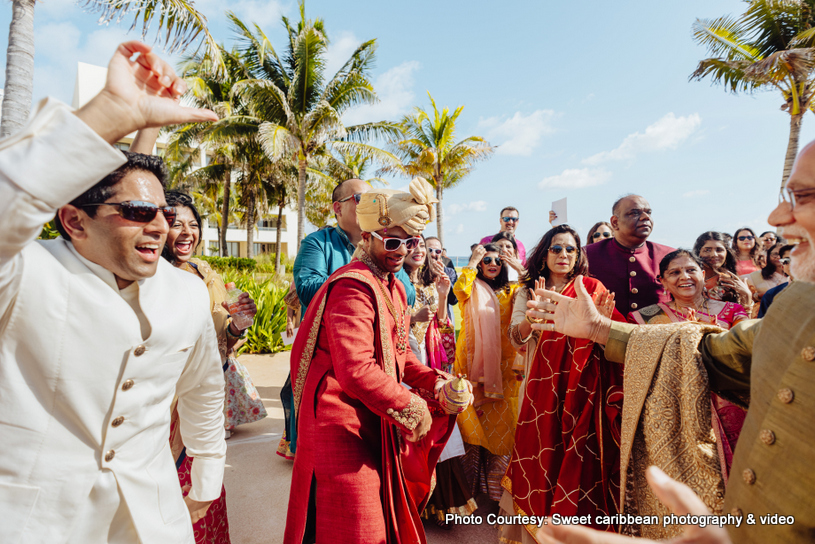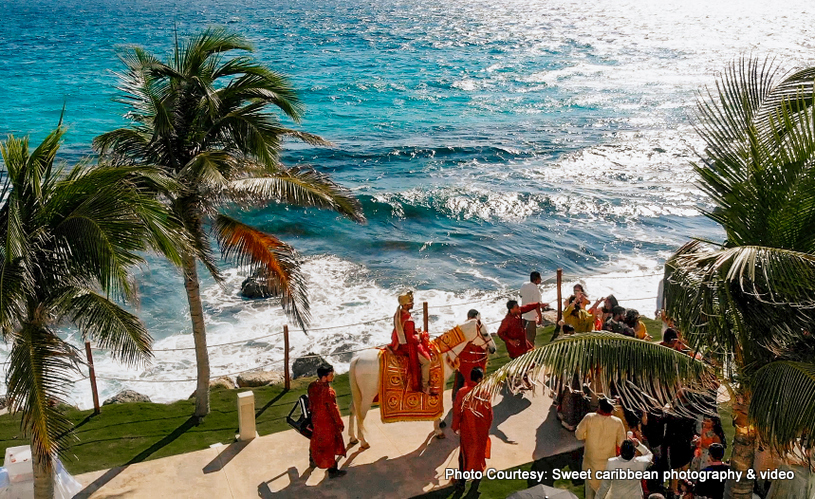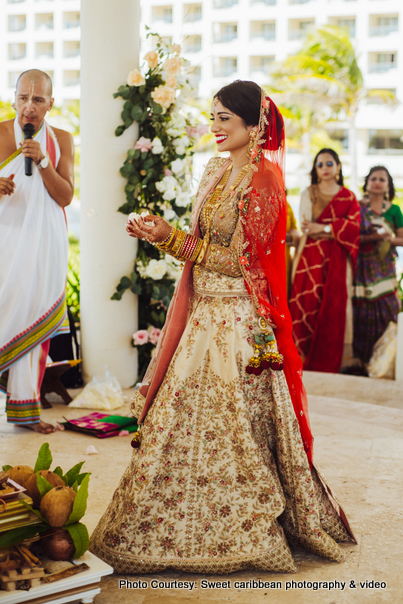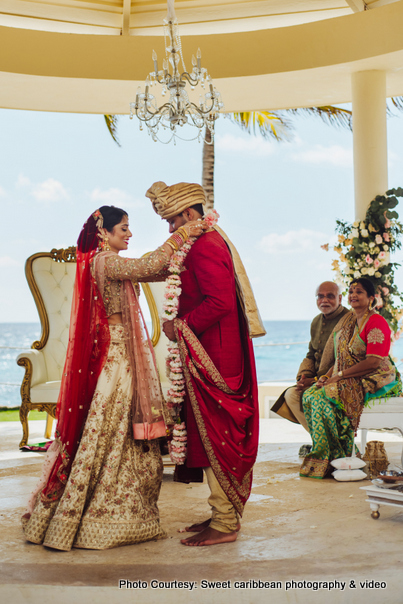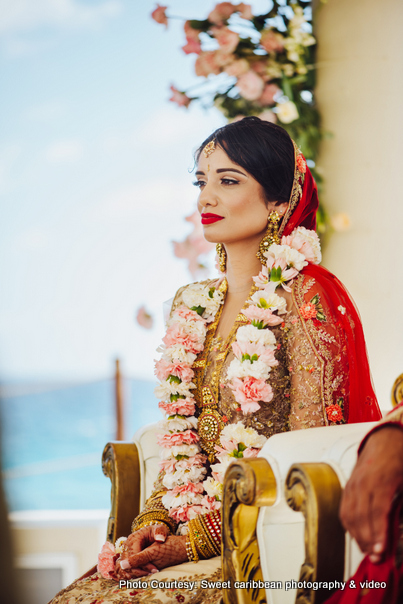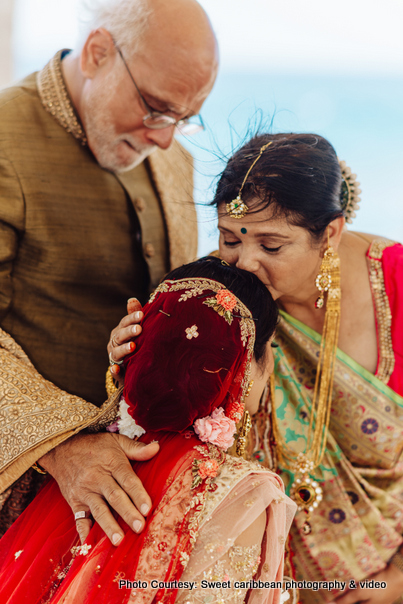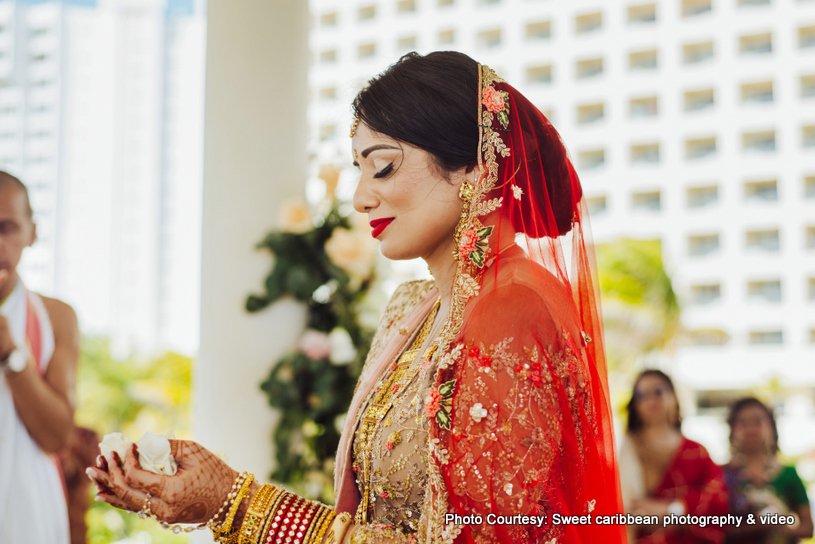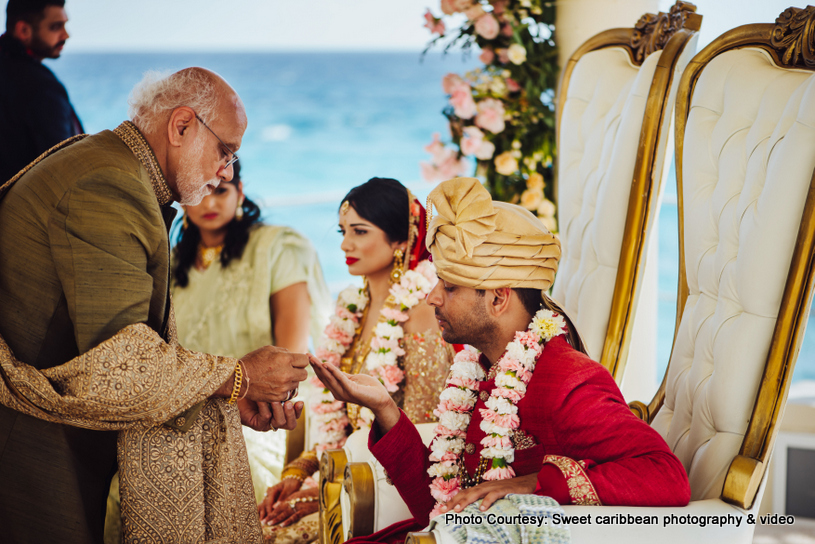 shaadi playlist
saptapadi meaning of each step
saptapadi mantras and meaning
marriage items list in gujarati
how to plan an indian wedding on a budget
how to get ready for south indian marriage function
haldi ceremony quotes in marathi
gujrati panetar sarees
gujarati wedding garba
gujarati wedding customs
what to wear to a muslim wedding as a guest
sikh wedding traditions
what is haldi in english
what to wear to a garba
what to expect at an indian wedding
what is a baraat
what to wear to an indian wedding male
questions to ask wedding venue after booking
indian wedding budget calculator
what to wear to a mehndi ceremony
how to dress for indian wedding as a guest
what is a mehndi ceremony
saptapadi
haldi ceremony
Henna Celebration
Mehandi Celebration
sarees history
what does the bindi represent
how much does an indian wedding cost
Indian Wedding Photographer
Indian Wedding hair And Make-up Artists
online dating website
physician in General Surgery
ExxonMobil
Houston
World Series baseball game
traditional
picturesque landscapes
castles
beaches of Portugal
Spain
Sintra amidst violinists serenading
wedding planner
Juan Carlos Castillo
Cancun
Mexico
Florida
menu, venue
décor
pithi ceremony
vibrant décor
Bollywood music
pre-wedding rituals
wedding guests
Halloween
white horse
dhol players
baraat
mandap
bearers
flower girls
bridesmaids
Calvin Harris
Arijit Singh
Pal ek pal
fireworks exploded in the sky
Deewani Mastana
Beautician
DISC JOCKEY
S&S Production & Entertainment
Drums In Paradise
Lemons & Mehndi by Styling Trio
Sweet Caribbean Photography & Video
Bernardo Soriano