Quick and Easy Holiday Recipes
Since September, many South Asians have been in "holiday" mode. Entertaining guests, cooking, and cleaning have no doubt become a part of your everyday activities. As the New Year approaches, this festive mood and atmosphere remains in tact as intimate get-togethers and festive parties mark everyone's calendars.
While entertaining is fun and exciting, you may be at a loss at what to serve your guests. To ensure your guests are well fed and in good spirits, try some of these easy, sure-to-please recipes. So don't get stuck in the kitchen! Make sure you have to time to join in the festivities – keep it simple, but tasty!
---
Pan Seared Cauliflower
Quick and easy, this appetizer is a crowd-pleaser.
Ingredients
• 1 head of cauliflower, cut to bite size florets
• 1 tablespoon olive oil
• Salt, to taste
• Red chili powder, to taste
• Amchur (dry mango powder), to taste
• Chat masala, to taste
• Onion, thinly sliced
• Cilantro, chopped
Directions
Rinse cauliflower florets with water and lightly salt them in a microwave safe bowl.
Cover and microwave cauliflower until half-cooked (about 3 minutes), or steam until half-cooked.
Drizzle a little olive oil on the cauliflower. Sprinkle with the red chili powder and additional salt, if needed.
Heat a non-stick skillet and caramelize the cauliflower in a little bit of olive oil. Lightly press the cauliflower as you cook to brown. Once cooked, remove from pan.
In the same pan, caramelize the onion slices. Add salt, if needed, at the end.
Arrange the cauliflower and onions on serving dish. Sprinkle with amchur, red chili powder, and chat masala to taste. Garnish with chopped cilantro (coriander leaves).
---
Bhurji Stuffed Bell Peppers
Make this dish ahead of time and bake
while mingling with guests.
Ingredients
• 2 tablespoons olive oil
• 1 teaspoon jeera (cumin seeds)
• 4-6 garlic cloves, minced
• 1 onion, finely chopped
• 3 tomatoes, finely chopped
• ¼ teaspoon turmeric
• ½ – 1 teaspoon red chili powder
• 2 teaspoons dhaniya (coriander powder)
• 1 teaspoon garam masala
• 1 cup corn
• 1 cup green peas
• paneer, crumbled
• Juice from 1 lemon
• Salt to taste
• Cilantro, chopped
• Bell peppers of different colors as available
Directions
1. Preheat oven to 350 degrees Fahreheit. Coat a baking tray with oil.
2. Prepare the bell peppers by cutting in half and removing seeds from the inside.
3. To prepare stuffing, heat 2 tablespoons of olive oil in a non-stick pan and add the jeera.
4. Once the jeera starts sputtering, add the finely chopped onions and minced garlic.
5. Next add the finely chopped tomatoes. Add the turmeric, red chili powder, dhaniya powder and garam masala.
6. Once the tomatoes are done (you will see the oil begin to separate), add the corn and green peas. Cook for about 5 minutes and then add the crumbled paneer.
7. Cook for 5 – 10 minutes and keep stirring periodically to prevent the ingredients from sticking to the pan.
8. Squeeze in the lemon juice and stir well. Stir in the fresh cilantro and turn off the heat.
9. Stuff the bell peppers with the bhurji stuffing and arrange on baking tray.
10. Bake for 30 – 40 minutes until the skin of the peppers begins to wilt.
11. Serve warm.
---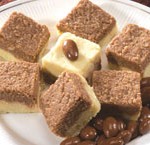 Chocolate Burfi
This dessert is sure to please
young and old alike.
Ingredients
• 2 cups mawa (khoya)
• ¼ cup walnuts, cut into small pieces
• 1/3 cup sugar
• ¼ cup milk
• 2 teaspoons oil
• 3 tablespoons cocoa powder
Directions
1. Grease a baking tray with oil.
1. Heat the crumbled mawa in a pan and roast until golden brown. Add sugar and milk and cook until it thickens.
3. Pour half the mawa mixture onto the baking tray and spread it evenly.
4. To the remaining mixture, add the cocoa powder and walnut pieces. Spread this mixture evenly on top of the first layer, which should have cooled slightly.
5. Garnish with additional walnut pieces.
6. When completely cooled cut into square or diamond shaped pieces. Store in an airtight container.
---
Whipped Mango Parfait
If you're looking for a light ending to a decadent meal,
try this mango delight.
Ingredients
• 2 cups mango puree
• 2 tablespoons lime juice
• 2/3 cup heavy cream
• 1/3 cup plain yogurt
• ¼ teaspoon cardamom powder
• Mint leaves for garnish
Directions
1. Whip the heavy cream until it becomes stiff. Then fold in the yogurt and cardamon powder.
2. Stir lime juice into mango puree. Reserve 4 tablespoons of the mango puree for decoration.
3. Mix the remaining puree into the cream/yogurt mixture and then chill for at least a one hour.
4. Spoon the mixture into serving bowls or stemmed glasses. Drizzle a little of the reserved mango puree on top and garnish with mint leaves.