RakshaBandhan By Satya Nauth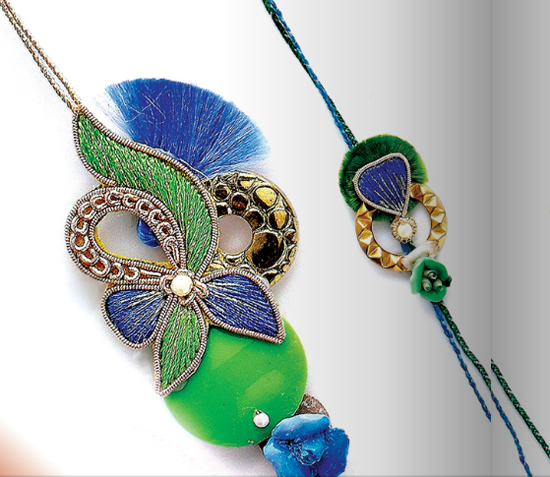 The Hindu festival of Raksha Bandhan was born over 6000 years ago, and as time has drifted on the significance has remained untouched, though the way it is celebrated has metamorphosed with the changing times. Rakhi day is a day to seek the blessing and protection given by brothers and respected brotherly relations alike. The Rakhi is a uniquely woven thread that is tied by the sister on the wrist of her brother, and a prayer is uttered to commemorate the sacred day and honor the oath of brother and sister. The sister then applies a tikka (a dot) on her brother's forehead, aarti's (seeks his blessing) him, while he in turn offers his pledge of protection, love and gives a gift or money to his sister. Raksha Bandhan is an incredible culturally unique celebration that marks the connection between brothers and sisters and the loving brother-sister relationships between men and women who are related and in some cases may be unrelated to each other.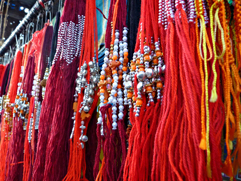 Raksha Bandhan is woven in the history and mythology of India. In ancient times Rajput queens would send rakhis to rulers in an effort to unite kingdoms and foster a sense of brotherhood. It is said that in 1535 CE, Rani Karnavati, the widowed queen of the of King Chittor, sent a rakhi to emperor Humayun when she realized an invasion by Bahadur Shah, the sultan of Gujarat, was imminent. Humayun was touched by the gesture and immediately rode off in the direction of Chittor to defend his sister. There have been many similar instances in history where the Rakhi has been regarded with high respect and honor.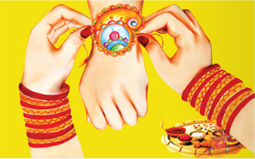 When Alexander the Great invaded India in 326 BCE, his wife sent the sacred knot to King Porus, a Katoch King, in an effort to safeguard her husband. It is said that the king refrained from taking the life of Alexander because of the Rakhi. August 10, 2014 will mark another year of this joyous celebration. People all over the world will join in rejoicing on the full moon day called Shravan Poornima in the month of Shravan (August). Raksha Bandhan means "The Sacred Knot" or "The Bond of Protection." It has served as a knot of protection, servitude, and honor. This sacred knot is literally the bond of brother and sister. But more so, it represents the dedication of a brother to his sister and her love and respect for him.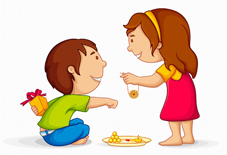 Raksha Bandhan is deeply imbedded in Hinduism. According to the Bhagavata Purana, after Lord Vishnu defeated and won three worlds from the Demon King Bali, he invited Lord Vishnu to live in his palace. The Goddess Lakshmi felt uncomfortable living in the palace with Bali and therefore offered a Rakhi to Bali. Bali accepted her as his sister and granted her request that Lord Vishnu and her return to Vaikuntha, their home. The Mahabarat also details the epic of Krishna and Drupadi. Drupadi tied a rakhi on the wrist of Krishna before the Great War. It is almost as though this simple thread held the omnipotence of protection over those that observed Raksha Bandhan and wore the rakhi.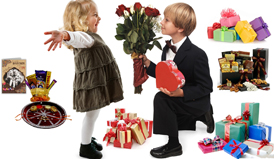 Raksha Bandhan is celebrated in India and in many other cultures that have Indian influences. It is observed in Mauritius, Pakistan, Nepal, the Caribbean, United Kingdom, and the United States to name only a few countries and territories. The commemoration of Raksha Bandhan is celebrated by Hindus as well as Jains and Sikhs. Raksha Bandhan is known as a celebration that diminishes all barriers imposed by caste, color, creed and religion. Raksha Bandhan means that siblings and families reunite, cook Indian dishes, prepare sweets and rejoice. It is the perfect excuse to throw a reunion and kindle the fires of love and family.Today, the manner in which Rakhi day is celebrated has been completely revolutionized; however, the significance and the principle of the rakhi has remained unchanged. People lead busy, hectic, stressful lives and technology has contributed to the ease and flow of our lives. Sisters send rakhi sms (electronic message) or an E-Rakhi card in the event that they will not meet their Rakhi brothers. There are rakhi poems, rakhi songs, rakhi baskets and gift sets that can be bought online.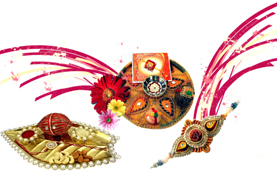 Many sisters also mail the traditional rakhi along with a gift to make up for not being able to physically meet. The idea of gifting is an integral part of the celebration and in today's day and generation many have opted to replace the traditional rakhi with jewelry in the form of a watch or bracelet. Years ago brothers did the gifting, but today sisters also reciprocate and do the honors as well. A new trend of Raksha Bandhan is buying an actual rakhi that is made out of gold, silver or pearl and adorned with precious and semi-precious stones. Believe it or not rakhi gifts can be delivered in any part of the world from California to Europe to the Philippines. Raksha Bandhan can be said to be a unifying and harmonizing celebration of religions, cultures and people all across the world. Celebrating Rakha Bandhan is an act that purifies and strengthens the bond between brothers and sisters, cousins, friends, neighbors and even amongst political parties and dignitaries. The rakhi transcends the boundaries of life and relationships. It is a yearly reminder of the power of love amongst humans. It is a unifying reminder of the commonalities of love and respect amongst humans. It calls to the eternal need of the human spirit to love each other and foster peace.
Rabindranath Tagore, the Indian Nobel Laureate for literature has played a significant role in history of India and his writings continue to evoke a feeling of comradery, peace and togetherness even today. He was an advocate of the unity and brotherhood of Muslims and Hindus during the Indian colonel period. His writings continue to foster harmony amid people.