Ramola Motwani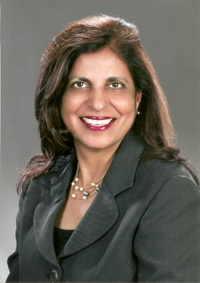 Ramola Motwani is the Chairwoman and CEO of Merrimac Ventures, a real estate management, investment and development company with interests around the US and India. She was born and raised in India where she received her law degree from the Government Law College in Mumbai, India.
Mrs. Motwani began her business career in the US with an import/export business she started with her late husband Ramesh 'Bob' Motwani in St. Charles, Missouri.  In the mid 1980s, they expanded the business into hotels by purchasing numerous properties on Fort Lauderdale Beach. They owned and operated, among others, the Merrimac and Gold Coast Beach Resort Hotels together for many years until Bob passed away in 1994.  Mrs. Motwani then took over the operations of the entire company while raising two teenage sons, Nitin and Dev. She has operated several hotels in Broward County, predominantly on Fort Lauderdale Beach. She also expanded the business while becoming one of the most active local community members, and was instrumental in organizing the group to bring back the Ft Lauderdale Air Show in 2012.
Mrs. Motwani is very active in the Fort Lauderdale community and has been a major component in beach development and redevelopment, transforming the beach from small hotels and motels to an upscale luxury market. She planned the Centennial Beach fest celebration with the City Commission. She was also the founding chairwoman for the Holiday Lights on the Beach and a founding chairwoman of the annual Jeb Bush Classic Beach Bash fundraiser benefiting the Cystic Fibrosis foundation, and is an active member of the United Way of Broward County, serving as their chairwoman for the annual Mayor's Gala.
An active member of the Broward Workshop, Mrs. Motwani has served on the Beach Redevelopment Board, an advisory board to the city of Fort Lauderdale, and is a past Chairwoman of the Beach Council, a Chamber of Commerce Member and past Trustee for many years.  She is a State Board Member of the Florida Restaurant and Lodging Association, Broward Chapter and spearheads their Hospitality Management Program for High Schools. She also serves as a commissioner on the Florida Commission on the Status of Women.
Her civic minded affiliations include being a volunteer with the Citizens Volunteer Corps, a Trustee of the South Florida Hindu Temple, former Vice President of the Indo – US Chamber of Commerce and former president of the Sindhi Association of South Florida, as well as Vice President of the Alliance of Global Sindhi Associations and Treasurer of the Global Sindhi Foundation.
Among her many accolades are the 2006 Chamber of Commerce Women's Circle of Excellence Award for Hospitality, the 2007 Salute to Business Award. She has been inducted to the Junior Achievement Hall of Fame, the NSU Entrepreneur Hall of Fame and the Fort Lauderdale Chamber of Commerce Hall of Fame. Some other awards are the March of Dimes Woman of Distinction Award, the Salute to Business Award, the Woman's Council Award and the AGSA Sindhi Association Award.