Ravi Shankar Prasad & Shahrukh Open Up About Sushant's Death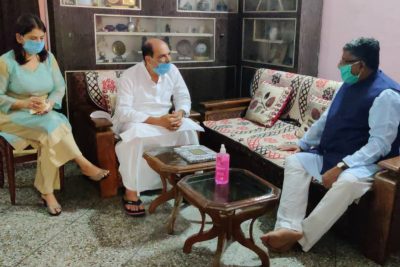 Ravi Shankar Prasad, the Law Minister paid homage to late actor Sushant Singh Rajput. The minister actually visited the late actor's Patna home and said that "I always saw the future Shah Rukh Khan in Sushant Singh Rajput." Prasad addressed a letter to Rajput saying that it was unfair the actor left the world when there were so many possibilities for his future. The Minister communicated his admiration and praise for Sushant to the actor's father and sister.
Meanwhile, Shah Rukh Khan took to Twitter to express that Sushant always used to claim that he was a SRK fan. Sushant always loved Shah Rukh for his grit and hard work. Incidentally both actors did not have a Bollywood godfather.
Shahrukh's tweet read "SSR loved me so much…I will miss him a lot. He (Sushant) had a lot of energy, talent and dreams…his smile was specially endearing." The superstar prayed for the late actor's soul and sent his sympathies to the late actor's friends and family.
Sushant Singh Rajput was a rising Bollywood star who rose to fame after his stellar performance as M.S Dhoni in a similarly titled movie. The actor has worked in box office hits like Kai Po Che, Shuddh Desi Romance and Detective Bomkesh Bakshi. The entire industry is shocked over the news of his demise though rumors of his depression and personality change have been circulating for long. Sushant Singh's suicide has sprouted a lot of controversies about nepotism and foul play in Bollywood.
nepotism
Sushant Singh's suicide
Kai Po Che
Detective Bomkesh Bakshi
M.S Dhoni
Shuddh Desi Romance
Ravi Shankar Prasad
Law Minister
Sushant Singh Rajput
SRK Fan
Bollywood
Shahrukh's tweet
SSR