Reema weds Chandresh
Though they attended the same college, Reema Patel, 27, a clinical research coordinator, and Chandresh Vallabh, 26, IIT Consultant, first met on Facebook and after a year of eyeing each other from distance, eventually began dating. After getting to know each other for over six years, Chandresh planned a unique proposal in their apartment amidst friends and family. Using a poster board collage as his proposal board, he even caught her entire nonplussed happy dazed look on video for timeless memories.
Reema began wedding planning one year ahead of the decided date, July 18, 2015. Instead of hiring a wedding planner, Reema's mother and sister assumed all responsibility to arrange for the wedding. This was made trifle easy since as a no-nonsense person, Reema did not want to get involved in every step of wedding prep, but rather wanted 'good food, good drinks and sky blue and gold colors' for her wedding. She did select her mandap though in less than an hour, of course!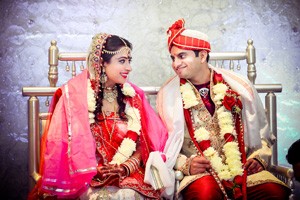 Events were held at the Sonesta, Gwinnett Place at Duluth, Georgia. The choice was easy since the place was an expert on Hindu Gujarati weddings and its associated customs. For Chandresh's family, predominantly residing in South Africa, it was equivalent to a destination wedding.
Prior to the wedding, nearly 350 guests were treated to a visual delight of an exquisite simple rangoli in the hall, simple white linen tables and very simple decorations. It was a romantic and musical evening made memorable by Natasha's Décor's music band for the Sangeet and DJ Jaz's awesome music and lighting.
For the wedding, one of the Sonesta halls was decorated with light blue and gold theme as wished by Reema. Preferring white chairs over traditional gold ones, the mandap was set up in a butterfly style. The sides of the aisles were adorned by flower petals and chairs, a single sky blue or gold ribbon around it.
The wedding program was uniquely styled in many ways. It had the basic outline of each Indian custom with a brief explanation. Chandresh made it unique by making it 'online only' by setting it up for hosting and viewing in a web browser after the created QR code was scanned. All 350 guests were encouraged to scan the code and view the program on their mobiles.
For the ceremony taking place at 10:15 am, Chandresh arrived in a horse against background music of "Sajanji Ghar Awe" and was warmly received by Reema's mother. Reema walked down the aisle amidst her father's favorite song of sentimental value, "Tum Hi Ho." The rest was a dream ritual uniting the couple.
The reception was a musical bonanza with DJ Jaz churning out an amazing mix of Bollywood songs, old school and current music. Guests fondly refer to the evening as a "Miami nightclub" everyone was on the floor having fun.  Several special songs played out to capture special moments, like the family announcing their arrival with the fun, upbeat song, "Dilliwaale Girlfriend." The wedding couple carried the trend of making a unique entry with Chandresh running and Reema trying to capture him to the song "Beat It" by Michael Jackson.
Reema agrees that all disasters, nightmares and chaos are part of the wedding fanfare, but down the line, what remains etched on the mind is the emotional quotient and the feeling of belonging to each other forever.
Vendors

BANQUET HALLS
Sonesta Gwinnett Place Atlanta
www.sonesta.com/gwinnettplace
770-935-3862

BEAUTICIANS/COSMETICIAN
21 Instyle Beauty
21instylebeauty@gmail.com
678-527-8890

CAKE
Kellys Cakes Atlanta
www.kellyscakesatlanta.com
404-662-1415

DECORATOR
Natasha Décor
www.natashadecor.com
770-912-0965

DISC JOCKEY
Dj Jaz- GTB Productions
www.djjaz.net
404-606-0402

FLORIST
Natasha Decor
www.natashadecor.com
770-912-0965

MEHNDI
Manishas Mehendi Designs
www.facebook.com/pages/maishas-mehendi-designs
678-900-7846

PHOTOGRAPHER
Zamana Photo & Videography
www.zamanaphoto.com
678-860-2921

RESTAURANT/CATERING
S3 Catering
www.s3catering.com
404-918-1947

TRAVEL AGENCY
Royal Caribbean Cruises Ltd
www.royalcaribbean.com/gohome.do
305-539-4021 x 34021

VIDEOGRAPHY
Zamana Photo & Videography
www.zamanaphoto.com
678-860-2921