Rima weds Ankit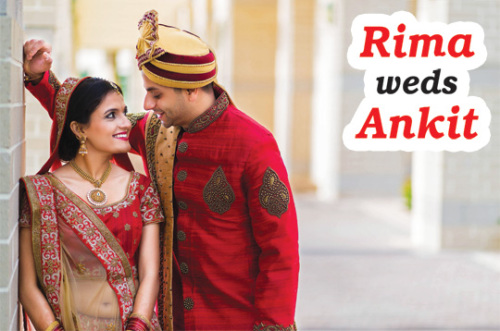 Celebrations, ceremonies, love, and blessings are elements that complete any wedding. Rima and Ankit's wedding is no different and includes all these in just the right proportions to take your breath away.
Rima and Ankit met through a mutual friend while in graduate school at Nova Southeastern University in Fort Lauderdale, Florida. Ankit was attending pharmacy school and Rima was attending the law school. One day Ankit decided to get Dish Network, and he mustered the courage to invite Rima over to watch Bollywood movies with him. Though Rima would act as though she did not care, secretly, she came to enjoy watching the films with Ankit. Slowly and gradually, watching Bollywood love stories together led the two to fall in love, and well, the rest is history.
The proposal itself was straight from the pages of a romantic fairy tale. Ankit, who normally sticks to the kiddie section of a pool, quite literally dove into the middle of the vast ocean. As it was one of the coldest days of the year in Fort Lauderdale, Rima was reluctant to join him in the bone chilling water, but somehow Ankit and the scuba instructor convinced her. She was in for quite the surprise. Once in the water, she saw a large tarp sitting at the bottom of the sea asking Rima to marry Ankit. Overjoyed with emotions, she freaked out for a moment before saying "Yes!". Later, the scuba instructors brought them together, and Ankit officially put a ring on her finger.
Soon thereafter, Rima and Ankit began planning, which took them over a year to bring their dream wedding to life. Though they did not hire any professional planners, they did rely on plenty of help from their lovely friends and family. They picked the World Golf Village Renaissance Resort in St. Augustine, Florida, as the wedding destination.
The sangeet/raas garba was followed by a welcome dinner that was on the terrace of the resort, which offered guests a breathtaking view of the beautiful golf course. Magnificent lights and lanterns lit up the entire terrace space, and different food stations ensured a delightful evening was had by all.
The wedding ceremony was held indoors in the resort's large ballroom. The décor was purposely kept simple, yet very elegant. The white mandap with bright pink flowers was lit up with a soft pink lightning just around the ballroom. Rima arrived in an elaborately designed dholi. As Rima and Ankit performed the wedding rituals, a lighthearted picture slideshow played entertaining guests. DJ Hiren took control and played countless Bollywood music hits, setting a festive mood.
The décor for the wedding reception was inspired by Club Tao in Las Vegas. The entire room was decorated in red and black with intricately designed Buddha scriptures to create a contemporary Asian Fusion look. To enhance the look, candles and black stones were used for decoration, while keeping florals to a minimum.
Rima and Ankit advise all would-be couples to enjoy and capture every cherished moment of their wedding as the moments slip by too fast. Also, they request new brides and grooms to stop obsessing over every tiny detail, as they are most likely to miss the fun if they do so.
Vendors

BANQUET HALLS
World Golf Village Renaissance St. Augus
904-940-8000
www.worldgolfrenaissance.com

DISC JOCKEY
DJ Hiren
601-329-3881
www.djhiren.com

EVENT PLANNER/FLORIST/WEDDING SERVICES
Occasions By Shangri-La
407-394-4244
www.occasionsbyshangrila.com

VIDEOGRAPHER
NSPG Media
407-301-8648
www.nspgmedia.com

JEWELERS
Binari Art
404-840-3994
ranisha@binariart.com

PHOTOGRAPHER
DKreate Photography
904-887-8144
www.dkreatephotography.com

RESTAURANT / CATERING
Cafe Bombay
404-320-0229
www.cafebombayatlanta.com