Swayam weds Dhiren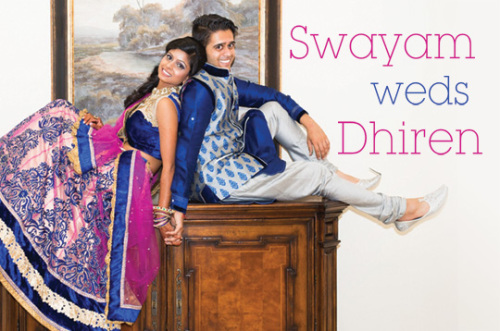 Although Swayam and Dhiren met under the most unexpected of circumstances, it was clear from the outset that the universe was trying to tell them something. Sure enough, a little over four years later, both families were readying to formalize their engagement. With just under two weeks to the day, Dhiren felt a sense that something was amiss, and decided he needed to step up his game and propose to Swayam before he lost her. This was in fact, what Swayam had been waiting for all along. He hadn't asked her! Against a backdrop of a sandy beach – a landscape both loved most – Dhiren used flowers and chocolates to seal the deal.
The couple spent one year planning for the wedding. Dhiren wanted to stay true to tradition, so the couple got married in Swayam's hometown. Over six hundred guests were in Enterprise, Alabama, to join the couple in festive celebrations. Being in her hometown allowed Swayam's family easy access, and also ensured enthused participation from everyone.
Event planner, Palloo's Weddings, was consulted for all arrangements. As photographer, Ashok Pancholi captured every moment and wove a lifetime of experiences together with his camera.
Palloo's Wedding understood Dhiren and Swayam's vision perfectly. The couple's favorite themes were used giving the wedding a new dimension with their ideas. The families were with the couple every step of the way, as they were clear that this was not just the union of two individuals, but the coming together of two families for life.
Navratri was the theme for the sangeet. All elements that pointed to this festival – including the aarti, matkas and dandiyas were brought in along with generous splashes of color. Then followed the wedding ceremony. Programs detailing the events and their significance along with notes on the bride, groom and their entourage were carefully listed, and decorated artistically.
In a unique twist, the bride and groom recorded their sentiments, and the sounds bites were played during their respective walks down the aisle. The central mandap was decorated with a fountain. Cascading waters gave a sense of calm and the outdoors, both feelings the bride and groom strongly shared. Dhiren entered stylishly and whisked away his new bride in a dashing Corvette. The wedding was followed by dances and skits, all of which added high entertainment value to the already enjoyed event.
The only glitch on the day was the smoke from the sacred fire nearly setting off the fire alarm! Other than that, every bit of effort paid off, and all emotions bore fruit as each family became richer by the addition of a new set of loved ones.
Vendors

BANQUET HALLS
Enterprise Civic Center
334-348-2668
www.enterpriseal.govBOUTIQUES
Bawree Boutique
678-728-0077
www.bawree.com

CAKE
Foster Street Bakery
334-673-9668
www.fosterstreetbakery.com

DECORATOR
Palloos Weddings
407-302-7966
www.palloosweddings.com

PRIEST
Bharat Shastri
678-613-0641

DISC JOCKEY
Palloos Weddings
407-302-7966
www.palloosweddings.com

FLORIST
Palloos Weddings
407-302-7966
www.palloosweddings.comJEWELERS
Solomon Brothers
404-266-0266
www.solomonbrothers.com

PHOTOGRAPHER
Digital Dream Studio
407-791-6064
www.digitaldreamstudio.com

VIDEOGRAPHY
Digital Dream Studio
407-791-6064
www.digitaldreamstudio.com