Rishi Sunak: The first India-Origin Hindu Prime Minister of UK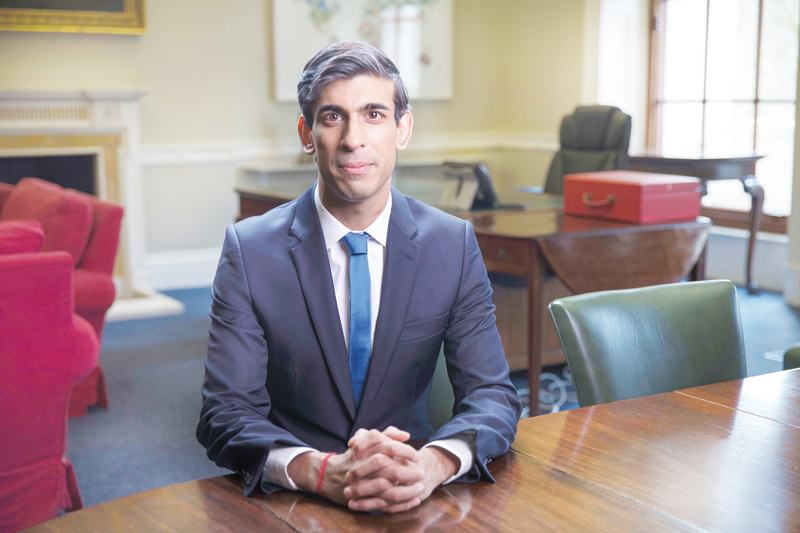 "All Indian lead­ers will be of low cal­i­bre and men of straw. They will have sweet tongues and silly hearts." In 1931, Winston Churchill, late prime minister of Britain, said these words describing Indians and Indian leaders.  The evil empire of Britain ruled and looted India for decades. The tide has turned and now Britain Prime minister Rishi Sunak, India-origin and Hindu, will rule the same empire from the same leadership position once held by the merciless Churchill.
It was perhaps predestined that in the year of India's celebration of its 75th year of independence from British rule, an Indian Hindu became the Prime Minister of the UK. The dark days of British imperialism that transformed our rich country into a mere colony have finally been given a fitting reply through the appointment of Rishi Sunak, an Indian Hindu leader of the Conservative Party as the Prime Minister of the UK. The news came on Diwali day, when Hindus around the world celebrate the festival of lights signifying the triumph of good over evil, light over darkness and hope over misery. The nomination of the Indian Hindu Leader is indeed a symbol of the victory of good over evil. 
The buzz was heard for more than a month that the UK would soon have its first-ever Hindu Prime Minister, Rishi Sunak. However, his colleagues in the Conservative Party were hesitant to support him in the beginning and nominated Liz Truss instead. Destiny had a different story to tell. Creating a record for the shortest-serving prime minister in the history of the United Kingdom, Truss resigned within 50 days of assuming power, thus making way for Rishi Sunak to become the youngest and first India-origin Hindu Prime Minister of the UK. It was Diwali, the festival of lights, declaring the victory of good over evil, and Indians all over the globe were overjoyed with the news that a Hindu of Indian origin would become the Prime Minister of the UK.
Early Life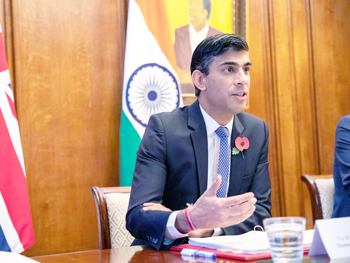 Born in 1980 in Southampton to parents of Indian descent, Rishi was educated at Winchester College, earned a degree in philosophy, politics and economics (PPE) at Lincoln College, Oxford, and an MBA from Stanford University in California, where he was a Fulbright Scholar. 
After graduation Sunak worked for Goldman Sachs and later as a partner at the Children's Investment Fund Management and Theleme Partners, both hedge fund firms. His political career began in the 2015 general election, when he became the Richmond, North Yorkshire, representative of the Conservative Party at the House of Commons. The overwhelmingly white constituency in Richmond initially was surprised at his election. However, Sunak's hard work won them over. He has served as MP since then.
He assumed the post of Chief Secretary to the Treasury in 2019 and served until 2020, and then served as Chancellor of the Exchequer from 2020 to 2022.
Rishi Sunak's roots are in India. Both of his grandfathers were born in Punjab, during British rule, and later migrated to Africa. His father is a physician and his mother is a pharmacist. Migration to two different continents did not uproot his Hindu cultural values and ethics. He, along with his family, is a devout Hindu, regularly attending local temples and following rituals like Gau Puja (worshiping a cow). 
Climbing the Power Ladder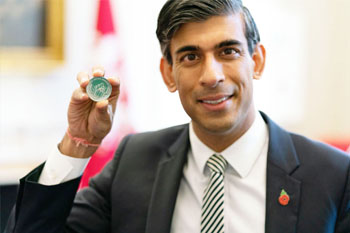 The investment banker turned politician Sunak's rise to power is remarkable. He assumed the post of Parliamentary Under-Secretary of State for Local Government in Theresa May's second government in 2018. After May's resignation, Sunak became the Chancellor of Boris Johnson's government in 2020. His support for pandemic relief was remarkably positive and aggressive. He was in charge of financial assistance during lockdowns, including leave payments and the "Eat Out to Help Out" system for restaurants.
In 2016 Rishi Sunak was a great enthusiast of Brexit and extended his support to Boris Johnson. It was this support that made his political as well as economic positions clear. He considered Brexit a once in a lifetime opportunity for the United Kingdom to regain control of its destiny. This support gave him high prominence and resulted in his becoming the Chancellor in 2020. However, being a man of clear-cut principles, Sunak resigned from the Boris Johnson cabinet in July, stating that his approach to the economy had fundamental differences from that of Mr. Johnson. This is one of the important factors that paved the way for Johnson's exit as Prime Minister. Perhaps it was at the same time that the prospects of Sunak's rise to the Prime Minister's post became bright. 
True Hindu
Rishi Sunak is a true Hindu not only by birth but also by his beliefs and practices. After taking official charge as the PM of the UK, he waved his hands where the sacred "Kalawa" thread was visible. He is always a proud Indian and a firm believer in Indian culture and Hindu traditions. From taking an oath with the Bhagavad Geeta to visiting temples and performing Gau Puja, Rishi Sunak is a proud Indian Hindu. 
As per a report by the UK media, the Vedic Society Hindu Temple in Southampton was established by Rishi Sunak's grandfather, Ramdas Sunak. Rishi Sunak regularly visits the temple established by his grandfather.
Sunak's parents may have been born in East Africa, but his cultural and religious affinity lies with his Indian and Hindu roots. He is a practicing Hindu and does not eat beef. 
As he said in a 2015 interview:
British Indian is what I tick on the census, we have a category for it. I am thoroughly British, this is my home and my country, but my religious and cultural heritage is Indian, my wife is Indian.
Tory's turn to prove 
Rishi Sunak's prominence and his claim to the highest post in the UK have been significant events considering the principles of the Tory, or Conservative, Party. Traditionally marked as opposed to Indians, especially Hindus, the Tories' nomination and election of Rishi Sunak as Prime Minister has finally improved the party's image among the Asians and the Hindus. Initially, it was the Labor Party that had the support of the Asians, including the Indians. In the 2010 election, the Labor Party had a lead of 13% among the Hindus and 48.5% among the Sikhs. However, the Tories dominated in the 2015 election, with a lead of 8% among the Hindus and Sikhs together. Rishi Sunak belongs to a different category of migrants – those who migrated from East Africa and were much favored by the Tories. But the fact remains that he is an Indian-origin Hindu and his identity is being highlighted now, elevating the image of the Tories.
Emergence as the Prime Minister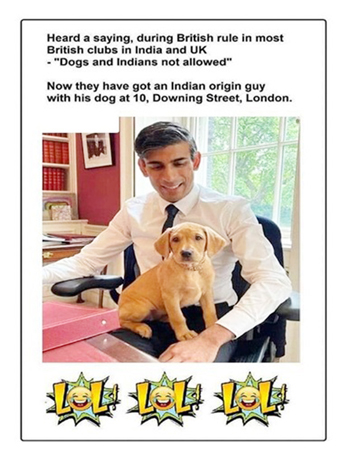 The Tories were not ready to support Rishi in the first election and instead supported Liz Truss. It was her disastrous performance and  resignation that prompted the support for Sunak. Soon after becoming the Prime Minister, he thanked Liz Truss and said that she was not wrong in trying to improve the economy of the UK. He also praised her eagerness to bring about changes, but said she had made mistakes. Expressing his full respect for his predecessor, Sunak said that her mistakes had no bad intentions, but they were mistakes after all. From the beginning he was critical of Truss' policy of excessive borrowing, and warned that it would worsen the economic crisis. He was proved right and Truss had to resign.  These mistakes became the stepping stones for Sunak. 
Sunak has emphasized the importance of integrity, professionalism and accountability in his government and by doing so he will win the confidence of the British people. His plan to ensure integrity can be seen in his decision to include party men from different levels on his core team. As a dedicated politician and Prime Minister, this young Hindu leader has pledged to lead his country to a bright and prosperous future. He said he is ready to put the needs of the people above political considerations. He also mentioned bringing the best traditions of his party to governmental operations, with the aim of building a foundation of success and achievements. 
Winston Churchill must be turning in his grave
The British may not like being reminded of their hatred for Hindus. But history can not be changed. In February 1945, John Colville, secretary of Prime Minister Churchill, wrote in his diary:  "The PM ( Winston Churchill ) said the Hindus were a foul race, 'protected by their mere pullulation from the doom that is their due.' And he wished Bert Harris [head of the RAF Bomber Command] could send some of his surplus bombers to destroy them."
In 1927, American historian Katherine Mayo published her book titled, "Mother India," which attacked Indian society, and Hindu religion and culture, and suggested Americans support British rule over India. She called "Hindoos" "men who enter the world out of bankrupt stock" whose "hands are too weak, too fluttering, to seize or to hold the reins of government."
This demeaning description of Hindus was embraced in the United States and also by Winston Churchill, who viewed Hindus as backward and degenerate. Winston Churchill once labeled Indians "a beastly people with a beastly religion." He also blamed Indians for the Bengal famine and described Indians as "breeding like rabbits." He also sarcastically pointed out to Gandhi how, if the shortages were so bad, why then Mahatma Gandhi was still alive?
Now, Rishi Sunak, who took his 2019 parliamentary oath of office proudly holding the Bhagavad Gita, will assume Churchill's former post and will be responsible for appointing bishops to the Church of England. His rise to the central power of the UK signifies victory of Hindua over an erstwhile imperial country, creating a full circle of history.  
Personal Life & Controversy
Sunak's personal life has raised many questions. He met his wife, Akshata Murthy, while pursuing his MBA at Stanford University. Akshata is the daughter of the billionaire Indian and founder of Infosys Narayana Murthy. They were married in 2009 and have two daughters from the marriage: Anoushka and Krishna. Apart from being a fashion designer, she holds a 0.93% stake in Infosys, which makes her one of the richest women in the UK. She also owns shares in several other businesses in the UK. She used to pay taxes as a non-domicile, thereby saving a lot on taxes. After Sunak became Chancellor, the tax controversy was fueled by the opposition. However, Akshata Murthy gave up her non-domicile status and pledged to pay taxes in the UK on incomes made outside the country. Sunak highly condemned the controversy, saying that attempts to defame him by criticizing his wife were shocking. 
The Sunaks are a rich family with a fortune of approximately £730m. They own several properties, including a mansion in the village of Kirby Sigston, North Yorkshire, a house in Earl's Court in central London, a flat in South Kensington, and an apartment in Santa Monica, California. Being a teetotaler, Sunak's only addiction is Star Wars and he is a huge fan of Jedi Knight. His favorite Star Wars movie is The Empire Strikes Back. 
India's Jubilation: How will India be benefited?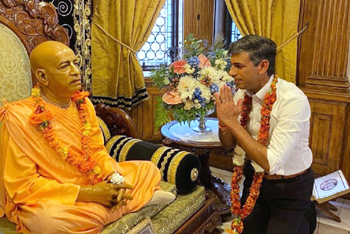 Indians all over, especially those residing in the country, are extremely happy to see a Hindu of Indian origin becoming the Prime Minister of the UK. The news came as the Diwali Dhamaka , a pleasant surprise for Indians who celebrate the election of the first ever Hindu PM of the UK. They see it as a victory of the Hindus over colonial British rule, creating a full circle of history with a Hindu leader now head of the once-imperial country. Common Indians are expecting a better Indo-UK relationship with Sunak as the Prime Minister. Indian Prime Minister Narendra Modi also sees Sunak's elevation as ushering in a new era of relations. Congratulating Sunak on his election as Prime Minister, he called him the living bridge for UK Indians and expected a new era of partnership between the two countries. 
Being a religious person, Sunak celebrated Diwali at 10 Downing Street, the official residence of the UK Prime Minister, by lighting diyas. Sending Diwali greetings to one and all, he expressed hopes to build a Britain where the next generations can light diyas with hopes of a brighter future. His Hindu roots and respect for the religious culture and ethics of Hinduism are loud and clear. However, the future of the India-UK free-trade agreement (FTA) is still not known. Through this deal, both countries will benefit from each other's resources and finances. From the Indian perspective, FTA will enable exports of textiles, tobacco, pharmaceuticals, food and beverages, rice and leather. India also wants more openings for Indians to live and work in the UK. The UK wants access to the Indian consumer market for selling goods like medical devices, transport equipment, chemicals, scotch, wines, electrical equipment, medical devices, and motor vehicles and parts. The deal was supposed to take shape during Diwali this year. However, the resignation of Liz Truss has delayed the plan. 
Rishi Sunak's Indian and Hindu origin is raising hope among the common Indians. Only time will tell whether that hope will be fulfilled, and to what extent.