Rishikesh The way to the divine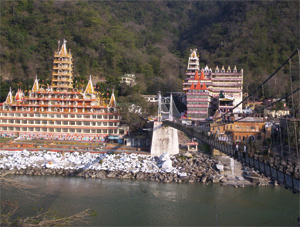 Come here for spiritual sojourn, an adventurous retreat, or a visit to the lap of Mother Nature. A trip to Rishikesh manifests itself into an indomitable rejuvenation of the mind, body and soul. My own yearning to have an encounter with my inner self pulled me all the way up to experience the magic of this hilly town.
After enjoying being a part of the world's largest gathering event – the Kumbh at Haridwar, my next obvious destination was Rishikesh. Not that I am on a Hindu pilgrimage trail, but I needed respite from the scorching heat and clamorous environs of Haridwar, which was host to 15 million people on the day of my visit. The huge gathering on Shahi Snan this year, the day said to bear planetary position that occurs just once in 4,444 years, had the sole intention of taking holy dips. My worn-out senses were seeking solace in deep meditation and yoga. What else other than Rishikesh could have been a better option than moving 16 miles ahead to reach the world capital of yoga?
I reached Rishikesh in the evening and dumped my luggage in a decent guesthouse that charged just Rs 200 (approximately $4) a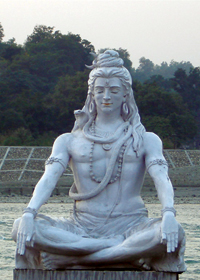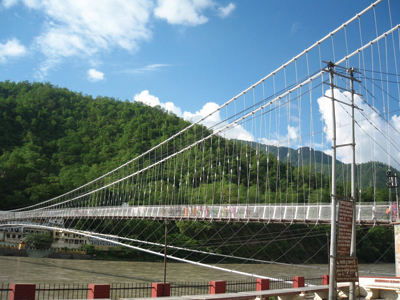 day for a single room. Then I went on to find a good yoga center amidst so many of them in the city. Had I visited Rishikesh during the first week of February, I would have gotten the chance to learn yoga for free during International Yoga Week, which attracts participants from across the globe. However, I finally found the yoga center recommended by a friend. Overlooking the Ganges in Laxman Jhula was the India Yoga Centre. I quickly enrolled for morning yoga classes of one hour duration daily. (Having attended a couple of classes during my stay here, I can say that yoga surely helps in healing not just our physical entity but also our mind and soul.)
I then began wandering about on the streets of this spiritually charged land. Although this city also boasts thousands of ashrams, yoga and meditation centers, and ayurvedic massage clinics, Rishikesh is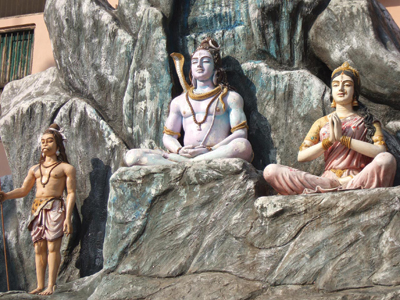 still more tranquil compared to Haridwar. The entire buzz in Rishikesh centers on the two swinging bridges over the Ganges – Ram Jhula and Laxman Jhula. Walking down the 'single' road of the city, you can't ignore the temptation of trying astrological advice, ayurvedic treatments and the much-acclaimed power of rare stones and gems. Whatever the problem – marital (pre or post), job-related, educational, physical or mental, the deluge of shops and clinics offering solutions to all your worries is quite an interesting marketing trend in this town.
After having spent three hours on the stray streets of the city, I knew what the city had to offer. One could learn to play the sitar or tabla on his hotel roof, try various forms of yoga (acro-yoga, laughing yoga, power yoga), and meditation (kundali in meditation, humming or gong meditation), experience holistic healing (crystal, pranic, reiki), learn different styles of massage, pick up Indian cooking traits, and chant Vedic mantras. To stay even a day or two could be spiritually uplifting, I concluded.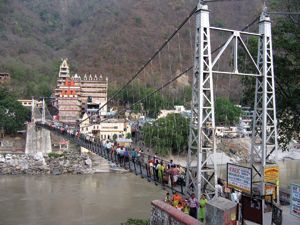 My next day began at 5 a.m. After a refreshing dip in the Ganges, which was flowing a few steps away from my resort, I rushed to my yoga class. The first day took longer than an hour. The session made me quite tired and hungry.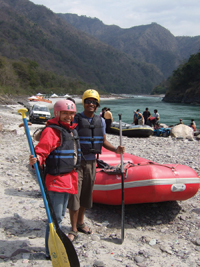 I had a sumptuous breakfast at the German Bakery, directly opposite the yoga center. However, to my utter dismay, the size of the sandwich was not even a quarter of what my hungry stomach craved for.
A pleasant one-mile walk south of Lakshman Jhula along the path skirting the east bank of the Ganges led me to the spiritual community of Swarg Ashram. Situated near Ram Jhula, this beautiful stretch comprises many temples, ashrams, shops and bathing ghats where religious ceremonies are performed at sunrise and sunset. Here, I came across Parmarth Niketan, an ashram whose architecture and aesthetics appealed to me a lot. I later learned that this was the biggest ashram in Rishikesh.
With over 1,000 rooms, the facilities provided to devotees at Parmarth Niketan are a perfect blend of modern amenities and traditional spiritual simplicity. I spent the remaining day touring around the ashram and was able to attend the world-famous, colorful Ganga Aarti in the evening. During the aarti, I truly felt one with God. I also had the opportunity to meet renowned Swami Chidanand Saraswati, who runs the ashram, and I was delighted to receive his blessings.
Walking out of the ashram and looking for something appetizing to eat, a comic (read weird) sight caught my attention. I found two rotund mascots with pointy hairdos (a choti) sitting outside two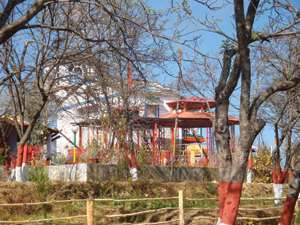 restaurant entrances respectively. There were the two famous Chotiwala restaurants, set adjacent to each other. The original Chotiwala restaurant claims to be serving luscious Indian food since 1958. I dined here. Must say, the food was such a treat!
Rishikesh is not just a spiritual haven. It is a popular white-water rafting center, backpacker hangout, and gateway to treks to the Himalaya. Rishikesh offers some very exciting opportunities for water sport lovers. The Ganges with its frothing and foaming waves throws up an enthralling challenge that no adventure sport enthusiast can probably look away from. I decided to spend my third day enjoying a river rafting expedition. Being a novice, I opted for the shortest trip (6.2 miles) provided by the rafting agents, it was no less tiring, at least for me.
High lofty mountains, flowing agile river, cool soothing breeze… the contemplative ambience wouldn't let me leave this mystic land. However, I knew one thing for sure. The more I stay here, the longer I would want to stay here. Like most who visit this beautiful hilly town, I felt my calling here. Like most even I felt God's divine presence in this majestic land.
But I had to go, only to return soon.
By LOVEJEET ALEXANDER