Visit to Haridwar Gateway to the Lord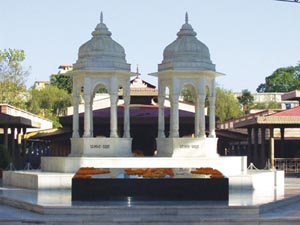 The largest gathering of people in the world was scheduled in the country. What would it look like? I was both eager and anxious to witness the scene. This is how I finally landed in Haridwar, the city I have wanted to visit for years. Kumbh Fair 2010 became the ultimate driving force.
Once I made up my mind, I wasted no second in making a move to the holy city. I boarded a bus from New Delhi. The fight to grab a seat on the bus for the overnight journey amidst the huge mob wanting to reach Haridwar was a preview to the war ahead and to the challenge of not getting lost. More than 20,000 visitors got lost and were later found at this mammoth human fair. On entering Haridwar, I found myself either stepping on or being stepped on by someone. People, people everywhere, and even during the twilight hour! I soon realised that I should have visited here before to save myself from the large mob. Attending the fair on the last big day wasn't a great idea either! Instead of witnessing 2.5 million people (on the first day of Maha Kumbh – January 14) taking a dip in the Ganges, I was witness to more than 15 million devotees. The rare planetary position at the time of Shahi Snan on April 14 occurred just once in 4,444 years and attracted this huge crowd to this holy town.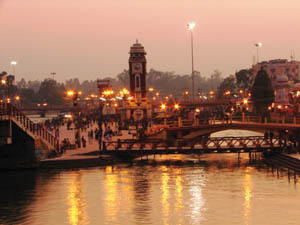 It is the gateway to the Himalayan pilgrimage shrines of Badrinath and Kedarnath, and Yamunotri and Gangotri.
Witnessing the large gathering, I didn't dare go straight to Har-ki-paudi, the prime ghat for Kumbh bath. Also because the first phase of the Shahi Snan is reserved for Naaga Sadhus, common men are restricted from entering the ghats. Hence, I proceeded for Shanti Kunj, one of the biggest and oldest ashrams in Haridwar. Due to restricted vehicle entry, I had to take a long walk. On my way, I saw a trail of devotees heading for Shanti Kunj. I too joined the bandwagon but was certainly not looking a part of it. Blame it on my pair of sneakers, denim and T-shirt or their jogiya (saffron) attire. I felt out of place. I didn't have an option but to buy a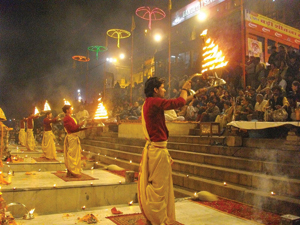 saffron cloth piece with Vedic mantra imprint. Nonetheless, my efforts proved futile as I still looked unbefitting in this crowd of devotees.
It was good that I made some pre-arrangements of lodging. The only boards visible in the city other than those of 'Welcome to Kumbh' were those of 'Rooms not available.' Entering the gates of Shanti Kunj was like stepping into a 'saffron country;' every building, each block and all the people inside the ashram were in saffron. Along with an I-card, which needed to be carried at all times during my stay, I was provided with a long list of dos and don'ts in the ashram, which was honestly scary (at least for me). Starting with mentioning the rising time (3 a.m.!), the list mentioned several tasks like performing yajna, meditation, yoga and many others that had to be performed regularly and 'timely' for as many days one stayed there. The most memorable part of the timetable was the 15 minutes pause. It was like the world coming to a halt. From 6 p.m. to 6:15 p.m.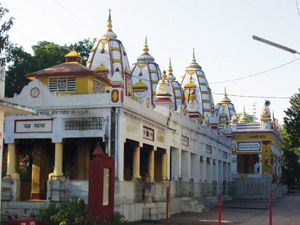 everything comes to a halt in the ashram. Wherever one is, he is supposed to stay still and meditate for 15 minutes. A soothing music called Naad (composition of flute and other Indian classical instruments) plays in the background.
After quenching my thirsty soul with a peaceful, calming meditation session, I rushed to Har Ki Paudi. Mythology has it that this is the place where a drop of Amrit (a sacred nectar that grants immortality) was accidentally spilled over from Kumbh, the holy pitcher. The main ghat or sacred bathing spot at Haridwar is known as Har Ki Paudi (venerated for a footprint of Lord Vishnu on a stone in a wall).
The famous Ganga Aarti is performed at Har Ki Paudi at 7 p.m. every day. It was a highly moving site to watch millions of people performing the aarti ceremony (fire ritual) and thereafter floating miniature lamps, flowers and incense in the river in memory of their deceased ancestors. Countless people were taking holy dips. I was yearning for a holy bath myself. However, the huge crowd and public spectacle restrained my coy self from participating in the communal dip.
The next morning, my craving for a dip in the Ganges led me to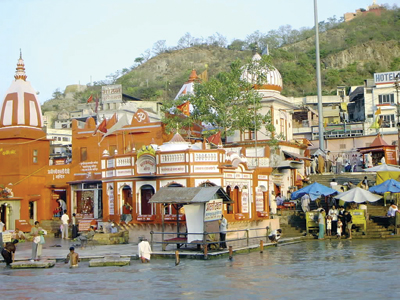 another ghat behind Shanti Kunj. The serene ghat not only served to cleanse my sins but also soothed my childhood inquisitiveness for the seven star constellations, which is thought to be formed by the seven saints of the Sapt Rishi Ashram. It is said that these saints who religiously meditated on the same ghat where the seven streams of the Ganges also meet, took the shapes of these stars after leaving their mortal bodies. I am still wondering if this is how we got out our constellation.
Liberal as I am, after an early morning dip in Ganga, I made a trip to Piran Kaliyar , 14 and a half miles south of Haridwar, on the outskirts of an adjacent town Roorkee. This is the dargah (grave) of Hazrat Makhdoom Allauddin Ali Ahmed Shah 'Sabir.' I found a number of sadhus (Hindu sages) seeking blessings of the sufi saint. The site of sadhus dancing to the tunes of qawwalis (devotional Sufi music) in the honor of Kaliyar Baba or Pir Sabir was a shining example of communal harmony. It is said that Pir Sabir was deeply disenchanted with the world and hence asked his devotees to leave him alone and go far off. Once they all left him, miles of land surrounding him turned to ashes. The area's turning black is where this dargah got its name of Kaliyar (meaning black) Shareef.
My long-due Haridwar visit made me proud of my Indian roots. Our cultural heritage and spiritual philosophies attract people from across the world. The pious land seems to have answers for those soul-searching questions that bother us during our corporeal journey. No wonder, many from India and abroad who come here on short visits settle here for life.
By LOVEJEET ALEXANDER