Sabrina weds Dillan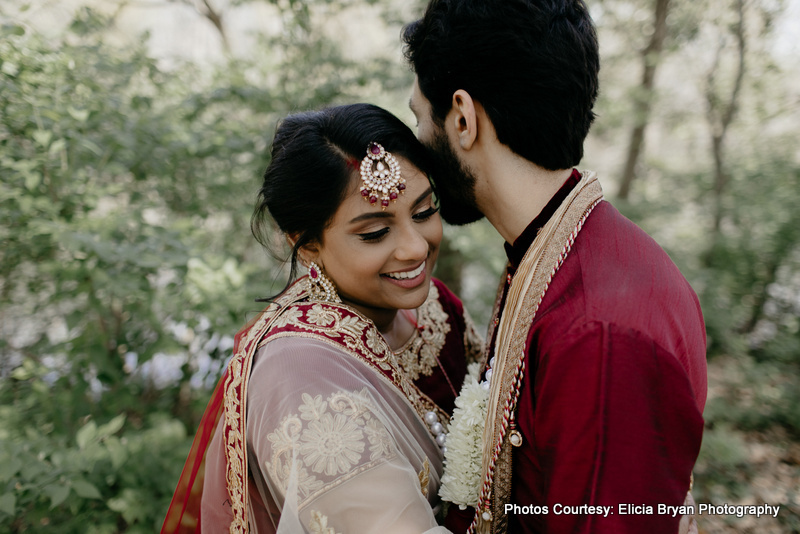 ---
BANQUET HALLS Piedmont Park 404-875-7275 | EVENT PLANNER Simply Eloped 415-539-2523 |PHOTOGRAPHER Elicia Bryan Photography 404-827-8139 | PRIEST Milenda 415-539-2523
---
Sabrina Ramlall and Dillan Cothran's wedding took place at the Dockside venue at Piedmont Park in Atlanta, Georgia. Their intimate ceremony celebrated their love and represented their cultures through beautiful and unique touches on their memorable day.
Tell us about your wedding! What was the inspiration behind your day? Did you have a specific theme, style or color palette? Did you incorporate any cultural or religious traditions in any part of your day?
We wanted a small and intimate wedding that incorporated the parts of a traditional Hindu wedding. The theme of the wedding was simple with the red of the traditional clothing to the simplistic white roses.
Let's talk about wedding decor. How did you decorate your space for the ceremony and the reception? Was any part of the decor DIY?
Our venue was so beautiful that we mainly used the natural scenery as our backdrop for the wedding. We got married in front of Lake Clara Meer in Piedmont Park, which was perfect for us since we got engaged directly across from where we were married. We used the simple white folding chairs for our guests, and the aisle was lined with white roses in simple glass vases.
How did you meet? Tell us about the proposal.
We met in the 5th grade and became friends who picked on each other. In 7th grade, Dillan asked me out during orchestra class one day, and we have been together since. We grew up through high school and college with each other and supported each other through careers and a long distance relationship. Our proposal was whirlwind because Dillan planned a lunch date in the middle of my school midterms, and I was extremely stressed and tried to cancel the date multiple times. Luckily Dillan did not let that happen! It was my first time actually walking though Piedmont Park and then suddenly he got down on one knee and asked me to be his wife after 11 years of being together. It was the easiest yes I have ever said.
What was the most anticipated or special moment of your wedding day?
Our wedding day was actually our 12 year dating anniversary. We were both anticipating our vows because it marked us making a life long promise to love each other.
Do you have any wedding planning or marriage advice that you'd like to share with other couples planning their day?
Keeping the ceremony as personal and simple as possible was the highlight for us. It was exactly how we wanted it and less is more. This way we both were not stressing about the logistics of the ceremony – instead we just focused on being there with each other at that moment.