Salman Khan, Alia Bhatt, and Karan Johar films to be banned in Bihar over the Sushant Singh Rajput suicide case.
The unfortunate passing away of Sushant Singh Rajput has not only traumatized his family but also disturbed the entire nation. The talented Bollywood actor had committed suicide in his Mumbai apartment on 14th June 2020.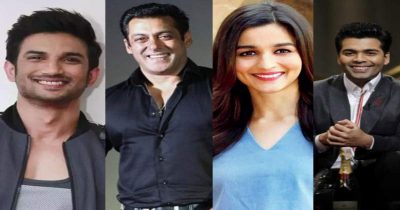 Sushant Singh Rajput's demise has triggered off a massive outrage against the practice of nepotism that prevails in the Hindi film industry. He was considered one of the most talented and emerging young actors in the industry, but reports making rounds on the internet suggest that he had lost a lot of projects due to nepotism prevailing in the industry. 
Salman Khan, filmmaker Karan Johar and actress Alia Bhatt are seen to be emblems of the clannish culture in Bollywood that barred Sushant Singh Rajput from realizing his full potential in Hindi cinema. Effigies of these actors along with Karan Johar were burnt in Bihar.
The police interrogation is still in process with people close to Sushant to find out the actual reason behind the late actor's drastic decision to end his life. Several political parties and organizations are demanding a CBI investigation into the untimely death of the young and talented Bollywood actor. 
Lalan Kumar, former Bihar Youth Congress chairman who is also a member of the Film Censor Board Advisory Committee, has claimed that the films of actor Salman Khan, Alia Bhatt and Karan Johar will not be allowed to be screened in Bihar till Sushant Singh Rajput gets justice.