Sejal weds William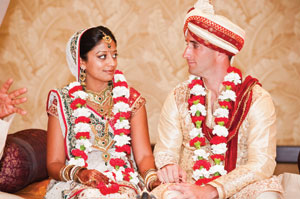 Debates reflect differing opinions and sometimes flaring tempers, but in Sejal and William's case, this is how fate brought them together – albeit in a game of love. Sejal and William were introduced to on another while attending a political debate in Florida. After five years together, William decided he had found his soul mate and proposed.
Having created a lavish spread of Sejal's favorite foods and champagne against a backdrop of flowers, William got down on one knee with a ring in his hand to ask Sejal if she would marry him. There was little doubt Sejal would say yes, and she was soon filled with happy thoughts of her marriage, and of course, the delicious spread that lay before her!
For the wedding, both William and Sejal decided on Wyndham Orlando Resort, which gave them an option of the indoors and outdoors as well as plenty of flexibility. The wedding was a fusion wedding that incorporated elements of both Indian and American cultures to please both parties suitably.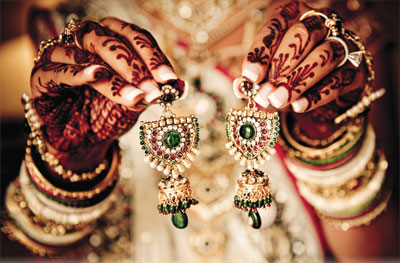 In terms of wedding planning, Shiv Priya Events managed most of the coordinating. The mehndi function was held at home with closest friends and family. Dreams to Reality, represented by Mejoo Memon, undertook all decoration from the mandap and ceremony room to the reception hall. Exquisite furniture and beautifully decorated candles were arranged judiciously with vines in the background. With a wedding party that comprised 20 boys and girls, all of whom wore coordinating clothing, the wedding was a roaring success.
For the wedding, the bride entered in the traditional Indian doli, while the groom made his entry astride a horse. After the wedding, they left in a specially decorated golf cart that brought back to life memories of the University of Florida, which was where the couple first met.
Peacocks were a predominant theme for the reception, and they could be seen in the centerpieces, linen colors, and lights. Crystals, votives, drapes and flowers were all used in conjunction to bring out the desired effect.
With special dances for the bride and father and groom and mother, the reception exuded intimacy and warmth. Many fun and memorable moments added to the glamour of this elegant wedding.
The couple strongly recommends signing a photo booth in addition to the photographer and videographer to allow everyone present to take back memories that will keep the wedding alive in their hearts forever. After all, that is what a wedding stands for eternal love.