Sewa International Atlanta Chapter raises more than $350,000 at annual banquet
Hotel 12 in Midtown Atlanta hosted Sewa International's annual dinner on December 3. Organizers said that the $351,000 raised demonstrates the community's faith in the nonprofit Hindu faith-based humanitarian service organization. Sam Patel, CEO of Global Hotel Group, Sid Mookerjee, founder and managing partner of Silicon Road, and Srikanth Gundavarapu, president of Sewas Atlanta Chapter, presided over lighting the lamp.
Swati Kari, Jyothi Gundavarapu, Sravani Kari, and Anika Kopakka sang an invited prayer. Sam Patel praised the Sewa team for its achievements while requesting that the chapter leadership explore Sewa's potential for even greater social impact. Vivek Srivastav, chapter coordinator of Sewa Atlanta, offered a full outline of 2022 projects, including Family Services, the Sewa Senior Club, neighborhood blood drives, and sporting events. More than 250 youngsters were tutored at six Hispanic-focused, Section-8 housing buildings, he said, in a project funded by. AmeriCorps. Atlanta's AmeriCorps program director and Sewa International's program director, Satish Damle, provided more details.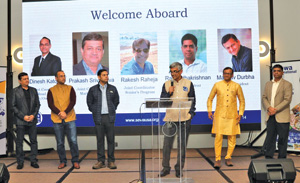 Madhavi Gunasekaran, Sewa's Disaster Recovery coordinator, updated the Native American and transgender communities on Sewa's rescue efforts in Ukraine. Rachel Blythe represented the Native American community, and Olexandra Kostenk represented the Ukrainian community. Her personal stories and Sewa's impact on their communities brought some in the audience to tears, exemplifying "Vasudhaika Kutumbakam" (The World is One Family).
Georgia Commissioner Alfred John and Illinois Congressman Raja Krishnamoorthi attended. Both stressed the importance of Indian-Americans participating in politics and agreed that running for office and holding it are great ways to impact the community. Sid Mookerji, a well-known investor, philanthropist, and venture capitalist, gave an inspiring keynote speech and vowed to assist Sewa International.
Sewa Atlanta needs more volunteers due to its rapid growth, said chapter president Srikanth Gundavarapu. He introduced the Atlanta Chapter's new vice presidents: Dinesh Katoch, Rakesh Raheja, and Prakash Srivastava. He also thanked volunteers onstage. Srikanth Konda, founder of Sewa International USA, recently visited Atlanta and praised Sewa's growth. Kavya Arora and Shyla Katoch chanted Hindu prayers before dinner. The Shanti Mantra and Bhojana Mantra were said for peace and thanking God for nourishment.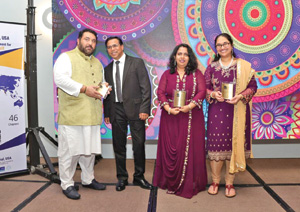 Several well-known people won accolades for their service. Raj Razdan earned the Lifetime Achievement Award for his service to Atlanta's community and universities. The Sewa Karma Yogi Award for service went to Natali Barot, Meals for Kids award went to MD Alfred John, and Bhushan Mocherla won the Abhigyaan Prize for Community Impact. Krishnan Balasubramanian Kumud Sawla won the Sewa Samskritik.
Madhav Durbha and Shalini Jaitly kept attendees intrigued and on track. The audience was asked, "Who's the smartest?" Shambhavi Katoch, 10, won the title. Shyam Gupta and his team provided lighting and video to set the mood. Photography was by Kiran Mudigonda. Sareena Nagpal, Varnika Argampally, and Sonali Phopale performed a medley, and Anupama Krishnan, Raka Das, and Shyam Gupta sang Bollywood oldies.
FormFree raises $55,000 for the Red Cross at its third annual Heroes Golf Classic