Siddiqui's Serious Men will stream on October 2 
Nawazuddin Siddiqui's upcoming movie Serious Men is teasing fans with a newly released trailer. The show will premiere on Netflix on October 2, Gandhi ji's birthday.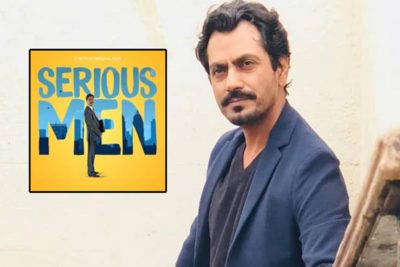 While truth was a great weapon for Gandhi ji, the lead in Serious Men played by Nawazuddin sees the actor adopt questionable means so that his son can achieve fame and success in life.
Serious Men is based on a novel of the same name by Manu Joseph. Nawazuddin plays the role of Ayyan Mani, a man from society's disadvantaged section. Not having enjoyed the comforts in life, Ayyan wants to ensure that his son becomes famous and successful. The trailer shows Mani achieving his goal, but also hints at dubious means having been adopted to get to the end. Wait until October 2, 2020, for the mystery to unravel.
Sudhir Mishra, National award winner, directs the film and believes the novel is funny, wacky and also deeply emotional. He says he enjoyed developing the film in partnership with Netflix. According to him, the film is specific in focusing on certain issues, but also has universal appeal. Indira Tiwari, Nasser, Shweta Basu Prasad and Aakshath Das are part of the cast in this screenplay adaptation by Bhavesh Mandalia.
Siddiqui is known to deliver intense performances as shown in Bajrangi Bhaijan and Gangs of Wasseypur. How will he come across in Serious Men? His sheer, versatile genius should show through.
Bajrangi Bhaijan
Nawazuddin Siddiqui
Serious Men
Netflix
October 2
Gandhiji's birthday
Manu Joseph
Ayyan Mani
Sudhir Mishra
National award winner
Indira Tiwari
Nasser
Shweta Basu Prasad
Aakshath Das
screenplay
Bhavesh Mandalia