"You Are a Good Man," says Alia to Dad on 72nd birthday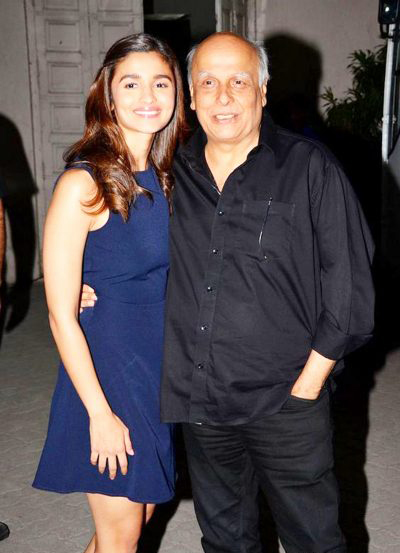 Alia Bhatt, a star in her own right, celebrated dad Mahesh Bhatt's 72nd birthday with a beautiful Instagram post, "I have nothing long or nothing wise to say today. Our time this year has been too rich to fit into a caption … but I will say one thing … something from our favorite film … 'Look inside yourself, you are more than what you've become …remember who you are … remember!' happy bday my mufasa..you're a good man! never believe anything else." 
Not to be left behind, Pooja Bhatt greeted her father whom she describes as "father, teacher, friend, guide." Her post read "Thank you for teaching me to exult in the now, embrace uncertainty & endure strife. And even though you named me "Pooja" never to pray for an easy life."
And how can we forget Soni Razdan, Mahesh's loving wife? She also shared a photo of Mahesh and wished her husband a happy birthday. Neena Gupta, Manisha Koirala, Aahana Kumra and Dia Mirza were among the others to share birthday wishes for the great director on his 72nd birthday.
Worthy of mention is the special greeting by Gulshan Grover, who took the opportunity to thank Mahesh Bhatt for casting him in films like Arth, Naaraz, Naajayaz, Sadak 2, among others. Sadak 2 is currently streaming on Disney Hotstar and stars Gulshan, Sanjay Dutt, Alia Bhatt, Aditya Roy Kapur, and Pooja Bhatt in a  supporting role. 
Mahesh stands out from other directors of Bollywood, and we certainly hope he will be directing films for a decade and more.
Bollywood
Mufasa
Instagram
Pooja Bhatt
Soni Razdan
Neena Gupta
Manisha Koirala
Aahana Kumra
Dia Mirza
Gulshan Grover
Arth, Naaraz
Naajayaz
Sadak 2
Disney Hotstar
Sanjay Dutt
Aditya Roy Kapur
supporting role
Hitchcock
Alia Bhatt
Mahesh Bhatt