So You Don't Want to Be a Doctor? Other Options in the Medical Field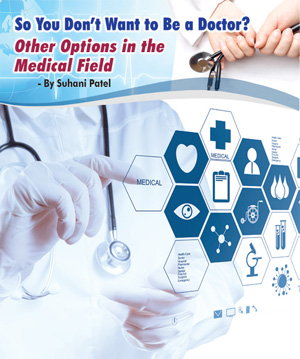 When one thinks of professions in the medical field, a physician is usually what comes to mind.However, in today's growing economy and with the rapid onset of new and emerging diseases, there is a growing need for a variety of medical professionals. These professionals provide a diverse skillset that works with and beyond the services a physician can provide.
Nurse Practitioner
Nurse practitioners provide a broad range of medical services. Like physicians, they can diagnose, treat and manage medical conditions as well as write prescriptions and carry out certain procedures. Unlike physician's assistants, they are allowed to work in clinics without physician supervision, but the scope of their practice and authority depends on state laws. Nurse practitioners are advanced registered nurses who have obtained a master's degree in a nurse practitioner specialty.
Medical Scribe
Medical scribes specialize in real-time charting of doctor-patient visits. Scribes follow (or shadow) a physician throughout the dayon patient visits and hospital rounds taking notes during patient medical exams. Scribes make it easier for a physician to have quality one-on-one time with patients instead of having to worry about entering information into an electronic health record system. In some cases, physicians also rely on scribes to generate and sort medical documents. Becoming a scribe does not require a degree or certification,only on-the-job training. Working as a medical scribe is a great opportunity to get one's foot in the door when considering other medical professions.
Physician's Assistant
Physician's assistants (PAs) practice medicine under a supervising physician. Like nurses and medical assistants, PAs work in a variety of medical settings. Their duties are delegated by the supervising physician and can range from taking medical histories, examining and treating patients, prescribing most medications, interpreting laboratory results, and making diagnoses. Most PA programs are a two-year course, in contrast to the typical four years spent in medical school; however, this is why PAs are not allowed to practice medicine on their own.
Medical Assistant
Medical assistants assist nurses and physicians with both medical and administrative tasks such as taking vitals, prepping operation rooms, and keeping medical records up to date. It is known as the most versatile medical profession because medical assistants are trained in both clinical tasks that involve patient interaction as well as administrative duties. They work in a variety of medical settings ranging from hospitals to small clinics. There are certification courses available to become a medical assistant; however, most hospitals and clinics will train prospective assistants on the job.
Emergency Medical Technician / Paramedic
EMTs and paramedics are often the first responders in an emergency medical situation. They are dispatched by a 911 operator and work closely with police and firefighters in an emergency scene. These first responders quickly assess the patient's condition and follow protocols to stabilize the patient for treatment beforetransferring them to a hospital. EMTs and paramedics both work under an emergency medical physician. Becoming an EMT or a paramedic requires the completion of an accredited certification course. The length and rigor of the certification course will depend on the type of EMT/paramedic course you are pursuing.
About the Author
Suhani Patel is an alumni of The University of Georgia, where she majored in Microbiology and minored in Spanish. Suhani aspires to become a physician's assistant. She is currently applying for graduate school while also working as a pharmacy technician. Suhani enjoys traveling and exploring new restaurants and has a weakness for local coffee shops.