Soups to Keep You Warm This Winter!
If you are looking for a way to keep your family warm this winter, these recipes are for you! A hot bowl of soup is sure to warm the soul on a cold, snowy winter day. These hearty soups are tasty and elegant enough to serve at your next dinner party!
Thai Carrot Soup with Ginger and Lemongrass
This soup also includes the health benefits of ginger, garlic, and lemongrass. High in vitamins and extremely delicious, it makes a wonderful soup to serve to your friends and family.
Ingredients:
1 small cooking onion
3 cloves garlic
1-2 thumb-size pieces ginger
4 cups vegetable broth
1 fresh red chilli, minced or 1-2 tsp. chilli sauce
¼ cup Thai jasmine rice (or any type of white or brown rice – note that brown will take longer to cook)
1 tablespoon ground cumin
1 ½ teaspoon cardamom
¼ teaspoon nutmeg
1 stalk lemongrass, finely sliced or 2 tbsp. frozen prepared lemongrass
7 medium carrots, sliced
1 can coconut milk
1 tablespoon soy sauce
handful fresh basil
handful fresh cilantro
juice of 1 lime
Directions:
Pour 2 tablespoons oil into the bottom of a large soup pot. Add onion, garlic, ginger, lemongrass, and fresh chili (or chili sauce). Stir-fry until fragrant (about 1 minute).
Add the broth and rice. Bring to a boil.
Add the carrots plus the spices (cumin, cardamom, nutmeg). Reduce heat to medium, cover, and continue cooking for another 15 minutes, or until carrots and rice are soft. (brown rice will take longer to cook, and will absorb more liquid, so you may need to add a little more broth).
Add the coconut milk and stir. Puree the soup in batches in your blender. Return soup to the soup pot.
Re-warm soup over medium heat. Add the soy sauce and lime juice. Add salt, if needed. (If your soup turns out too salty, add more lime juice.) Add more chili or chili sauce if not spicy enough.
Ladle into bowls and sprinkle with fresh cilantro and basil. Enjoy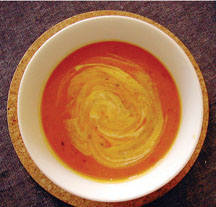 ---
Spicy Sweet Potato Soup
Loved by children for its sweet, creamy texture and by adults for its elegant taste, this soup is sure to please everyone in your family.
Ingredients:
1 ¼ teaspoons ground cardamom
1 teaspoon ground turmeric
¾ teaspoon ground cinnamon
1/3 teaspoon chili powder
1 tablespoon unsalted butter
1 tablespoon olive oil
2 leeks, white and pale-green parts only, roughly chopped, washed well (1 cup)
1 large onion, cut into ¼ inch dice
4 sweet potatoes, cut into ½ inch dice
1 butternut squash (about 1 ½ pounds), cut into ½ inch dice
2 carrots, cut into ½ inch dice
3 quarts vegetable broth
Coarse salt and freshly ground pepper
Radish sprouts, for garnish (optional)
Directions:
Combine spices in a small bowl.
In a medium saucepan, heat butter and oil over medium heat. Add leeks and onion; cook until translucent, about 8 minutes. Sprinkle with spices; add sweet potatoes, squash, and carrots. Stir well to combine.
Add vegetable broth to the mixture in the saucepan, and simmer over low heat, partially covered, until vegetables are tender, about 40 minutes. Season with salt and pepper. Remove from heat.
Transfer half the soup to a blender, working in batches, if necessary, so as not to fill jar more than halfway; process until smooth. Return puree to saucepan; place over low heat until heated through.
Serve hot; garnish each bowl with a handful of radish sprouts, if using.
---
Butternut Squash Bisque
This is a great starter soup. It's hearty, creamy, and loved by people of all ages. Serve to guests as the first course of the meal.
Ingredients:
1 tablespoon canola oil
1 tablespoon unsalted butter
½ cup diced onion
¾ cup diced carrots
4 cups peeled and cubed butternut squash
3 cups vegetable stock
salt and ground black pepper to taste
ground nutmeg to taste
½ cup heavy cream (optional)
Directions:
Heat the oil and melt the butter in a large pot over medium heat. Cook and stir the onion in the butter and oil under tender.
Mix the carrots and squash into the pot. Pour in vegetable stock, and season with salt, pepper, and nutmeg. Bring to a boil, reduce heat, and simmer until vegetables are tender.
In a blender or food processor, puree the soup mixture until smooth. Return to the pot, and stir in the heavy cream. Heat through, but do not boil. Serve warm with a dash of nutmeg.
---
Thai Coconut Lime Soup
A delicious, spicy vegetarian soup with a twist of lime to warm your palate on cold winter nights.
Ingredients:
1 can light coconut milk
1 can water
1 cube vegetarian bouillon
3 stalks green onions – chopped
½ cup shredded carrot
½ block of super firm tofu – cubed or cut into long strips
4 dried Chinese black mushrooms – rehydrated in hot water and thinly sliced
1 stalk lemon grass – cut into 1-inch pieces
1 teaspoon black pepper (or to taste)
3 – 4 Thai green chilies slit lengthwise (or to taste)
grated rind of 1 lime
4 tablespoons soy sauce
salt to taste
freshly squeezed juice of 1 lime
¼ cup fresh cilantro – chopped
Directions:
Combine all ingredients except for limejuice and cilantro in a large stockpot. Simmer for 15-20 minutes.
Add fresh limejuice and chopped cilantro immediately before serving.