Start Your New Year with a Healthy Twist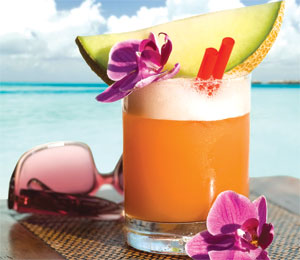 Another new year has begun, and like many, you are likely contemplating the extra pounds you put on during the holidays. Last issue, we featured some festive recipes that were not very health-conscious, but it is hard to resist holiday fare. And, after all, what fun is life without a few indulgences!
Indulgences aside, with data about obesity, diabetes, and heart disease bombarding you everywhere you turn, you may be ready to consider some changes to your diet. While dieting is never the answer, a few lifestyle changes can truly make a difference. Low-fat, low cholesterol, and low calorie do not mean boring and bland. Think about transforming your favorite recipes with just a few, small changes.
Incorporating more vegetables that span the color spectrum to your diet can make a world of difference. Substitute more whole grains to maximize protein and fiber intake. The recipes below provide some ideas as you begin your journey to healthy eating.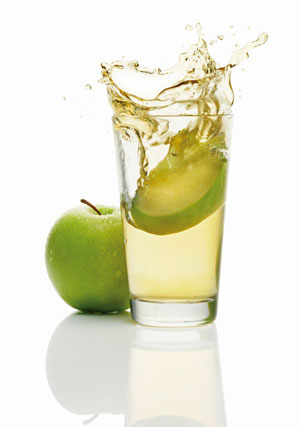 Healthy Juices
Maximize nutrition intake with juices that pack a punch. The combinations of fruits and vegetables are endless and result in tasty juices that leave you wanting more.
Tips
• Buy organic produce whenever possible.
• Frozen is often as good as fresh and usually less expensive. Frozen fruits also chill the juice and create thickness.
• Make your juice hearty by adding a handful of almonds or a few spoons of yogurt.
• To thin juices, add a splash of 100% juice or water.
Suggested Blends
• Apple, carrot, ginger
• Apple, pineapple, mint, lime
• Carrot, green bell pepper, spinach
• Carrot, apple, orange, strawberry, ginger, spinach
• Mixed berries, pineapple, spinach
Makai ki Roti
Roti doesn't have to be boring. Whole grains and spices add some zing to a traditional comfort food.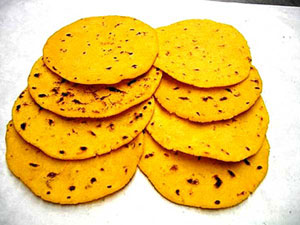 Ingredients
• Buy organic produce whenever possible.
• 2 cups finely ground yellow corn flour, (see Shopping Tip)
• ½ cup whole wheat flour
• ¾ teaspoon salt
• 4 ¼-inch-thick slices fresh ginger
• 2-4 fresh green chilis, such as Thai or serrano
• ½ cup finely chopped red onion
• ¼ cup finely chopped fresh cilantro
• 1-1 ¼ cups warm water
• 1 tablespoon ghee, melted
• 1 tablespoon canola oil
Directions
• Combine both flours and salt in a medium bowl.
• Pulse ginger and chilis in a food processor until minced. Add to the flour mixture along with onion and cilantro.
• Drizzle warm water over the mixture, a few tablespoons at a time, stirring it in as you go, until the mixture starts to come together and form a ball. Turn the dough out onto a lightly floured surface. Gently knead until a soft dough forms (it will still be a little bumpy from the vegetables). Divide the dough into 12 portions and shape each into a ball. Keep the balls with a slightly damp paper towel to keep from drying.
• Combine the ghee and oil in a small bowl and keep near stove for use later.
• Coat a small nonstick skillet with cooking spray and heat over medium heat. Begin rolling dough. Press ball down to form a patty, then roll it out into a 1/8-inch-thick disc, 4 to 6 inches in diameter (the edges won't be perfectly round and will appear jagged and cracked). Gently lift and add it to the hot pan. Cook until the underside is light brown in spots, 1 to 2 minutes. Flip it over and cook for 1 to 2 minutes more. Brush the top lightly with the butter-oil mixture and flip it over to sear it, about 30 seconds. Brush the second side with butter-oil mixture and flip it over to sear that side too, about 30 seconds.
• Repeat with the remaining dough. Serve warm.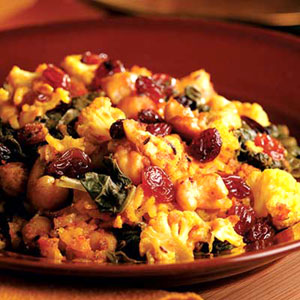 Biryani Casserole
Need a satisfying one-pot meal to serve to your hungry family? This casserole includes whole grains, vegetables, and protein – everything your family needs to sustain their energy.
Ingredients
• 2 large tomatoes, coarsel
chopped
• 1 large red onion, ½ coarsely
chopped and ½ thinly sliced
• 3-5 fresh green chilis, such as
Thai or serrano
• 3 tablespoons canola oil, divided
• ½ cup golden raisins
• ¼ cup raw cashews
• 1 teaspoon cumin seeds
• 4 cardamom pods
• 2 bay leaves
• 2 3-inch cinnamon sticks
• 1 teaspoongarammasala
• 1 teaspoon salt, divided
• ½ teaspoon ground turmeric
• 1 cup brown basmati rice, rinsed
and soaked for 1 hour
• 1 bunch (8 ounces) spinach,
leaves finely chopped
• 8 ounces cauliflower, cut into
½-inch florets
• 1 15-ounce can chickpeas, rinsed
• 3 cups water, divided
• ½ teaspoon saffron threads
Directions
• Puree tomatoes, chopped onion and chilis in a blender or food processor, scraping down the sides as needed, to make a smooth sauce.
• Heat 2 tablespoons oil in a large skillet over medium-high heat. Add raisins and cashews and cook, stirring, until the raisins are plump and the nuts are lightly brown, 1 to 3 minutes. Transfer to a plate with a slotted spoon.
• Add cumin seeds, cardamom pods, bay leaves and cinnamon sticks to the pan and cook, stirring, until fragrant, 30 seconds to 1 minute. Add the sliced onion and cook, stirring, until light brown, 2 to 3 minutes.
• Carefully pour in the pureed tomato mixture (it may spatter) and reduce heat to medium. Stir in garammasala, ¾ teaspoon salt and turmeric. Simmer, partially covered, stirring occasionally, until most of the liquid evaporates, about 15 minutes.
• Stir spinach, cauliflower, chickpeas and 1 cup water into the tomato sauce. Cover and remove from the heat.
• Preheat oven to 350°F. Lightly coat a 9-by-13-inch baking dish with cooking spray.
• Heat the remaining 1 tablespoon oil in a medium saucepan over medium-high heat. Add the drained rice and saffron, and carefully stir (it may spatter) to coat the rice with the saffron. Add the remaining 2 cups water and ¼ teaspoon salt. Stir once to incorporate the ingredients. Bring to a boil over medium-high heat. Cook, uncovered, until the water has evaporated from the surface and craters are starting to appear in the rice, 10 to 12 minutes. Remove from the heat.
• Spread half the chickpea curry evenly in the prepared baking dish. Spread the rice mixture on top of the curry. Spoon the remaining chickpea mixture over the rice. Scatter the reserved raisins and cashews over the top. Cover with foil. Bake until the rice is tender, 45 to 55 minutes. Remove the bay leaves, cardamom pods and cinnamon sticks before serving.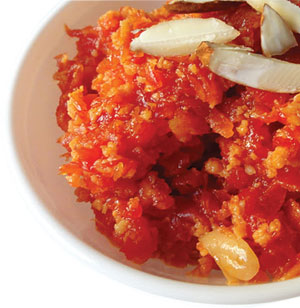 Gajar ka Halwa
Who said dessert was off limits? A lower fat version of a classic dish, this dessert is sure to please a crowd.
Ingredients
• 2 pounds carrots, grated
• 3 ½ ounces nonfat milk powder
• 1 ¾ cupsnonfat milk
• ¾ cup sugar (or to taste)
• 15-20 almonds, silvered and grated
• ½ teaspoon cardamom seeds, powdered
Directions
• Soak almonds in warm water for 4-5 hours. Remove skin and grate. Keep aside.
• In a bowl combine milk power with ¾ cup of milk. Stir slowly to dissolve the powder.
• Over medium heat, heat remaining milk and grated carrots in a deep skillet. Add half the sugar. Stir until all the milk evaporates.
• Add the powder milk solution, cardamom powder, and half of the grated almonds. Stir until all the milk gets evaporated. Stir well so that nothing sticks on the bottom or sides of the skillet. Continue stirring until the color turns to brown. Turn off the stove, remove dish from heat, and add the remaining sugar. Mix well.
• Garnish with remaining grated almonds.
• Enjoy warm or at room temperature.