Successful Women From Indian Subcontinent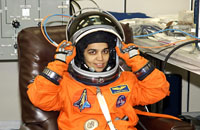 When the first Americanmusic videos and popularTV shows began appearing in Indian homes in the early 1990s thanks to satellite and cable, many predicted Indian society would never be the same. For the first time, young Indian women saw a regular dose of sexy, scantily clad divas shimmying. Female viewers also saw independent, successful women, like Ally McBeal. Sex and divorce were openly discussed in these TV imports and couples kissed passionately — then still a taboo in Indian TV shows and movies.
Indeed, the impact on younger generations of Indian women has been profound. Whereas Indian women traditionally have been submissive to parents and husbands and valued frugality and modesty, a number of sociological studies show that young Indian females now prize financial independence, freedom to decide when to marry and have children, and have glamorous careers.
A generation back, women would sacrifice themselves and believed in 'saving for the rainy days'. However things have changed drastically, since. The successful woman of today believes in spending their hard earned money in the way they entirely wish to. It is now acceptable for a woman to want something for herself, and people will accept it if she goes out into a man's world making a statement.
The image of the modern Indian woman is no longer confined. The traditional image of woman being a perpetuator of the family is fast giving way to a new generation of successful woman who can match her strides with the men in our society. A recent controversial, yet successful advertisement of Fair and lovely highlights this fact. A daughter came home and found that her parents had no sugar for coffee because they couldn't afford it. She became an airline hostess. She then visited her parents and took them to a first class restaurant. This is a reflection of a woman today who is capable of taking care of her parents akin to her male counterpart.
Women today have succeeded in more fields than one. There remains no arena that is untouched by her. Lets take a closer look at some of the professions she has exploited and has carved herself a niche not only in her country but worldwide.
The success stories of women remain incomplete without crossing the seven seas. Women's acclaim has been heard within and outside the country. A lot has been said about the ones living in India; however there remain some women who have kept a low profile or those whose dreams remain incomplete due to their untimely demise. I choose to talk about a two such laudable women.
The precinct of literature will definitely be sketchy without the mention of Divakaruni. Despite being natively a Bengali she did not manage to garner as much cognizance as one who would typically hail from Calcutta. Here was a Bengali woman who penned down some of the best novels only to push herself to oblivion. She completely skirted from the limelight.
Born in India she lived there until 1976, till the age of nineteen, at which point she left Calcutta and came to the United States. She continued her education in the field of English by receiving a Master's degree from Wright State University in Dayton, Ohio, and a Ph.D. from the University of California at Berkeley. She briefly lived in Chicago and Ohio before she settled in Sunnydale, California in 1979.
As a novice she earned money for her education by doing many odd jobs, including babysitting, selling merchandise in an Indian boutique, slicing bread in a bakery, and washing instruments in a science lab.
The student of Loreto House and Presidency College's nature of work remains predominantly autobiographical. Most of her works dwells into the life of immigrant experience set in the Bay Area of California.
Her book titled 'Arranged Marriage' is a collection of short stories, all about women from India caught between two cultures. In 'The Mistress of Spice', the character Tilo provides spices, not only for cooking, but also for the homesickness and alienation that the Indian immigrants often experience.
Her clement style attempts to bring people together by breaking myths and stereotypes. She has, through her writing has tried to break the confines and thaw the boundaries between people from varied backgrounds, ages, communities, cultures. The acknowledgement comes in form of recognition that she receives from her fans, most of them being immigrant women. Her opus speaks of women in love, in relationship, in hardships etc.
Divakaruni's sensibility towards women issues compelled her to rehash the treatment of women in America. At Berkeley, she volunteered at a women's center and became interested in helping battered women. She then started MAITRI, a helpline for South Asian women that helps victims of domestic violence and other abusive situations. with a group of friends and has been the president of MAITRI since 1991, which eventually led her to write 'Arranged Marriage', a work that includes stories about the abuse and courage of immigrant women.
Arranged marriage beautifully weaves out the lives of immigrant brides who are "both liberated and trapped by cultural changes" and who are struggling to carve out an identity of their own.
The bearer of over 30 anthologies has also penned down 'Sister of My Heart', which talks about the lives of two women and how they are changed by marriage, as one woman comes to California, and the other stays behind in India. The Vine of Desire (2002) continues the story of the two friends. The Unknown Errors of Our Lives is a collection of stories "about family, culture, and the seduction of memory".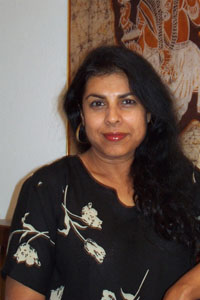 Chitra Divakaruni is also the editor of Multitudes, an anthology she uses in her own classroom. She teaches creative writing at the University of Houston, one of the best in country.
The other interesting facet about the author is her keen interest in the field of poetry. Before she started her stint in fiction writing she was a poet of some acclaim. Her poetry deals with a wide variety of themes, and she tends to bend towards immigrant experience and to South Asian women. She shows the experiences and struggles involved in women trying to find their own identities.
Divakaruni's latest collection, Leaving Yuba City, is unique because it includes series of poems based on and inspired by various art forms, including paintings by Francesco Clemente, photographs by Raghubir Singh, and specific Indian films, such as Salaam Bombay. With these poems, Divakaruni once again shows how boundaries can be destroyed, as she illustrates how different art forms are not independent entities, but how they can, in fact, influence each other.
Her latest novel is called Queen of Dreams, set in the Bay area of California, the story, like Chitra's earlier works, explores the immigrant experience in the US. She strikes to achieve an atypical balance between eastern theology and contemporary American culture.
With Mistress of Spice is heading for a full-fledged film, starring Aishwarya Rai produced by Gurinder Chawla and directed by husband Paul Mayeda Berges, we may soon be seeing the author from New Alipore emerging to levels of stupendous publicity a fact that so far has been contrary to her demeanor.
She has a children's book on the way next year, titled Mirror of Fire and Dreaming, and another tale in the works, "an ambitious project" that revisits the Mahabharata from the perspective of its women characters.
She currently lives in Sunnydale with her husband and two children while teaching creative writing at CA.
Today, her work has been published in over 50 magazines. And while she continues to satiate her desire with the power of the pen she surely represents the woman that India can proudly look up to even as she stays miles away from her motherland.
Whether one calls her the able astronaut or the Sikh in Space, Kalpana Chawla , the Indian born space scientist who left the aerospace in a quandary on the fateful day her shuttle Colombia, crashed on the 1 February 2003, was one of the finest astronauts, with an exemplary drive to make a mark in the world of Space Research.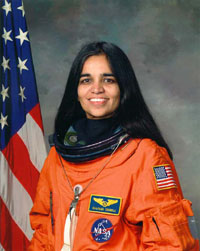 Kalpana obtained her degree in aeronautical engineering from the Punjab Engineering College and pursued higher studies at the University of Texas, from where she did her masters in the same subject.
Chawla, who had migrated to the United States in the 1980s, married Jean-Pierre Harrison a pilot by profession and was a naturalised American citizen.
The 41-year-old NASA astronaut always cherished dreams of being an aerospace engineer and going to the moon one day.
She often mused, as she watched airplanes flying over her head in the local flying clubs in India, she would passionately along with her brother follow it on their bikes till it disappeared. Such fervent liking for the subject took her to the University of Colorado for her doctorate in aerospace engineering in 1988.
Thereafter, her journey for the stars took off. After her successful stint at the NASA Ames Research Centre, she briefly joined a private firm as a vice president conjuring various body functions for future space missions.
Reminiscing her days back home she revealed that her father could never fathom her interests in space science. He always insisted that she become a doctor or teacher, unlike her mother who accompanied her for an interview, in the Punjab Engineering College, which back in those days was contrary to a demeanor of a lady.
As the chosen astronaut by NASA in 1994, her endeared dream came true when she set foot on her maiden spaceflight in November 1997.
However, in 1997 as a robotic arm operator, she was unable to retrieve an orbiting Spartan satellite, which spun away after the shuttle released it and astronauts had to take a spacewalk later to get it back. A post-flight NASA evaluation absolved her of the blame.
An attempt to summarize her grand flight history is not facile. The milestones in her flight experiences were as follows:
1. STS-87 Columbia (November 19 to December 5, 1997). STS-87 was the fourth U.S Microgravity Payload flight and focused on experiments designed to study how the weightless environment of space affects various physical processes, and on observations of the Sun's outer atmospheric layers.

Two members of the crew performed an EVA (spacewalk) which featured the manual capture of a Spartan satellite, in addition to testing EVA tools and procedures for future Space Station assembly. STS-87 made 252 orbits of the Earth, traveling 6.5 million miles in 376 hours and 34 minutes.

2. STS-107 Columbia (January 16 to February 1, 2003). This was a 16-day flight totally devoted to science and research mission. Working 24 hours a day, in two alternating shifts, the crew successfully conducted approximately 80 experiments.

This mission remained incomplete. Unfortunately, the STS-107 mission ended abruptly on February 1, 2003 when Space Shuttle Columbia and her crew perished during entry, 16 minutes prior to the scheduled landing.
Before Columbia's lift-off, Kalpana had said that she got inspired to take up flying from J R D Tata, who flew the first mail flights in India. She expressed that he was an immense driving force and that he captivated her imagination.
She also added that she has been inspired by explorers; she made special mention of Shackleton and the incredible feats that they carried out, where they almost made it to the South Pole but wisely decided to stop a hundred miles short and returned.
In previous interviews, Chawla said she always thought she'd become an engineer rather than an astronaut but then realized that the posters she kept on her dorm-room walls of shuttles and space probably subconsciously pushed her aspirations.
Chawla, whose first name Kalpana means "thought" or "imagination" or "dreams" in the ancient Indian language Sanskrit, in a sense lived up to her name. She ignited her imagination, dreamt for the stars and went as close to it, as one possibly could. With her goals set at an early age, it was journey on the known tracks and a fight against all odds. �