Swami Vivekananda On Women And Womanhood
In honor of Women's History Month, Desh-Videsh will highlight a few notable women who continue to make headlines around the world.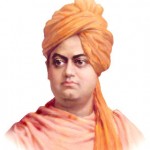 On 30 September 1893, an interview of Swami Vivekananda was published in the Boston Evening Transcript. In that interview he was asked if he had a plan to get married. Vivekananda's prompt reply was— "Why should I marry, when I see in every woman only the divine Mother?  To emancipate myself from earthly ties and attachments so that there will be no re-birth for me. When I die I want to become at once absorbed in the divine, one with God. I would be a Buddha."
Swami Vivekananda considered Sita as the ideal Indian woman. He also told, "The ideal womanhood of India is motherhood— that marvelous, unselfish, all suffering, ever-forgiving mother." He understood the day India started neglecting their women, the downfall of the nation started.
Swami Vivekananda's quotes on women and womanhood.
"Can you better the condition of your women? Then there will be hope for your well-being. Otherwise you will remain as backward as you are now."
~
"If you do not allow one to become a lion, he will become a fox. Women are a power, only now it is more for evil because man oppresses woman; she is the fox, but when she is not longer oppressed, she will become the lion."
~
"Is there any sex-distinction in the Atman (Self)? Out with the differentiation between man and woman—all is Atman!"
~
"Liberty is the first condition of growth. It is wrong, a thousand times wrong, if any of you dares to say, I will work out the salvation of this woman or child. I am asked again and again, what I think of the widow problem and what I think of the woman question. Let me answer once for all — am I a widow that you ask me that nonsense? Am I a woman that you ask me that question again and again? Who are you to solve women's problems? Are you the Lord God that you should rule over every widow and every woman? Hands off! They will solve their own problems."
~
"Our right of interference is limited entirely to giving education. Women must be put in a position to solve their own problems in their own way. No one can or ought to do this for them. And our Indian women are capable of doing it as any in the world."
 ~
"The best thermometer to the progress of a nation is its treatment of its women. In ancient Greece there was absolutely no difference in the state of man and woman. The idea of perfect equality existed. No Hindu can be a priest until he is married, the idea being that a single man is only half a man, and imperfect. The idea of perfect womanhood is perfect independence. The central idea of the life of a modern Hindu lady is her chastity. The wife is the centre of a circle, the fixity of which depends upon her chastity. It was the extreme of this idea which caused Hindu widows to be burnt. The Hindu women are very spiritual and very religious, perhaps more so than any other women in the world. If we can preserve these beautiful characteristics and at the same time develop the intellects of our women, the Hindu woman of the future will be the ideal woman of the world."
~
"The great Aryans, Buddha among the rest, have always put woman in an equal position with man. For them sex in religion did not exist. In the Vedas and Upanishads, women taught the highest truths and received the same veneration as men."
~
"The highest of all feminine types in India is mother, higher than wife. Wife and children may desert a man, but his mother never. Mother is the same or loves her child perhaps a little more. Mother represents colorless love that knows no barter, love that never dies. Who can have such love?– only mother, not son, nor daughter, nor wife. "I am the Power that manifests everywhere", says the Mother — she who is bringing out this universe, and She who is bringing forth the following destruction. No need to say that destruction is only the beginning of creation. The top of a hill is only the beginning of a valley."
~
"There is no chance for the welfare of the world unless the condition of woman is improved. It is not possible for a bird to fly on only one wing."
~
"There is no hope for that family or country where there is no estimation of women, where they live in sadness. For this reason, they have to be raised first."
~
"We should not think that we are men and women, but only that we are human beings, born to cherish and to help one another. No sooner are a young man and a young woman left alone than he pays compliments to her, and perhaps before he takes a wife, he has courted two hundred women. Bah! If I belonged to the marrying set, I could find a woman to love without all that!"
~
"Woman has suffered for eons, and that has given her infinite patience and infinite perseverance."
~
"Woman is as courageous as man."
~
"Women have faith…. Gain independence, gain everything, but do not lose that characteristic of women!"
~
"Women similarly must go forward or become idiots and soulless tools in the hands of their tyrannical lords."
~
"Women's moods and man's luck — the gods themselves do not know."
Courtesy of  www.swamivivekanandaquotes.org