Tayyaba Tanveer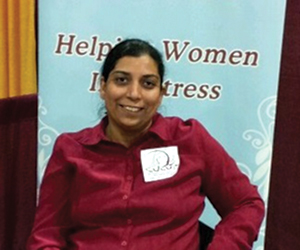 Tayyaba Tanveer
Tayyaba Tanveer was a social worker who aided the international community for over 27 years through her work in Pakistan, Canada, and the United States.
After earning a Master's in Education and Social Work, Tanveer began her career at the UNHCR (United Nations High Commission for Refugees) as a women's program officer for a Domestic Violence prevention project in Pakistan.
She then spent five years as a Chief program coordinator for the Women Educational and Environmental Network (WEEN) in Pakistan. She served as Gender Monitoring officer in SRSC a project by the World Bank and Gender Experts in Galliat development project under IUCN, a division of the United Nations.
After relocating to Canada, she spent 10 years serving as Manager of settlement services, family support programs, volunteer, and training coordinator at the Brampton Multicultural Center.
She was with Sahara of South Florida and the NUR Center since 2011, where she provided much needed aid and counsel to victims of domestic violence in our local South Florida Community.
Tanveer was passionate about women's rights and spent her life advocating for underprivileged women to get equal human rights. As a human services professional, she was committed to aiding victims, as well as to educating to bring social change to end domestic violence.
Additionally, she traveled to Bangladesh and Nepal for humanitarian aid work. Her personal aspiration was to open a homeless shelter, one which could render assistance to the homeless in finding employment and secure housing. She devoted her life to advocating for human rights on a multitude of social issues such as poverty alleviation, immigration and refugee assistance, minority rights and most importantly, women's rights.
She accomplished all this with a smile on her face and a quiet determination. She was fearless and courageous in her efforts to effectuate change and was a role model to many.
Tayyaba was a resident of Plantation under her sudden and untimely death in April 2017. She is survived by her three children.