The Best of Both Worlds: Leading a Hindu American live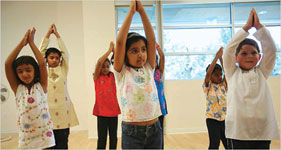 In previous issues, we featured winning essays of the Hindu American Foundation's NextGen Essay Contest. This month, we share an essay by Divya Srinivasan, a doctoral student pursuing a Ph.D in public policy at George Mason University in Arlington, Virginia, and the second prize winner in the 23-27 year category.
As I take a stroll down Massachusetts Avenue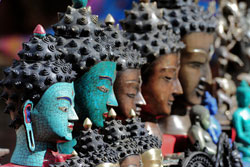 and 21st NW in downtown D.C., I see a statue of Mahatma Gandhi, the great freedom fighter of India, smack dab in the middle of the cross street. A few blocks later, an Indian restaurant comes up on my left, the silhouette of an Indian temple on my right and a sign for yoga classes up on a shop window. All of these merge with the other cultural cuisines, activities and events occurring in the diverse city of Washington, D.C., so it seems that there is so much scope for keeping my cultural roots intact while living in a country away from that of my original ancestry. For this reason, to describe an "American" today has become more complicated, though not necessarily in a negative sense. It is not defined as having a particular skin tone, hair color, or accent or about being skilled at a specific trade. Being an American can take on many versatile forms; a soldier fighting in Afghanistan, a human rights activist in the inner city streets, a congressional representative or even a top surgeon can all still be American. Such versatility encourages me to lead a Hindu American lifestyle, providing me the benefit of having a vivid identity with multiple dimensions. Of course, I was born into my Indian ethnicity, but I do have a choice on how much to incorporate Hindu religion into my life and the extent to which I want to be associated with being a Hindu. So while I may choose a career path, a home and a life away from a country of a Hindu majority, I still feel the need to overlap being a Hindu and being an American. What are the advantages of this and why does it make a difference to me to keep myself aware and associated with my Hindu background?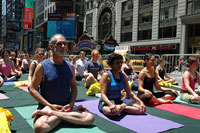 It is important to step back and ask why we are trying to factor in our Hindu roots into what could be a completely American lifestyle. In my opinion, it's because being a Hindu American and pursuing the interests I have, make me a more unique person while adding a rich layer of skills, knowledge and beauty to my life. It fulfills a desire to create the best possible version of myself that I can.
Being a Hindu comes naturally to me as I was blessed with parents who have kept as active Hindus in their community. They visit the temple often, have poojas and other cultural events both at home and in the community and lead a moderate Hindu lifestyle of a healthy Vegetarian diet supplemented with the practice of classical music, dance and yoga.
While it may be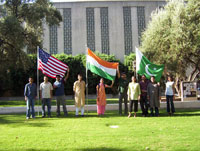 more difficult for those who grew up without a strong family sense of Hinduism, it is definitely not impossible to learn more about the principles of Hinduism through reading, asking questions, and researching. Reading has personally helped me expand my horizons as to why I follow certain traditions so that I do not continue to do so blindly, but rather with meaning and purpose. A book that really touched me was Meeting God: Elements of Hindu Devotion, which helped me see the aesthetic beauty of Hindu rituals, the Gods, and the religion itself-all through profound photography. It also made me realize the wealth of knowledge and beauty there is in Hinduism and what I gain from choosing to keep my own Hinduism alive. As Hinduism is less rigid than some religions, it is open to interpretation and preaches leading a healthy, peaceful lifestyle of helping others and in turn oneself.
As an Ameri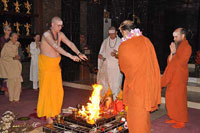 can graduate student, I spend time studying, volunteering in the community and being out and about, but can easily merge this with the Hinduism I imbibe. I make time to take Carnatic music classes on my days off, try to cook various Vegetarian dishes and enjoy the occasional yoga and pilates class at the gym. At the same time, it doesn't hit me as odd that I'm conducting activities of both a Hindu and American nature as I've closely incorporated it into my lifestyle. Books on Hinduism like Siddhartha would call this fulfilling an inner journey, a quest to find oneself in the monotony and rigors of everyday life which to me is a valid portrayal.
Another interesting book I read called Dancing With Siva: Hinduism's Contemporary Catechism is more of an informational guide to the reasons behind why Hindus preach and uphold the values they do, but also reveals what the goals of the first Hindus originally were and how we can battle the difficult issues we have as Hindus in a modern world. As this book suggests, it is not always easy to be a Hindu in a foreign country; you are sometimes met with skepticism, mockery, or disinterest. Yet at the same time, it's about the attitude with which we handle these difficult situations that define us as individuals. While being a Hindu American may leave me in a challenging place, to incorporate Hinduism into an American lifestyle and to educate others about my religion makes me a stronger and possibly wiser person for it. This is something worth fighting for, making me a better American as well.
Life as a Hindu American is not just about creating an image to the outside world or trying to prove to others that I'm upholding Hindu values or beliefs. It is about proving to myself that my train is on the right track toward happiness- until this journey splits at the fork in the road between being an American and being a Hindu. And that's when I realize that it's actually no fork at all; no matter which path I take, I will still have a strong gist of the other culture following me close behind.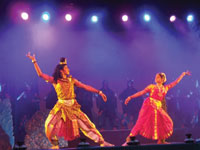 About Divya
As a Ph.D. student at George Mason University in Arlington, VA, Divya Srinivasan has delved into a variety of Public Policy issues during the course of her study. She has written papers on defense spending, multinational firms, social policy issues, and welfare programs involving healthcare. Within healthcare, she developed her line of expertise, with an interest in healthcare information technology (HIT). Divya completed her Masters in Public Policy (MPP) at the University of Texas at Dallas in 2011, and her BBA in Finance at Texas A&M University in 2009. She was an undergraduate research scholar at Texas A&M University. Divya has interned in Houston for Merrill Lynch, after which she switched gears to policy organizations in DC and Virginia including the Institute for Women's Policy Research, Healthcare Information Management Systems (HIMSS), and the National Housing Trust. She is currently working with Cochrane Collaboration & the Public Policy team at George Mason University. Her other interests include singing/ voice training lessons as well as yoga, travelling, and art.