The Buzz about Indian Americans and Spelling Bees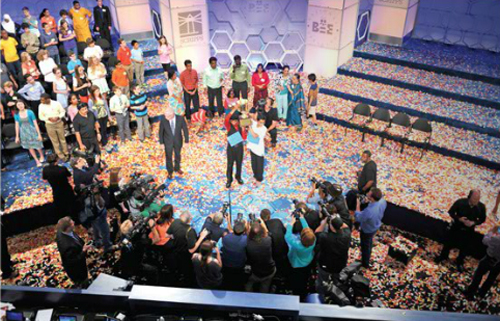 Do Indian-Americans have a special gene that makes them excel at spelling? If you take a look at the list of top spellers at the Scripps National Spelling Bee over the last decade, you can't help but wonder. This year, two Indian-Americans tied for the top spot. Is it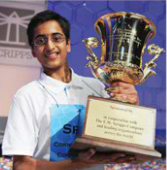 Indian domination
Since 2008, every Scripps National Spelling Bee champion has been of Indian origin. Nine out of the last thirteen winners have been Indian-Americans. Before 2008, Indian-Americans won in 1985, 1988, 1999, 2002, 2003, and 2005. Considering that Indian Americans form just one percent of the American population, it truly is a matter of pride that Indian children win this prestigious honor year after year.
Sriram Hathawar (New York), 14, and Ansun Sujoe (Texas), 13 tied for first place at the 2014 Spelling Bee. The tie was the first in over than fifty years of the competition's history. Other Indian-Americans among top contestants in the final round were Gokul Venkatachalam (3rd), Ashwin Veeramani (4th), Neha Konakalla (8th), and Tejas Muthusamy (8th)
2014 Champions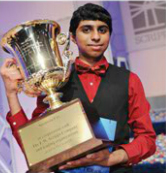 For 8th grader Sriram Hathawar at Alternative School for Math and Science in Painted Post, New York, 2014 will always be a very special year. He participated four times in the Scripps National Spelling Bee competition, and finally earned a win this year! In 2013, he placed 3rd. This year, he spelled stichomythia correctly to win the contest. Spelling is not the only passion for this bright youngster. He is interested in music, and he plays the piano and oboe. When he has time, he likes to stimulate his brain by playing chess. Sriram likes being active as well, and he plays badminton, tennis, ice skating, and basketball. Like many Spelling Bee contestants, Sriram spends a lot of time reading. He has even traveled extensively all over the world, though he has quite a few locations left on his list of places to see.
Ansun Sujoetied with Sriram, and he is a 7th grader at Bethesda Christian School in Fort Worth Texas, Ansun Sujoe. Ansun participated in the Spelling Bee in 2013 as well. Ansun is multitalented, with a love for playing musical instruments including the guitar, piano and bassoon. He has a perfect pitch as well and can sing any musical note without needing a pitch for reference. His other interests include solving math problems, playing chess, and programming robots. Ansun has a deep sense of moral responsibility and serves seniors in nursing homes.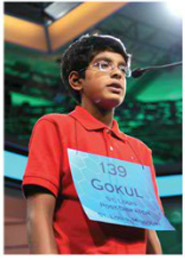 Why Spelling?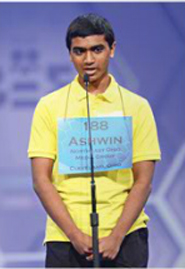 Experts have been baffled by the dominance of Indian-Americans in thespelling arena, though they do offer some feasible explanations. According to one line of thought, most of Indian American children have highly educated and skilled parents. So, the orientation towards academics and education is very high. Since the home environment for these kids is academic, they tend to develop an interest in books at an early age. Moreover, for those living on Indian subcontinent, education is given a very high priority. This mindset and attitude is transferred to kids, who take their studies more seriously than their counterparts. Immigration expert Alex Nowrasteh believes children of skilled immigrants have a higher chance of becoming exceptional Americans. The trend at the Scripps National Spelling Bee certainly supports this line of thought.
Others b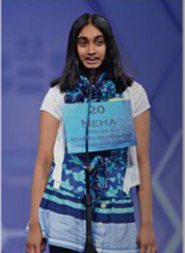 elieve Indians have a natural inclination towards languages as well as with grasping phonetic variations because they are exposed to multiple languages from an early age, unlike American counterparts. Almost every Indian-American speaks at least two languages, unsually English and their Indian mother tongue. This works in their favor when they understand and learn spellings.
A third line of thought believes that discipline, hard work and memorization are an integral part of the Indian education system and culture. Memorizing poems and verses is common in Indian schools. So, parents tend to transfer some of those values into their children, which help them gain proficiency with spelling. In fact, parents spend hours with their children helping them memorize spellings from the dictionary.
Apart from these reasons, the dominance of Indians in Spelling Bee competitions is truly a matter of pride for us all!
Photos Courtesy
Mark Bowen/Scripps
National Spelling Bee