Celebrating Ramadan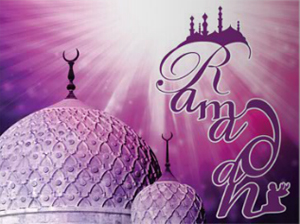 Another Ramadan is upon us this mid-summer. This auspicious month gives Muslims the opportunity to truly reflect on the past year, earn extra blessings, and turn towards Allah more so than any other month. During this time, Muslims forgo that which is most important – food and drink -in an effort to control negative urges and channel positive urges into making us better human beings.
Ramadan is the ninth month in the Muslim calendar and one that inspires even those who are not regular practitioners of Islam to take notice. Routines undergo a makeover during this month to accommodate traditions and rituals. From rising earlier than usual for the Sehri meal to rushing back home for Iftar at sunset and going to the Masjid for Taraweeh Prayers, it is indeed a major departure from normal, everyday affairs. During Ramadan, special care is taken to be more conscious of how one speaks, deals with individuals on a daily basis, and offers assistance to those who need. The month inspires all to be kind, generous, loving and patient not only with our fellow being, but also with our surrounding environment.
According to official records, there are approximately six million Muslims living in the United States, and they hail from nations all around the world. Each country observes its own customs and traditions, and this diversity has enriched new traditions in the United States even more. Different customs manifest in a variety of ways, from the foods prepared to the gatherings at sunset. Food is a unifying force that brings us all together, regardless of religion. For Muslims, the gathering for the evening meal, Iftar, is a special time where people of all ages come together at a Mosque or at a relative's home. Dates hold special significance, and nearly all households eat this delicacy to break a fast at sunset.
In forgoing essentials like food and drink, individuals have an opportunity to reflect on their spiritual and mental well-being. The month is a great opportunity to introduce older children to the concept of channeling urges in a positive way. Once a child reaches puberty, they become active participants and began fasting. Often a matter of pride, many children are excited to participate and subsequently, boost self-confidence as they feel good about themselves and their actions. Parents encourage their children by holding Iftar parties and inviting close friends and relatives, who in turn bring gifts for the child. It is very important to set an example for children at a very early age, so that they in turn carry on traditions and the duty of fasting as they grow older.
The spiritual, mental, physical and psychological training of the body and soul can take a toll on a person, but by the end of the month, the sense of accomplishment one feels cannot be expressed in words. This month culminates in a major Islamic holiday, Eid ul Fitr. This ceremony marks the end of this blessed month and gives everyone the chance to gather with friends, families and neighbors and spread the cheer. Most celebrate this holiday over three days with much feasting and a lot of goodwill.
Aniqah Quaraeshi, a resident of South Florida for over 20 years, is a dedicated community member and is deeply involved with community affairs.