The Fundraising Program of the Atlanta Chapter of Ekal Vidyalaya Foundation, USA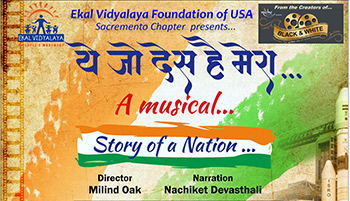 Ekal Vidyalaya Foundation of USA was initiated on the principles of providing education to the underprivileged children of rural India. They believe that education can bring the greater world within reach of these children and expand their horizons towards a far better life. With this vision, the Ekal Vidyalaya began its journey back in 1989 and changed the academic scene of rural India.
Today, more than 80,000 villages are under the aegis of Ekal benefiting countless children by empowering them with the tool of education. Their model of a one-teacher school with an annual sponsorship of $365 has become very popular. Along with free basic primary education, Ekal has successfully expanded its activities in the areas of vocational training, organic cultivation, vermicomposting, telemedicine, social empowerment, and healthcare for adults and consequently brought about far-reaching changes in neglected villages of India and Nepal.
The Atlanta Chapter of Ekal Vidyalaya Foundation organized a grand fundraiser program on Saturday, September 17, 2022, at Berkmar High School's new auditorium and raised over $100,000 for Ekal Vidyalayas. It was a soulful presentation of music and dance titled "Ye Jo Des Hai Mera" or "This is my Country," narrating Independent India's journey of 75 years and the milestones, and achievements along with the image of a new India that is confident, aggressive, and steadily emerging as a major force.
The program began with a warm welcome by emcee Neetu Singh Chauhan. Regional Vice President Ajay Upadhyaya, led the Ekal youth volunteers in singing the US and Indian national anthems. The presentation on India was conceptualized and directed by Milind Oak and narrated by Nachiket Devasthali. Milind has a long association with Ekal and visited an Ekal school in 2015. It was presented with melodious live music, dances, trivia, interviews, and vintage speeches. 
The presentation started with a dance to the patriotic song "Vande Mataram" with clippings of old newspapers, speeches, and photographs being shown in the background. The achievements of India in various fields like sports, movies, and the recent digital revolution of Make in India were also highlighted.
The grand show was attended by over 275 guests including dignitaries, Mr. Mark Gonsalves, a successful businessman and GA's 7th Congressional District candidate, and his wife; Mr. Dilip Tunki, Council Member for the City of Johns Creek, Mr. Kartik Bhatt and Mr. and Mrs. Harsha Agadi, and Mr. Shiv Aggarwal, Ekal Chapter President and owner of Global Mall, invited the guests of honor.
The program included a meet-and-greet hour where VHPA served sumptuous dinner and tea. The show concluded with the traditional Rajasthani invitation "kesariya baalam aao ni padhaaro maare des" which is an intimate request to visit "My Country" or India.