The Indo-Caribbean Diaspora in North America
In the twentieth century, many Indo-Caribbean people migrated to North America to escape the poverty, lack of equal opportunity and political abandonment that they experienced in the Caribbean nations. Coming to North America was a difficult decision because the Caribbean is, and perhaps always will be, home. As Indo-Caribbean communities established themselves in the North American landscape, certain defining features became evident, and these include the ability to survive hardships, the desire to work and strive for excellence, and the passion to preserve the uniqueness and creativity of Indo-Caribbean culture. In the Indo-Caribbean communities in New York, there are many personal tales of sacrifice. I recently encountered a woman who lived in a tiny apartment in Queens with her husband and two children. She and her husband worked many minimum-wage jobs for seventeen years and were able, over this period, to save $20,000 to purchase their first home this year. They are pleased that their children were able to see that, through perseverance and sheer hard work, you can achieve your dreams. Education has always been prized in the Indo-Caribbean community, and many immigrants save and sacrifice so that their children can go to college. There are many adults who return to college after supporting their children's education, and as an educator, I have met many Indo-Caribbean men and women who are returning to college in their 40's and 50's. Some of them had to postpone their career choices in order to support their families. One woman in my Freshman Composition class always wanted to be a paralegal. She was a secretary for twenty-five years, and as soon as her son completed college she decided to pursue her education. Stories such as these are very typical.
One of the most remarkable achievements of the Indo-Caribbean diaspora has been its ability to keep Indo-Caribbean culture alive in North America. The Hindu festival of Phagwah or Holi always draws a huge crowd everywhere in the U.S. As participants throw abrac (dye) on each other and sing Chowtals (religious songs), we see one example of the way Indian festivals are practiced in the diaspora. The Hindu festival of Divali, a festival of lights that celebrates Ram's return to Ayodhya after fourteen years of exile, is also widely celebrated. The epic text of the Ramayana is revered in all Indo-diasporic communities, as its story of exile resonates closely with the experiences of all who left India for other parts of the world. Indo-Caribbean musical forms such as Chutney and Chutney-Soca have a wide distribution in the diaspora, and musicians are always performing to very appreciative audiences. To attend a Chutney show in New York is to see the pride the Indo-Caribbean community takes in its culture. Part of this appreciation comes from the knowledge that this culture was forged in spite of the hardships of crossing the kala pani, and working under the brutal system of Indian indenture ship in the Caribbean. Even though the labor in the cane fields and cocoa estates was arduous, Indo-Caribbean people were still able to create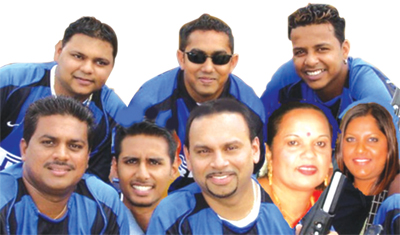 beautiful and sophisticated forms of music, literature, visual art and communal festivals that are kept alive today in the Caribbean and its diaspora. Such a musical group is The Florida Melody Makers. It is the most well known Indo-Caribbean American band for years and continues to perform around the Southeastern U.S. The group was conceptualized in December of 1988, in South Florida with nine members on board. They are proud to be the longest surviving band here in these parts in history. Since then, the band has gone through several major changes and has now evolved into one of the finest, strongest, powerful as well as talented group of entertainers and musicians in the South East United States. The band consists of five professional and very talented musicians along with three frontline singers. The band is very versatile and is often referred to as the leading crossover band here in the South East. The band's leader is Neil D. Persad, an accomplished musician and a very popular singer.
Neil has toured many countries and has two albums to his credit thus far. The band has a CD entitled "Tropical Envisions" which was released two years ago and has done very well. There is another CD in the works and a religious one is planned for later this year as well. The band has two lead female vocalists, Mala Samaroo and Vidya Babwah Gosine. Mala is also known as the Chutney Queen of South Florida, and she has been singing for quite some time with different bands in Trinidad. She is a founding member of the band and is an ardent supporter of West Indian culture here in South Florida. Mala can deliver the unique voice of Shamshaad Begum in her melodies but her specialty is pure, raw, hot and spicy chutney. Vidya Babwah Gosine, a household name in Trinidad joined the ranks of the FMM about seven years ago and has built a huge reputation for herself here in South Florida. Vidya is a Mastana Bahar finalist in Trinidad, and she has a CD to her credit entitled "Forever Yours." Vidya's variety stretches across the voice of Lata Mangeshkar to sweet soca and chutney music.
Indo-Caribbean nationals in the business sector in South Florida have made a large contribution to the community creating jobs for nationals and non-nationals. Joy and Sheila Sawh originally from Trinidad started their business in1992. Coming from a business-oriented family, the couple decided to continue having their independence and opened their restaurant in the heart of Fort Lauderdale, within the Lauderhill Mall. Joy's Roti Shop hosts a delicious array of East meets West Indian style cooking. From delicious curry goat to shrimp and veggies rolled up in a paper thin roti, you are sure to discover a most satisfying meal.
A fascinating cultural collision is played out at the restaurant everyday, where customers can dine in and listen to their favorite music – calypso, reggae and East Indian music. Another notable Indo-Caribbean in North America is Joy Mahabir, Assistant Professor of English at Suffolk County Community College of the State University of New York. She was born and raised in Trinidad and now resides in New York. Her areas of research include: Caribbean Studies, Postcolonial Studies, African-American Studies, and Cultural Studies. Her book, Miraculous Weapons: Revolutionary Ideology in Caribbean Culture (2003) is an interdisciplinary study of progressive novelists, poets, visual artists and musicians from the Caribbean. Her novel Jouvert (2006) was long listed for the 2008 IMPAC Dublin Literary Award. She is currently working on a book about Indo-Caribbean aesthetics and politics as manifested in literature, music, visual arts, architecture and jewelry. She is also involved with Conscious Lyrics, a spoken-word poetry group based at her campus. Despite her busy schedule, she took some time to sit down for an interview with Desh-Videsh.
Desh-Videsh : When did you arrive in the USA, and what was the special reason that brought you here?
Prof. Mahabir : I came in 1989 to begin a degree in English Literature.
Desh-Videsh: What has been the toughest challenge you have faced during your career in the United States?
Prof. Mahabir : Being a graduate student and working a 40 hours a week at the same time. It was very difficult to find the time to read, reflect and write while supporting myself through graduate school.
Desh-Videsh : What drives you? What really pushes you to succeed and reach greater heights?
Prof. Mahabir : Through my writing and teaching I can reach people and share a vision with them of how their lives can be transformed in positive ways.
Desh-Videsh : Success means different things to different people? What does it mean to you and how would you define it?
Prof. Mahabir :Having wonderful relationships with family and friends. Doing what I love, which is writing and teaching, in that order.
Desh-Videsh : What do you think is the secret behind your success?
Prof. Mahabir : Having an open mind and always being willing to learn.
Desh-Videsh : Has your personal success changed your attitude, lifestyle or work style? Prof. Mahabir : I enjoy the fact that I can travel more, and I can go to Trinidad many times a year to visit with my family there. I also enjoy working in the field of Caribbean Studies and meeting many scholars and artists who work in this field through conferences, readings and other events.
Desh-Videsh : How would you compare life in the US today to when you first arrived? How does it compare In terms of opportunities, culture, or any other aspects?
Prof. Mahabir : People have become more sensitive to issues of diversity, and immigrants have become more vocal about their right to be treated with justice and equality.
Desh-Videsh : New immigrants to the US often have great dreams of achieving their goals. What guidance would you give them?
Prof. Mahabir : My advice is that if you have the dream and the inspiration, you should never doubt your talent to achieve your dream. Believe and persevere, and, most of all, be grateful for everything that has been given to you. Everything that you desire will arrive in God's time.
Desh-Videsh : Who has played a crucial role in influencing the events of your life? How so?Prof. Mahabir : My mother, Bernice Mahabir. She is very graceful, kind and intelligent. She has taught me to treat everyone with respect and compassion. She is 78 this year and is very healthy and very active in her church and her community. She is truly an inspiration to me.
Desh-Videsh : Who do you consider to be a mentor and why?
Prof Mahabir : I have had many wonderful teachers from primary school to secondary school to university. I consider my teachers my mentors. The mentors I was drawn to always had a strong sense of responsibility to the community and to the ideals of social justice and equality.
Desh-Videsh : Has religion played a role in your success or your life? If so, how?
Prof. Mahabir : I have a deep belief and faith in God, and I have always felt the hand of God in my life.
Desh-Videsh : How has education, if any, played a role in your success?
Prof. Mahabir : This has been primary in my success since I am a professor of English.
Desh-Videsh would like to thank Shama Harrysingh to help in creating this article and talked to several community members.