The Unveiling of Mahatma Gandhi's Statue in Davie, Florida An address by Dr. A.P.J. Abdul Kalam, Former President of India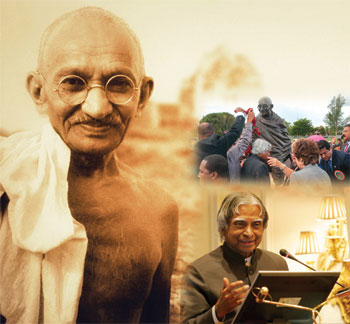 I am delighted to participate in the unveiling of the Mahatma Gandhi statue in Orlando on this auspicious day of October 2, 2012 when the entire world is celebrating the millennium leader Mahatma Gandhiji's birthday and taking an oath to follow the Gandhian philosophy in their day-to-day activities. My greetings to organizers, all the participants of this event, and distinguished guests. I would like to share few thoughts on the topic "A millennium statesman promotes universal love."
Recently I participated in the inauguration of Gandhiji Memorabilia Exhibition organized by Gandhi World Foundation at Anna University, Chennai on June 6, 2012. When I visited the exhibition, I came to know about an important fact about Mahatma Gandhiji.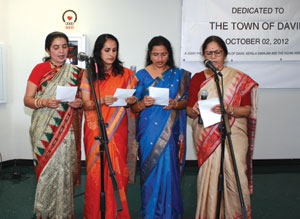 I was extremely happy to see in that exhibition stamps, coins, photos and statues erected across the world, postcards, rare-photos and manuscripts pertaining to Gandhiji which are spreading the messages and teachings of Mahatma Gandhiji to the young generation. That exhibition spreads the message of great human values, ethics, peace, harmony and good conduct among the youth of the world. What was astonishing to me was, it seems 120 countries have released the stamp on Mahatma Gandhi, and over 70 countries have erected the statue of Mahatma Gandhi. No world leader other than Mahatma Gandhi has got such a recognition by the world community; it is because of the Ahimsa Dharma and non-violence system that he practiced and propagated to fight against Apartheid in South Africa and used the same principle in India to achieve independence from British rule.
Dear friends, today morning on the eve of Gandhi Jayanthi Celebrations, as a part of my lecture series, as a 5th lecture, I spoke on the topic "Can we evolve a world without war?". My message to the young from the UCF Open forum was: "The humanity needs a great vision to forget all the conflicts and move towards a common goal of peace and prosperity for all the global citizens. We visualize the birth of world vision leading to "livable plant earth." This vision will be greater than any other vision so far envisioned by the humanity." India and US can work for promoting the concept of world vision leading to "Livable Plant earth" together.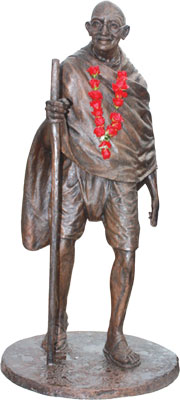 That means your belief will lead to your destiny. Dear friends, you can see it is very important, if you have great aims in your life and it has multiple dimensions, finally it leads to your destiny.
Gandhiji's quest for truth and non-violence was also a quest for harmony. He believed that every manifestation of truth must of harmonious in it and also be capable of promoting harmony in the environment. What didn't have harmony was untruth and a source of violence. Modern authors understood that deepest admiration for those works of music, art and literature that reinforced the message of peace and harmony. This was the basis of Gandhiji's respect for Rabindranath Tagore and admiration for his work. This explains why he stood transfixed in front of a statue of Jesus Christ on the cross at the Vatican Museum. This is why, Gandhiji admired and collaborated with Nandalal Gosh, one of the foremost artist in the era of India's freedom movement. This also explains why Gandhi reached out to the best Indian musicians of his time to set the tune for the bhajans sung in the ashrams.
I have always believed that music and arts can bring universal harmony. I had even suggested Great musicians and artists to allocate exclusive time for performing in the presence of inmate of Jail, orphanages and old age homes. This has been followed by number of artists like Pandit Jasraj. I would like to share with you another experience with two Nadaswaram Vidwans – Sheikh Mahboob Subhani and Smt. Subhani. They gave an excellent Nadaswaram performance to the Rashtrapati Bhavan audience. After the recital I requested the couple to perform for the differently abled children, whenever they get an opportunity. They made it a point to perform for some of our special children in Chennai and I understand that it gave lot of happiness to these special children. This is a very noble cause and I would request the artists in US assembled here to follow this example whenever they get an opportunity.
Gandhi envisioned rural development
Mahatma Gandhi considered for India's economic development, a sustainable development model which has to start from rural economy of almost 600,000 villages where 70% of people live. On these lines, a development model has already emerged through the mission of Provision of Urban Amenities in Rural Areas (PURA), which envisages creation of three connectivities namely physical, electronic, knowledge leading to economic connectivity. The number of PURA complexes for India is estimated to be 7000 rural complexes covering 600,000 villages. As a extension, I have also been advocating creation of such PURA complexes in different countries to upgrade the rural economy of the world as a whole.
Reaching out to millions
Friends, you know there are 98 collected works of Mahatma Gandhi and every year the literature on Mahatma Gandhi continuously added and this year on September 2012 a unique book has been added titled "Music of the Spinning Wheel Mahatma Gandhi's Manifesto for the INTERNET AGE" written by Shri Sudheendra Kulkarni which was released by me.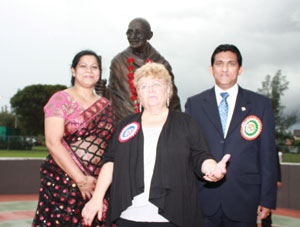 Today, with high-bandwidth internet, thousands of paper can be electronically transferred from one research lab to anywhere in the world in the time, it takes to make mouse click which was totally impossible in Gandhi's time. Today, with all the modern electronic communication, we can have all the information in the world at the convenience of a single mobile phone. I am inspired to know that how in 1920s when mobile phones were not even a dream, telephones were products of awe and amazement, when human and animal power transport was the order of the day, and when a foreign government was repressive, one individual was able to communicate with the entire nation, enlightened them, and mobilize them as one entity over a common agenda of a free India. Hence, what Gandhiji teaches us is that a leader lives in the hearts of the people who become his voice in every corner of the country. This is the message for the world leaders from a true statesman. Gandhiji, even with his limited communication channels, even while in house arrest, stood for complete personal transparency. Today, we are seeing a different time when the global leadership while having all the opportunity to use modern technology to be transparent and open, is wary of using them to connect to its people. This is the lesson we have to learn from Gandhiji.
Creative Leadership
Dear friends, when I see all of you in a beautiful environment of Davie, and the creative leadership in every walks of life in Davie, which is making this town a beautiful town. I am thinking of sharing with you about the creative leadership. I have seen three dreams which have taken shape as vision, mission and realization – Space programme of ISRO (Indian Space Research Organization), AGNI programme of DRDO (Defence Research and Development Organization) and PURA (Providing Urban Amenities in Rural Areas) becoming the National Mission. Of course, these three programs succeeded in the midst of many challenges and problems. I have worked in all these three areas. I want to convey to you what I have learnt on leadership from these three programs:
• Leader must have a vision.
• Leader must have passion to realize the vision.
• Leader must be able to travel into an unexplored path.
• Leader must know how to manage a success and failure.
• Leader must have courage to take decisions.
• Leader should have nobility in management.
• Leader should be transparent in every action.
• Leader must work with integrity and succeed with integrity.
For success in all your missions you have to become creative leaders. Creative leadership means exercising the vision to change the traditional role from the commander to the coach, manager to mentor, from director to delegator and from one who demands respect to one who facilitates self-respect. For a prosperous and developed India, the important thrust will be on the generation of a number of creative leaders from our educational institution.
Friends, it will be appropriate to have introspection by all of us about the social awakening needed for the national and international development. Every civilized society exists not for day-to-day, but lives with a clear perception for the future and the generations to come. Such a situation would pre-suppose that each individual in such a society would cherish and translate into practice noble ideals of constructive tolerance, positive fellow-feeling and a total commitment to live and let live. Albert Einstein could not have expressed this better, when he said: "Laws alone can't secure freedom of expression; in order that every man presents his views without penalty, there must be spirit of tolerance in the entire population".
On this day, let us all to work with the value and ethics propagated by Gandhiji all his life. My best wishes to all the participants success in your mission of nurturing and propagating Gandhi and values across the Atlantic Ocean.
May God bless you.
Indomitable Spirit
Excerpt from book by Dr. Kalam
I was swimming in the sea, Waves came one after the other
I was swimming and swimming to reach my destination.
But one wave, a powerful wave, overpowered me;
It took me along in its own direction,
I was pulled long and along.
When I was about to lose amidst the sea wave power,
One thought flashed to me, yes, that is courage
Courage to reach my goal, courage to defeat the powerful force and succeed;
With courage in my mind, indomitable spirit engulfed me With…