This Indian-American Musical Prodigy Can Play 107 Instruments
Neil Nayyar is a 13-year-old Indian American from California, who has mastered more musical instruments than most people would even know exist. This musical prodigy can play more than 107 instruments and counting.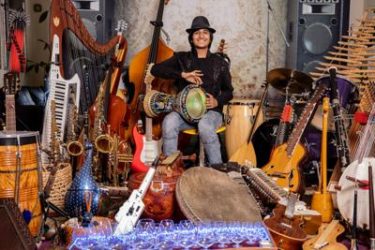 A hobby that was kick-started by a $100 drum set has now turned into a passion that knows no bounds. In 2017, Neil could play 44 instruments, a feat that earned him a spot in the ASSIST World Records as the Youngest to Play Maximum Musical Instruments. And, in less than two years, this boy wonder has now mastered 107 diverse musical instruments. It is believed by many that his new achievement might just earn him a spot in the Guinness Book of World Records.
Neil's achievement over the musical instruments has been covered by various Indian and international media agencies, including ABC10, Fox10, Good News Network, The Indian Express, ScoopWhoop India, Scroll, etc. The young prodigy has also signed a contract with an acting agency in Los Angeles. What's more? Neil has also composed a song using all 107 of his instruments and the album is expected to be released next year.
From guitar and harps to shehnai and bansuri, Neil's musical journey is not just a testament to his passion and sharp learning abilities, but also his interest in diverse cultures through music. This young multi-instrumentalist from California can play violin, pan flute, piano, American Indian flute, bulbul tarang, Saraswati Veena, jal tarang, tabla, clarinet, ukulele, African djembe, Australian didgeridoo, mandolin, bass guitar, banjo, gadulka, glass harp, and harmonica diatonic, among other instruments. Neil dedicates straight eight hours towards his music practice. He takes classes from around 25 different music teachers around the world, including India, China and Italy via Skype. In an interview to the ABC television, Neil said, "Music is my passion. I sleep in music. I wake up in music, and I play music all day."
Indian American from California
Youngest to Play Maximum Musical Instruments
ASSIST World Records
musical prodigy
Neil Nayyar
Indian American