TOP 10 Hair Products for Luxurious, Silky Hair By Michele Renee Zerda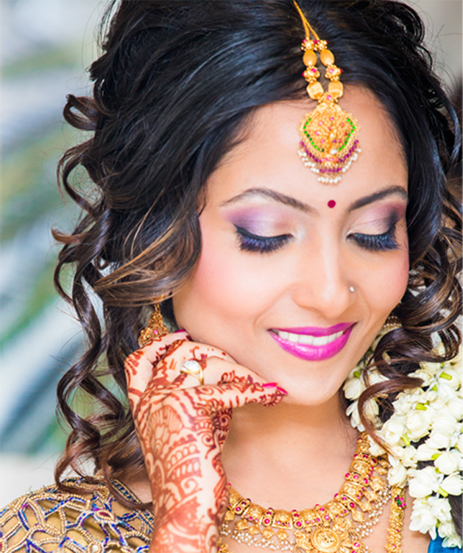 South Asian women are known for their beautiful, thick, long hair. In fact, the best hair extensions boast on the packaging that the product is made from 100% Indian hair. Hair extensions are expensive, so South Asian women are lucky to have such luxurious hair for free!
Keep your locks long, healthy and luscious. Try my top hair products to keep your hair looking like a million bucks!
Matrix Total Results Sleek Shampoo
This shampoo is a great find because it not only moisturizes dry hair, but also helps to repair all types of hair. Smooth's out frizz and is formulated with an all-day anti humidity protection secret weapon.
Matrix Total Results Moisturizing Conditioner
Helps your hair become soft and manageable, and creates a beautiful glossy sheen even after styling. This conditioner adds plenty of moisture to your hair and helps to revitalize limp, dry strands.
Vidal Sassoon V01 Hot Oil Treatment
This affordable treatment is a powerful conditioner. Be sure to rinse it out at least twice. I personally use the oil once every two weeks, and I have to rinse thoroughly so my hair doesn't look greasy. When used properly, your hair will look luxurious.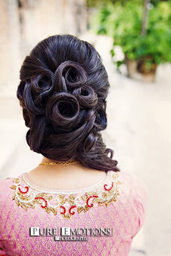 Moroccan Oil
I love this product! One of the first hair oils available on the market, it is often copied, but never duplicated. Just like any conditioner, use it very sparingly. If you have thin or fine hair, Moroccon Oil makes a light treatment better suited for you. Use a small amount of product, warm it in your hands, and then use a brush to distribute the product evenly.
Baby Bliss Blow Dryer
Blow-drying can be a pain – literally! This blow dryer dries your hair in no time at all – it literally has the motor of a Ferrari car inside. Though expensive, the time you save pays for itself. One warning – make sure you don't have anything else plugged into the socket. It is so powerful, the dryer might blow a fuse if the outlet is overloaded. I love this blow dryer and I would never use anything else!
Ceramic Round Brush
Use this brush to give your hair a smooth and luxurious finish when blow-drying. Create soft curls or add shade to straight hair. The ceramic barrel heats up faster and is also less damaging to your hair.
Mason Pearson Brush
The Mason Pearson hairbrush is the ultimate grooming tool. The boar hair bristles are gentle on the hair and scalp and brushing with this hair brush is the best way to distribute your natural hair oils while exfoliating the scalp. The cushions conform to the contours of the scalp, optimizing brushing with minimal effort.
GHD Flat Iron
GHD stands for good hair day and that is exactly what you get with this flat iron. The GHD has a microchip sensor in its iron that senses your hair texture. The temperature sets according to your hair type ensuring you never burn your hair with this flat iron. The plates are ceramic to give you a smooth finish every time. Though expensive, if anything goes wrong, the iron has a warranty. I have used my GHD for over five years and has never once given me trouble.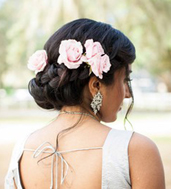 Hot Tools Curling Iron
I use the one inch for bridal curls, and the one and a half inch for Kim Kardashian locks. Be sure to hairs pray the hair sparingly before you put your hair on the iron to help the curls stay. Or use this iron as a wand instead by wrapping the hair around the barrel (instead of inside of the clip) to create beachy waves.
Sam Villa Heat Resistant Comb
This comb is a must-have especially when paired with the GHD flat iron. This comb will not melt or deform as it is made out of graphite, has silicon resistance, and has superpowers!
Kenra Hairspray
This is by far the best finishing spray that I have ever used. It sprays on light but has strong hold. This is not the old school aqua net, this is the real deal! Smells great and gives the hair a long lasting hold without giving you helmet hair.
Coconut Oil
A time-honored Indian tradition, coconut oil helps with shine and can combat dandruff. Compared to other natural oils, coconut oil is the only one that actually penetrates the hair, making hair look thicker. Read the label before purchasing to be sure it is pure coconut oil without any added ingredients. Warm the coconut oil in your hands or in the microwave to liquefy for easier use. Given the price, coconut oil is the best product you will find for the least amount of money.
These are my top 10 hair products that I use on myself and my clients! Check out our Facebook fan page (ww.facebook.com/MicheleReneeTheStudio) every Tuesday for Top Tuesday on how to use my top 10 hair products!
Michele Renee Zerda is the owner of Michele Renee The Studio. For more information, visit www.MicheleReneeHairAndMakeup.com or call (813) 531-7770. Photos provided by Michele Renee Zerda
(Photographers: Gaciel Santana, Pure Emotions, Riz Photography).