Top 10 Lavish Indian Weddings
Indian weddings are known all over the world for their elaborate customs, sacred rituals, and lavish feasts. The wide selection of cuisines, designer clothing, and glamorous jewelry are some of the most notable features in any Indian wedding. As most Indians believe weddings to be made in heaven, they make sure that the event appears divine. From designer mandaps to the entertainment of guests, no expense or reputation is spared.
Here's a look at the 10 most lavish Indian weddings to date: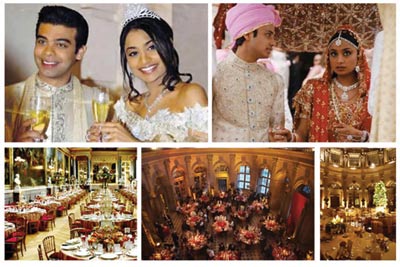 1. Vanisha Mittal and Amit Bhatia:
In June 2004 Lakshmi Mittal's only daughter Vanisha Mittal tied the knot with London-based investment banker Amit Bhatia. This lavish wedding is estimated to cost $77 million. The 20 page hand-painted wedding invitation invited guests with hearty poems and was enclosed in a decorative silver box. Wedding festivities took place at the Palace of Versailles in France. Wines served in the celebrations were estimated to cost more than $1.5 million. The six-day event was held at the Jardin des Tuileres, Vaux Le Vicomte, George Cinq, Hotel Bristol and Hotel Cabaret. It was one fairy-tale wedding in France with fireworks shot over at Eiffel Tower.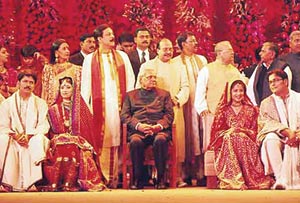 2. Sushanto Roy and Richa Ahuja / Seemato Roy and Chandni Toor:
In the year 2004, Subrata Roy's (Founder and Chairman of Sahara) sons Sushanto and Seemanto married in a double wedding, that roughly cost $100 million. The entire Sahara Township in Lucknow, Uttar Pradesh, was transformed into fairy-tale. Pre-wedding festivities were held at the Roy's residence, Swapna Kuti (the dream house), while the sangeet was held at Hotel Clarks Awadh. With over 11,000 guests in attendance from all corners of the world, the wedding ceremony took place at Sahara Auditorium. Legendary figures such as Amitabh Bachchan, Mulayam Singh, Kapil Dev, Anil Ambani, and Aishwariya Rai among others embraced the occasion with their presence, while Raj Kumar Santoshi captured the enter wedding through his camera's lens. More than 110 cuisines were served, and entertainers were flown in from all over the world. The highlight of the wedding was the community wedding of 101 underprivileged women belonging to different communities. Food was distributed among those less fortunate.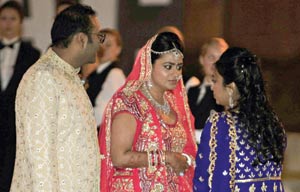 3. Shristi Mittal and Gulraj Behl:
Recently, Laxmi Narayan Mittal's niece Shristi Mittal, daughter of younger brother Pramod Mittal, married investment banker Gulraj Behl in Barcelona, Spain, spanning a three-day affair across various venues in the city. Michelin Chef Sergi Arola catered the $80 million wedding, and a team of 200 butlers and cooks was flown into Spain for the wedding.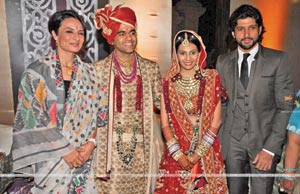 4. Abhinav Jhunjhunwala and Prerna Sarda:
In January 2012, Amitabh Jhunjhunwala's son Abhinav married Prerna Sarda in an elaborate wedding ceremony. Amitabh Jhunjhunwala is the Vice Chairman of Reliance Anil Dhirubai Ambani Group, while Prerna Sarda's father Ghanshyam Sarda is a jute baron from Kolkata. Like many other lavish weddings, this was a star-studded affair.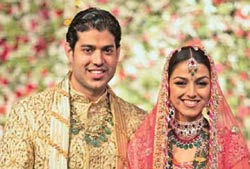 5. Alkesh Tandon and Raakhe Kapoor:
Raakhe Kapoor, daughter of Rana Kapoor (CEO and Founder of YES Bank), married Dubai-based entrepreneur Alkesh Tandon. The grand wedding was held at The Taj Palace Hotel in Delhi. The wedding was undoubtedly an elaborate affair considering the fact that Alkesh Tandon is related to the London industrialist Laxmi Narayan Mittal. The engagement ceremony was held at ITC Maurya Sheraton, while celebrities like Salman Khurshid, P Chidambaram and Vinod Khanna were also spotted at the wedding.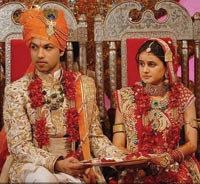 6. Radhika Singhal and Saurabh Dhoot:
In 2010, Sanjay Singhal's (Chairman of Bhushan Power and Steel) daughter Radhika Singhal married Saurabh Dhoot, son of Pradeep Dhoot (Chairman of Videocon Industries). Bollywood beauties like Katrina Kaif, Bipasha Basu and Malaika Arora Khan performed at the grand wedding.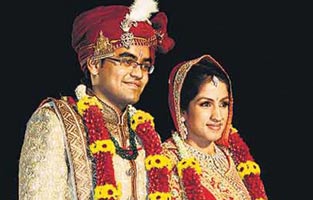 7. Tanushree Dhoot and Vivek Biyani:
In 2011, the Dhoot family (father Pradeep is Chairman of Videocon) enjoyed another wedding – this time daughter Tanushree Dhoot married Kishore Biyani's nephew Vivek Biyani. Leading Bollywood actors, political officials, and cricket stars were all spotted at the wedding.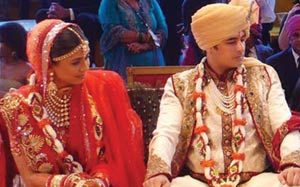 8. Vineeta Agarwal and Muqit Teja:
Pramod Agarwal, a United Kingdom-based billionaire gave his daughter Vineeta and her groom Muqit a grand wedding in Venice, Italy. The wedding was strictly a private affair and only 800 people were invited to the wedding at San Clemente Palace Hotel, Italy. Pop Star Shakira performed on the second day of the wedding while director, Franco Dragone put up a special show of "Cirque du Soleil" for the elite audience.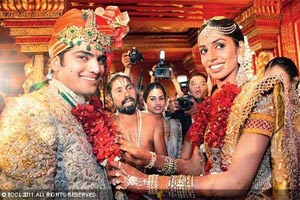 9. Mallika Reddy and Siddharth Reddy:
Recently, GV Krishna Reddy's granddaughter Mallika married Siddharth, the son of Indukuri Syam Prasad Reddy of Indu Group. This$160 million wedding was attended by celebrities Shahrukh Khan, Pooja Bedi, Priyanka Chopra, and the prestigious Bachchan family. The designer bridal attire and mandap decorations were tweeted about for weeks after the wedding.
Expensive high profile weddings are a means of showing social status and power. After all, if one earns the big bucks, what better place than to spend them than in a "Big Fat Wedding."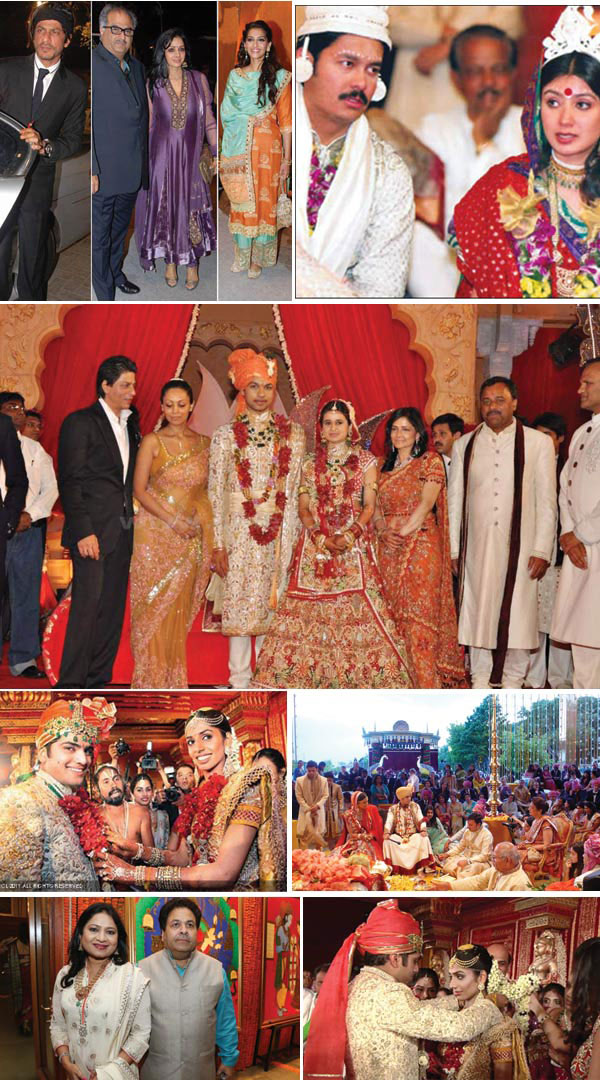 Top 10 Lavish Indian Weddings