Ubtan: Eastern Beauty Meets West
The tradition of Ubtan dates back to ancient texts in India. As written in the Vedas, it was used for nourishing, protection and beautification of the skin.
Ubtan is a common household name in India for a traditional Ayurvedic recipe to detoxify the skin and body, known for its ability to beautify your complexion. It softens and smoothes, while cleansing and exfoliating the skin.
It is a natural paste of herbs, and one of the most natural skincare essentials you can use on your skin. In modern India, the paste is often used for Hindu marriages when brides apply Ubtan before their special day to enhance their natural beauty.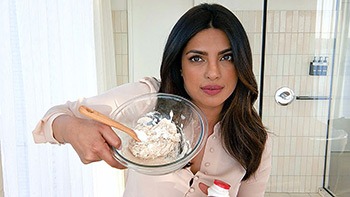 The famous Bollywood and Hollywood celebrity Priyanka Chopra has been seen applying Ubtan and sharing her at-home beautifying recipe, included below. Priyanka brought that trend to the US, and it has gained widespread popularity since then.
Over the years, Ubtan has gained popularity for both men and women, and has become somewhat of a fashion statement. It later became popular for both brides and grooms to use as part of their beauty ritual, which is symbolically seen as a detachment of the old life and embracing a new life. It is massaged on the bride and groom's hands, feet and face. You gently apply it all over, wait a couple of minutes, then massage and exfoliate, followed with a bath. This not only brings a healthy glow, but also removes excess facial hair and aids in exfoliation.
Benefits of Ubtan
High phenolic and flavonoid content reduces free radicals
Removes facial hair
Removes tan
Improves blood circulation
Improves complexion
Detoxifies via exfoliation
Removes dead cells from the skin
Reduces acne and acne scars
Removes blemishes and age spots
Aids in maintaining beautiful, clear skin
Removes blackheads and whiteheads
Recipe
There are many ways to make Ubtan and different parts of India use different recipes. Two are noted below:
Masoor Daal Ubtan
This Ubtan is often used for blemish-free skin.
Ingredients:
Organic masoor daal (red lentil) Flour
Organic besan (chickpea Flour)
Organic whole milk
Organic turmeric
For this simple and effective Ubtan, you will need red lentil flour or masoor daal, chickpea flour, and a pinch of turmeric. Mix all ingredients in a bowl and leave for a couple of minutes. Then, apply it all over your face and hands, let it sit for a couple minutes, start massaging, then wash it off.
---
Whole Wheat Ubtan (as used by Priyanka Chopra)
As Priyanka explains, this Ubtan is great for removing a tan and gives glowing skin.
Ingredients
Organic whole wheat flour
Pinch of organic turmeric
Organic lime juice (only few drops)
Organic unflavored, plain whole yogurt
---
Rose water
Mix all ingredients together and apply to your face, leaving it for 15-20 minutes. Gently start massaging. It not only takes away fine facial hair, but also removes tanned skin and gives a natural glow.
---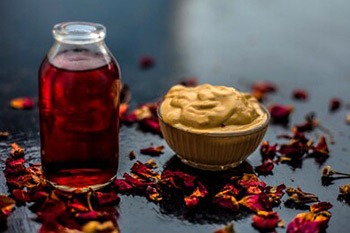 DIY at Home
During this pandemic, it has been a challenge to rely on spas. Some may find it hard to trust what is available in the name of skincare to keep their skin naturally glowing.
Why not turn to your kitchen to find beauty ingredients you have to do this beauty ritual at home?
In case you don't want to make your own, Neeta Naturals has a solution for you. You can get this amazing Organic Ubtan premade and ready to use, for all types of skin, and especially sensitive skin.
Uncover your skin's natural radiance and freshness with Neeta Naturals Organic Ayurvedic Ubtan face mask! It gives your skin nourishment and protects it from free radicals. It includes pure botanical ingredients carefully chosen for their anti-inflammatory and skin nurturing properties. This Ubtan mask will deep clean your skin, reduce appearance blackheads and help to prevent acne without drying or irritation. Ingredients in our Ubtan mask include neem leaf powder, rhassoul clay, kaolin clay, adzuki bean flour, shatavari powder, orange powder, rice powder, turmeric, sandalwood powder and saffron powder. Find this deep cleansing mask at www.neetanaturals.com.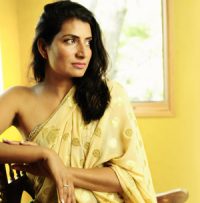 About the Author
Neeta Singh, born and raised in India. Founder/ CEO of Ayurvedic Skincare Neeta Naturals is Certified Ayurveda Expert specializes in Beauty therapy and panchkarma practice. MS in Business Neeta Singh is certified Yoga teacher and Reiki master. Neeta's work has been published in many yoga and wellness magazines including yoga journal and spirituality and health.
The tradition of Ubtan
Vedas
traditional Ayurvedic recipe
detoxify the skin and body
natural paste of herbs
natural skincare essentials
High phenolic and flavonoid content reduces free radicals
Removes facial hair
Removes tan
Improves blood circulation
Improves complexion
Detoxifies via exfoliation
Removes dead cells from the skin
Reduces acne and acne scars
Removes blemishes and age spots
Aids in maintaining beautiful
clear skin
Removes blackheads and whiteheads
Masoor Daal Ubtan
Organic masoor daal
Organic besan
red lentil
chickpea Flour
Organic whole milk
Organic turmeric
Whole Wheat Ubtan
Priyanka Chopra
Organic lime juice
plain whole yogurt
Rose water
DIY at Home
beauty ingredients
Neeta Naturals Organic Ayurvedic
Organic Ubtan premade
neem leaf powder
rhassoul clay
kaolin clay
adzuki bean flour
shatavari powder
orange powder
rice powder
sandalwood powder
saffron powder