Vasant Prabhu promoted to be the Vice Chairman of VISA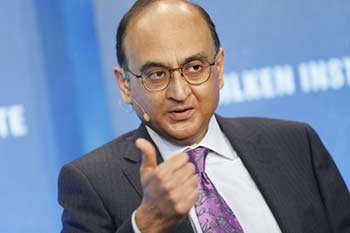 Summary – Chief Financial Officer Vasant Prabhu has been appointed as the member of the executive committee for VISA. He will be co-handling his new role with his current position.
Vasant Prabhu is currently serving as the Chief Financial Officer and member of the executive committee for VISA. He will be having an added responsibility of Vice Chairman for this global payments technology company. He will be taking up active roles in representing VISA at payment industry forums.
"I have extraordinary respect for Vasant. He is a strong strategist with a deep knowledge of our business and is very well regarded in the industry. This expanded role will enable us to leverage his expertise in new and meaningful ways.", said Al Kelly, CEO, VISA.
Vasant Prabhu holds a long professional tenure as CFO prior joining VISA. He worked at NBC Universal Media and Starwood Hotels & Resorts Worldwide Inc as Chief Financial Officer from 2014 & 2004 respectively. He has also served as Executive Vice President and CFO for Safeway Inc. Additionally, Prabhu will be providing strategic counseling on all the major initiatives and geographies compulsory for VISA' growth.
Prabhu has now added a new feather in his cap as his expansion to be the Vice Chairman of VISA. He will be succeeding Byron Pollitt, who previously had confirmed his intention to retire. Prabhu will be serving as a valuable voice with key constituents on every business issues of utmost importance to VISA. Prabhu is serving as Chief Financial Officer for VISA since 2015. At the time he arrived at Visa, Prabhu said in a prepared statement, "I am very excited to be joining Visa at such an important time in the company's history."
Chief Financial Officer Vasant Prabhu
executive committee for VISA
NBC Universal Media
Starwood Hotels & Resorts Worldwide Inc
Byron Pollitt