Viewers are in Total Awe over Jalsa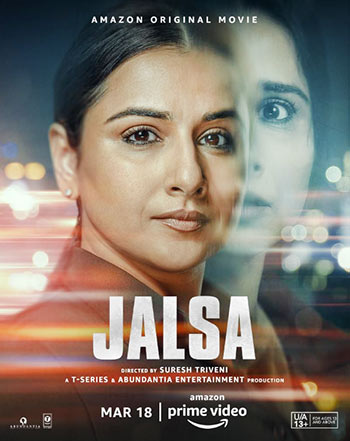 The trailer had already generated interest. In tune with that interest, the film 'Jalsa' received high acclaim from the viewers soon after its release on March 18, 2022, in Amazon Prime Video. A stellar performance by two powerful actors (Vidya Balan and Shefali Shah), a gripping storyline, and tension till the last minute made the viewers overwhelmed. The film (based on a hit-and-run-accident of a teenager that connected two women of different socio-economic backgrounds) is a must watch, according to the viewers.
Jalsa is produced by T-Series, Abundantia Entertainment, and Suresh Triveni and is directed by Suresh Triveni. Other members of the cast include Rohini Hattangadi, Manav Kaul, Surya Kasibhatla, Vidhatri Bandi, Kashish Rizwan, Shafeen Patel, and others who also played their roles appropriately and sincerely. Viewers are in total awe of the performances of the two female lead players, Vidya Balan and Shefali Shah. Vidya, playing a journalist, portrayed her complex role with her usual grace and competence. Viewers found her in total control of the character she played, and found her to be a perfect fit for the role of 'Maya Menon'.
Shefali Shah, a powerhouse of talent, mesmerized the viewers with her acting prowess and the emotions, anguish, and power she silently put through her expressive eyes. Special effects have also been an important part of the film (as mentioned by several viewers). The social media handles have been flooded with compliments for the film and its actors as well as its creators. Director Suresh Triveni and Prajwal Chandrashekar wrote the story and screenplay.
Jalsa Movie
Amazon Prime Video
Vidya Balan
Shefali Shah
Suresh Triveni
Jalsa is produced by T-Series
Abundantia Entertainment
 Suresh Triveni
Rohini Hattangadi
Manav Kaul
Surya Kasibhatla
Vidhatri Bandi
Kashish Rizwan
Shafeen Patel