Vijal and Shivam
The marriage of Vijal Patel and Shivam Joshi was perhaps made in heaven, as it is said. Both physicians by profession are in all respects the ideal couple with many things in common. Apart from the profession, they grew up in Central Florida, had more than 40 common friends on Facebook but had to wait till 2017 to meet each other on their first date. The two bird-lovers became love birds very easily and quickly and the bond grew stronger. 
Shivam proposed Vijal in 2019 and that too in a spectacular way. On a trip to Hawaii, he took her on a surprise helicopter trip to Honolulu Island. Stopping at a mountain vista overlooking Oahu's Ka'a'awa Valley, he got down on one knee and proposed to her. The awestruck Vijal had only one answer: Yes.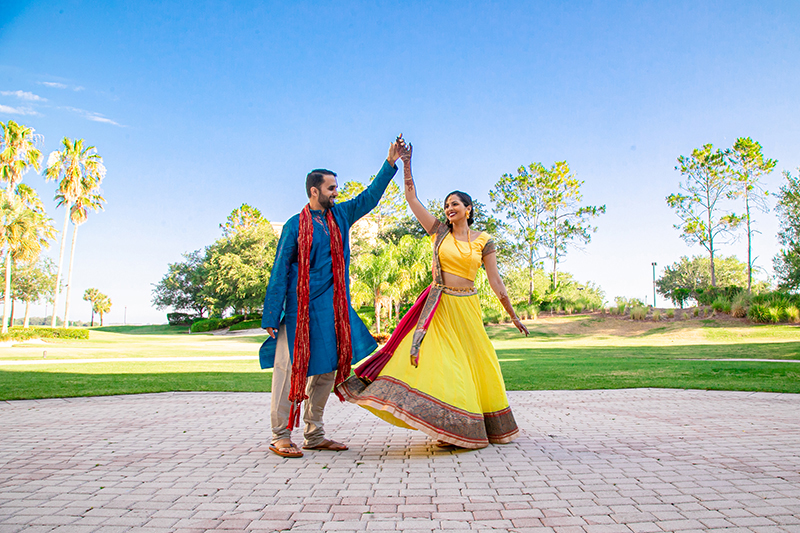 The marriage, reception and pre-marriage ceremonies were fixed for 28-30 May 2021. It was an elaborate and lavish celebration full of festivities and vibrant colors. The venue was fixed at Omni Orlando at Champions Gate, Orlando, FL. The pre-marriage ceremonies included Welcome dinner, Grah Shanti, Pithi and Garba. Each one had its color theme. 
The casual welcome dinner was a combination of golden and black with purple flowers with the couple wearing purple and orange outfits. The theme colors for Grah Shanti were yellow and orange with red as an accent color with a red floral Ganpati for the Pujas.  The Pithi was in front of a flower wall, with red, orange and yellow flowers. The Garba had the colors green and golden. 
There were 230 guests for the marriage and reception. Wedding colors were the autumnal ones; shades of orange, with accent colors of dark purple, maroon, and gold. There was a floral Mandap following the color scheme and walkways with rose petals in orange and ombre. Even the garlands were also in orange and ombre. The food was fully vegan as the groom was a pure vegan. 
At the reception, it was blue with an accent of flowers from the Mandap.  There were golden twinkle lights, chandeliers, and gold glitter/shimmer décor on the stage.  The bird-lover couple included a gold birdcage with flowers as the centerpiece on the sweetheart table. 
The couple danced in Rumba and Bachata style and later Vijal, an ardent Madhuri Dixit fan, danced to her hit songs. They served vegan food throughout the weekend starting from Mexican to pure Indian delicacies. They hired specialists like choreographers, guitarists and catering companies to make everything perfect. 
With the indoor mask restrictions being lifted, the guests could enjoy the wedding freely. It was like a new beginning for the couple as well as the guests.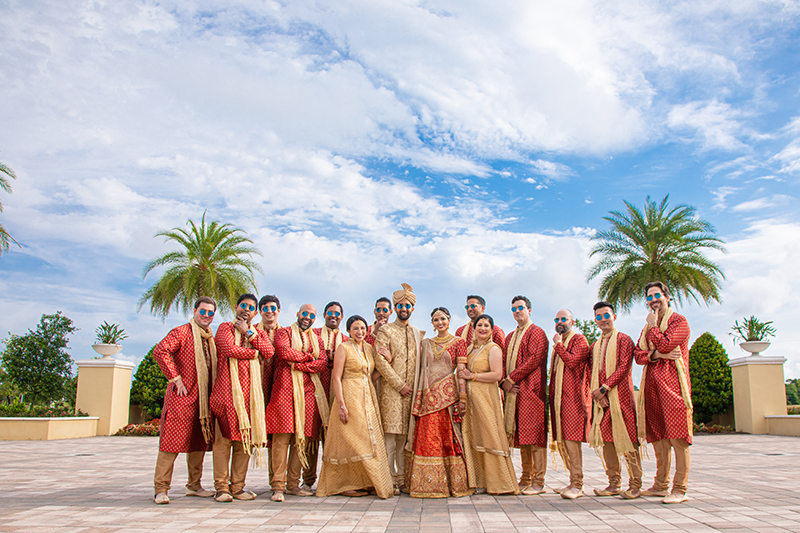 BANQUET HALLS : Omni Orlando Resort at Championsgate – 407-238-6547 | CATERING : Khasiyat Indian Restaurant – 407-252-8756 | DECORATOR : Nikun Events – 407-448-7128 | DISC JOCKEY : Awaaz Entertainment – 407-902-9639 | LIGHTING : GET LIT Productions – 407-615-4418  | MEHNDI : Henna Mehndi Art By Amrita – amritahenna@gmail.com | MUSICIAN : Bollywood Touch – 407-433-0105 | RENTAL SERVICES : Orlando Dance Floor Rental – 321-401-7058 | PHOTOGRAPHER/VIDEOGRAPHY : NSPG Media – 407-301-8648