Viral Internet Sensation Ranu Mondal's Life to be Captured in Biopic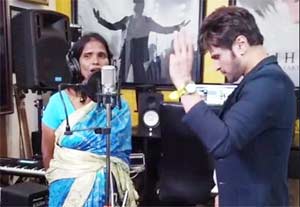 Ranu Mondal first appeared in the spotlight when a video of her singing Lata Mangeshkar's "Ek Pyaar Ka Nagma Hai" on a railway platform in Kolkata went instantly viral on the Internet. The video not only garnered praise for her voice, but also earned her a big break in playback singing in Bollywood.
Bollywood's ace music producer and singer Himesh Reshammiya saw Ranu's video and decided to launch her playback singing career by offering her a song in his upcoming film Happy, Hardy and Heer. As soon as the Internet sensation's Bollywood track Teri Meri Kahani was released, she earned more time in the limelight. The singing sensation might now get a film as well following her life's journey.
If reports are to be believed, Ranu's life will soon be the subject of a biopic, titled Platform Singer Ranu Mondal. Reportedly, the National Award-winning actress Sudipta Chakraborty will play the role of the singer. The Bengali actress too has confirmed the same, and said, "Yes, I have been offered the film. However, I am yet to receive a script. I will decide if I want to play the character only after reading the script." The film will be directed by Hrishikesh Mondal.
Ranu Mondal
Lata Mangeshkar
Ek Pyaar Ka Nagma Hai
railway platform
Kolkata
Bollywood
music producer
singer Himesh Reshammiya
Happy, Hardy and Heer
Teri Meri Kahani
Platform Singer
National Award-winning actress Sudipta Chakraborty
Bengali actress
Hrishikesh Mondal