"Vote for Herschel Walker" urges Nikki Haley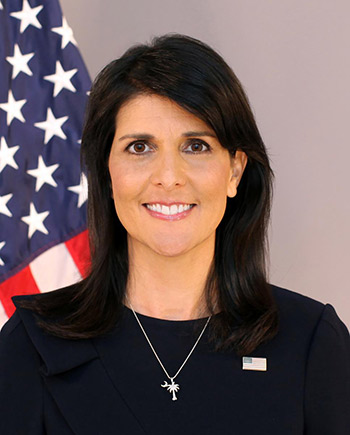 Former United Nations ambassador Nikki Haley has extended her support for the Republican candidate for U.S. Senate, Herschel Walker, and urged the Asian American voters of Atlanta to vote for Walker. At the "Republican Rally for the Indian American Community" outside Global Mall in Norcross, on Friday, September 9, Haley admitted that the Republican Party could do better. She further said that the Asian Americans have not voted for the Republicans, because none of the Republicans listened to them. Expressing her support for Herschel Walker, she said that he will be there for the community. This whole-hearted support from a high-profile Asian American Republican like Nikki Haley is quite significant.
In his speech, Herschel Walker spoke about the importance of racial unity along with his strong belief in God. He further said that he is not concerned about color or race, but only gives importance to the character of a person. He is in a unity bus, where he wishes to take all, because he thinks a divided house cannot stand strong. He also expressed his support for law enforcement and the military and his conservative values in social matters, including his disapproval of transgender rights. Georgia Attorney General Chris Carr also joined the meeting in his bid for re-election.
Sunil Savili, an entrepreneur from Johns Creek, organized the rally. More than 200 Asian Americans attended the rally. They expressed their concern and dissatisfaction over inflation and public safety and said that as their population and representation are increasing, this was their chance for their voices to be heard. Louis Tseng, a 51-year-old logistics and aviation executive of Duluth, spoke about the high price of groceries, gas, inflation, and other things. Bhupendra Darji, a financial advisor from Duluth, said that the Republican Party represents the interests of Asian Americans, and as the Asian Americans enter into business, they need support from the Republicans.
Nikki Haley also stressed the need for fiscal responsibilities. Criticizing the Democrats for their wasteful expenditure on illegal immigrants and federal inmates, she said that the Democrats do not understand the value of a dollar.