What Diwali Means to Me by Raj Shah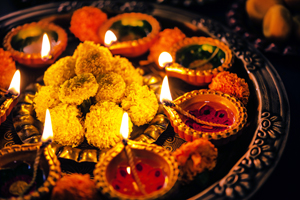 About 10 years back, Aruna and I started this tradition at Diwali time that we will do Diwali pooja at our home and invite parents with young children. It had multiple reasons — first and foremost, our kids and grandkids live in California. Obviously, we miss them. Inviting parents with young children who remind us of our own kids fills that void. The second reason was that I wanted our children to learn about Diwali on a firsthand basis, and the best way to teach anything to anybody is to get them involved. At this Diwali pooja, we made a rule that all young children will do pooja and parents will only observe — no advice, no comments, no back seat driving instructions. I'm happy to report that our Diwali pooja became a very successful festival! We started this tradition with 8 to 10 close friends, and today it has grown to over 60 people. It is still a small group but we want to do this pooja at our home, and of course, there is some limit when you do it at home. One of the most important things I noticed is that not only do the parents look forward to it, but all kids are also looking forward to this event every year… at least that is what they are telling me.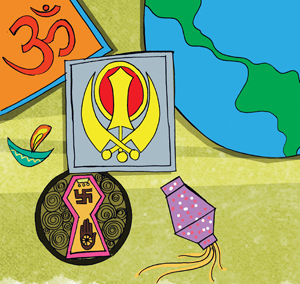 In the past, we have been blessed to welcome Vinodbhai Mehta and his wife to our home to participate in our pooja. Vinodbhai, being an engineer as his profession, always explains to us some scientific and practical meaning behind each step of the pooja as we perform. He also makes it fun by asking questions to the kids. Every year kids will come prepared with the answers, but then Vinodbhai will have a new set of questions, so this tradition becomes fun combined with education on our Hindu, Jain, and Sikh heritage.
Now, let me explain my choice of titles for this article, "What Diwali Means to Me." For me, one of the most remarkable things about Diwali is the sheer scale of its reach and the universal appeal of its message. In India and now all over the world, when Hindu, Jain, and Sikh celebrate Diwali, they remember the history and the facts behind it. The message of victory of good over evil is universal. Look at India — over a billion people, speaking hundreds of different languages, following various faiths — united by this festival of light.
For me, Diwali is that time to connect with everyone, to share happiness with families, friends, and our extended family members. It's a time to bring back that child in you, forget the ill feeling, and spread happiness around. It's the time to remember sweet memories when you spend a great time with parents, brothers, sisters, relatives, and friends.
When we analyze the true meaning of Diwali, its relevance extends beyond India, beyond the Indian diaspora, and even beyond the Hindus, Jains, Sikh, and Buddists, who, in different ways, mark the festival. Diwali's messages apply to every single one of us, whatever our background, whatever our faith. The values Lord Rama embodied are values which we can all heed — values of charity, sacrifice, and responsibility. Gandhiji gave us the same message — losing ourselves in the services of others.
We celebrate values of good conduct — Dharma — taking the right path and ensuring that good triumphs over evil. We celebrate values of hope, of optimism, of forgiveness, of the new beginnings, and of clean slates represented by the Hindu New Year as people wear new clothes and say prayers for the year ahead.
I think these are the values we need more than ever as we forge a new positive, ambitious role in the world today.
Diwali is the biggest and the brightest of all Hindu festivals celebrated around the world. It's the festival of lights which literally illuminates homes with its brilliance, and brightness and dazzles us with its joy.
We have all read volume after volume on Diwali: its significance, the story behind it, and its main message.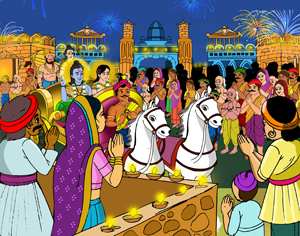 In this article, let me point out some spiritual or philosophical aspects of Diwali.
A Brand New Beginning
In several states in India, including Gujarat, Diwali marks the beginning of a new Hindu New Year. It rejuvenates us with a sense of freshness and renewed enthusiasm.
Family Bonding
It is the time when the whole family gets together for the festival. We work together, pray together, and appreciate each other.
Good over Evil
We remind ourselves that no matter how difficult things might seem, the forces of good will always be triumphant in the end.
Spiritual Wealth
We pray to Devi Laxmi who blesses us with wealth throughout the whole year and especially on a Diwali day. The greatest wealth one can possess is spiritual wealth, sincerity, and faith.
Cleanse our Hearts
It is also a time to cleanse our minds by dropping all negative baggage from the past. We can choose to cleanse our hearts and fill them with love and compassion that will drive away the darkness of hatred and ignorance.
Forget and Forgive
All the festivals bring joy, enthusiasm, and friendliness. Diwali brings much more. It brings a special feeling of forgetting and forgiving the wrongs done by others and a positive outlook to move forward in your life. It is a unifying event, and it can mend a relationship that may have been broken for a long time.
Illuminate your Inner Self
Diwali, the festival of lights, also signifies a time of inner illumination. Sitting quietly and focusing the mind on the positive aspect of life illuminates the soul. It is an opportunity to acquire and enjoy eternal bliss.
What does Diwali mean to me? 
By Ridhaan Joshi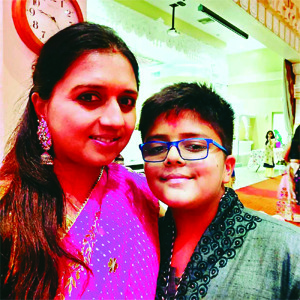 Diwali is a festival celebrated by Hindus around the world every year, including my family and me. Diwali is referred to as the festival of lights because people of Ayodhya put out "Diyas," or clay lamps, to welcome Rama back to his home after 14 years of exile and the killing of Ravana. The festival occurs on a no-moon night of Kartik month of the Hindu calendar. It is celebrated by worshipping Laxmi, Goddess of Wealth. There are a total of five days in Diwali during which all Hindus celebrate by lighting clay lamps every night. 
Day 1 is Dhanteras, celebrated in the honor of Dhanvantari, God of Medicine. 

Day 2 is known as Chhoti Diwali or Narak Chaturdashi or Roop Chaudas. Lord Krishna killed Asura named Narakasura while Roop Chaudas is celebrated by cleansing of body and house. 

Day 3 is marked as the main Diwali day celebrated by lighting lots of Diyas, and worshipping Goddess Laxmi and sources of income followed by fireworks in the evening. Everyone wears their new and best clothes and jewelry. On this day, family and friends get together to celebrate festivities together by exchanging gifts, spending time with loved ones, eating, and praying.  

Day 4 is celebrated as Annakuta. In our home, we cook a special mix of vegetables (11 or more) to offer to God. In our temples, it is celebrated by offering a variety of foods to God. 

Day 5, the last day of Diwali is called Bhai-duj where sisters invite the brothers of the family to have a scrumptious meal with their favorite dishes and sweets and exchange gifts. Overall, it is a very fun-filled festival where we get gifts from family and get to eat a variety of sweets. I look forward to Diwali all year long. Wish Everyone Happy Diwali!
What does Diwali mean to me? 
By Akash Deo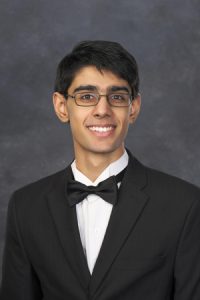 It's time for cleansing. I think the symbolism that underwrites Diwali poojas is the following: We're trying to make our homes and our hearts as welcoming to Maa Lakshmi as possible. Not only does that involve washing the feet of Maa Lakshmi, but it also requires purifying everything around and within us, such as our workspaces, our minds, and our hearts.
I see Diwali as an opportunity to take stock of what is impure and improper about me and commit to cleansing it, so I can lead a better life in the days that follow.  Akash Deo is a sophomore at Northwestern University, actively pursuing his Bachelor's Degree in computer science. He is passionate about debate, computer science, and law. He has participated in and won numerous national awards in the university-level policy debate circuit.