"We Do:" Celebrating Fitness Together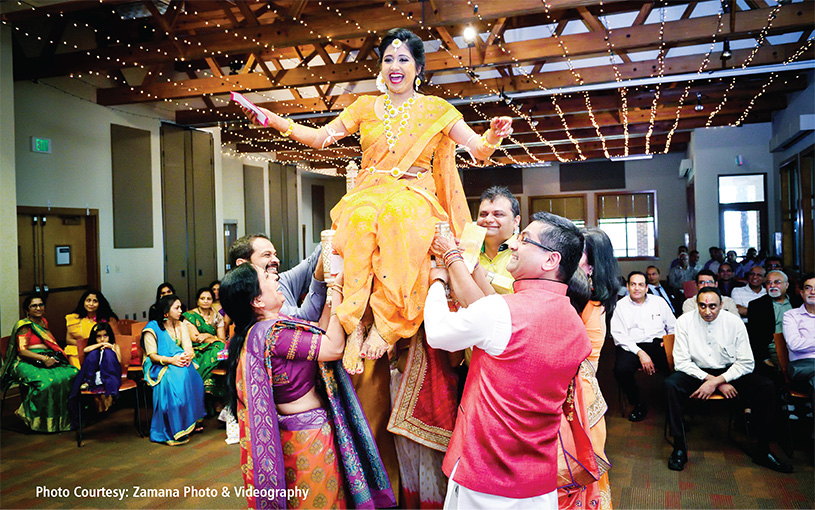 "We Do:" Celebrating Fitness Together


By Nisha Jani
During wedding season, one of the main themes is chaos! Between planning the big day and organizing the months leading up to it, it is so easy to lose yourself amidst the invitation cards and RSVPs. Stop! Breathe! Relax! These are things we are not accustomed to hearing during the process. But if there is anything I have learned during the most stressful times of my life, it's that sometimes, by stopping and feeling aware of the moment, I was left with the clarity I needed to successfully complete the challenge.
Have you ever seen children imitating their parents? This imitation goes beyond the young years of our youth. Humans tend to be impressionable. If we are influenced so easily by other things, why not turn this into our advantage? Why not influence our families in a healthy way? During this wedding season, use this as your leverage. Mental stress, one of the most potent causes of hormonal imbalance and the body's inflammatory responses, is in abundance during the months leading to the wedding.
By creating a sense of calm, starting with yourself, you will lay out the peaceful environment you want to work efficiently in for your big day. As bride or groom, you will influence your surroundings to also operate on a more efficient, serene level.
Here are some ways during the hectic, but lively pre-wedding season to incorporate impressionable wellness tactics!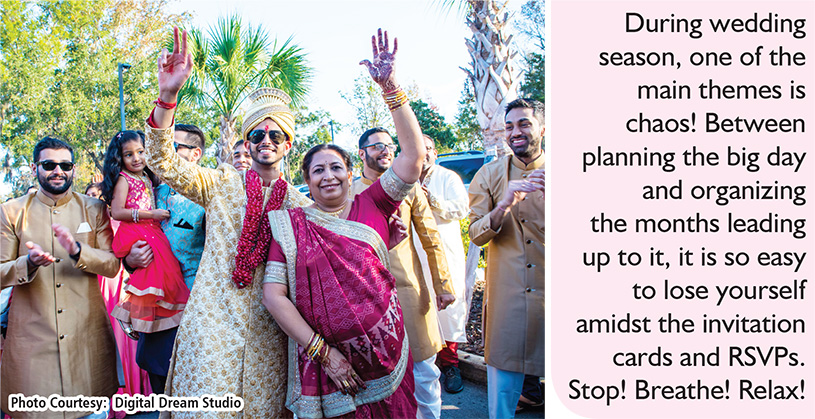 Family dances: the Sangeet is an event known for dance and celebration, and an opportunity to showcase a myriad of performances. A family performance, one where routine practices are held in person or online, is an exciting way to involve members of the family into being an integral part of the wedding. The best part? It's physical activity. Coming together to engage in exercise is a source of endorphins, the feel-good hormones in our bodies. We feel great, we are in a creative environment, and we learn to move out of our comfort zones!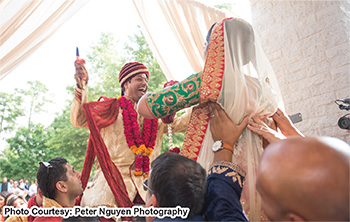 Family walks: A bride I once interviewed left me with something I never forgot. Every chance they got, she & her family would take walks together to get their minds off wedding prep and just enjoy each other's company. It was a fantastic way to breathe fresh air, decompress, and look at the bigger picture. The walks brought them together and gave them something to bond over instead of letting the pains of wedding planning tear them apart during heated moments.
Join a gym together: This doesn't necessarily have to be the bride's or groom's family, but even the bride and groom themselves together in personal training sessions! The endeavor to set goals to become a better version of yourself is even more rewarding as a couple. After becoming a Strength and Conditioning Specialist, I have noticed the increasing numbers of clients who come in pairs. Best friends, bridesmaids, couples, even mom and daughter duos! Yes, it is an excellent way to stay in shape before the big day. But to say you've completed this journey alongside someone special at the wedding – well that makes for fantastic speech material as well!
Fitness and wellness is truly influential. Becoming a source of such strong positivity can be contagious for your entire bridal party. In marriage we say, "I do," but in good health, "We Do" it together.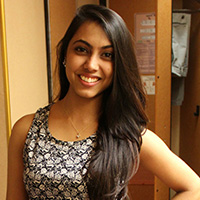 About the Author
Nisha Jani earned a Master's in Exercise Physiology and Sports Medicine from the University of Miami, where she also studied Psychology and Kinesiology. She uses her expertise in exercise & physiology to fuel her lifelong passions of dance, fitness, and teaching. She is passionate about bringing to the community an awareness about the benefits of preventative medicine in the form of exercise and diet, favoring a holistic approach to well-being. After working in cardiology, Nisha is now a Certified Strength & Conditioning Specialist, applying scientific principles towards improving athletic performance, injury prevention, and nutritional guidance.
Posted on: 09-6-2018 by: Deshvidesh