When Getting Healthy, Start Small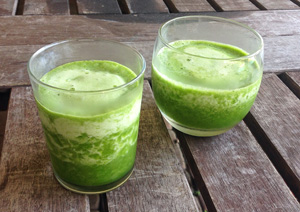 Craving Thirty and The Self Love Project
Beginnings are the worst. At least when it comes to starting healthy habits. If you have ever kicked an old habit to replace it with a new one, you know what I am talking about.
Most of America survives on food laden with refined sugars, salt and fat. We are also used to lots of caffeine and not enough water.
There have been times in my life where I was eating out a lot, and putting more and more salt in my food at home. I didn't like drinking water, unless it was flavored, and had a seemingly insatiable sweet tooth.
If this sounds familiar, then you know that when you are in this place, the thought of having a kale salad everyday is not appealing in the least. That is why I am a big fan of the transitory period and starting small.
Here is where this green smoothie comes in. The Gateway Green Smoothie is made up of only three ingredients and will convince your taste buds that healthy eating isn't so bad. Not only is it sweet and delicious, it is also a great way to get a serving of greens for breakfast.
Plus, you can make it less sweet and more nutritious whenever you want. For something less sweet, use half water, half apple juice, and then eventually just water. Over time, you can also add more greens, and experiment with different ones. For a spicy kick, replace spinach with arugula. Use dark leafy greens like kale, collard greens or swiss chard for a variety of antioxidants. You can also use beet tops, watercress, and different lettuces. But, be mindful that with each change, the flavor will change as well.
Gateway Green Smoothie
Yields: 2 – 4 servings /// Time: < 10 minutes
2 – 4 large handfuls baby greens
2 cups apple juice
2 cups frozen pineapple
Combine all ingredients in a blender and blend until smooth. Enjoy immediately, or store in an airtight container in the refrigerator until ready to drink. Shake well before drinking.
About the Author
Amanda C. Williams is the creator of CRAVING THIRTY, www.cravingthirty.com, a resource for healthy and empowered food and lifestyle choices. She focuses on plant-based recipe development and lifestyle transition programs. Amanda is also founder and executive director of The Self Love Project, www.theselfloveproject.net, a non-profit organization focused on developing and distributing self love mentoring curriculum that empowers young women.