Tapsee's Game Over Taught Her to Live for the Moment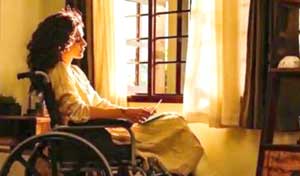 The picture Tapsee shared from the Game Over movie, supposedly made her stop and examine her life and appreciate the importance of living in the moment. We hope she is having a good time during the lockdown. Her blurb for the picture states: "We all have 2 lives, the second one starts when you have only one left," and her statement is a brilliant deduction or simple math. However, Tapsee attributes that the said statement was written on the envelope in which the picture was contained. That line hit her hard and she possibly saw stars and realized that living in the moment matters so much.
She did not realize Game Over was to have such a deep impact on her. Her opinion is that Game Over is more than just a movie for her and that she understood the underlying significance. Life, she said, is what you are going to make it. You should have the willpower to live and not just survive. We suppose those folks out on the road hiking hundreds of miles to get back to their villages will sure appreciate and take this advice to their heart.
The papers had good things to say about Pannu's hysterically distraught role in the film. Vinodhini Vaidyanathan plays a caretaker and is warm, which makes the film feel real. The film is not from the Bollywood stables, but it is of Telugu Tamil lineage … so, it has its share of blood, screams, hysterics, gore and tears. Given this, you ought to live for the moment.
lockdown
Tapsee Pannu
Game Over
Vinodhini Vaidyanathan
Bollywood