Women's History Month Spotlight: Tulsi Gabbard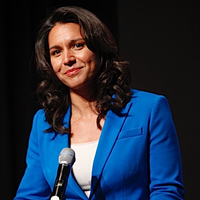 Tulsi Gabbard is an American politician and the first Hindu member of the United States Congress. United States Representative for Hawaii's 2nd congressional district since 2013, Gabbard was also a vice-chair of the Democratic National Committee until February 28, 2016, when she resigned to endorse Senator Bernie Sanders for the 2016 Democratic presidential nomination.
Gabbard's first name, "Tulsi" comes from the name of the holy basil, a plant sacred in Hinduism. She is a vegetarian and a Hindu who follows Gaudiya Vaishnavism, a religious movement founded by Chaitanya Mahaprabhu.
Gabbard was the first Hindu to join either chamber of Congress, and she used the Bhagavad Gita in a ceremonial swearing-in conducted by Speaker of the House. "I chose to take the oath of office with my personal copy of the Bhagavad Gita because its teachings have inspired me to strive to be a servant-leader, dedicating my life in the service of others and to my country," said Gabbard, who served in the Iraq War, after the swearing-in. "My Gita has been a tremendous source of inner peace and strength through many tough challenges in life, including being in the midst of death and turmoil while serving our country in the Middle East."
Gabbard describes herself as a "karma yogi" and credits her parents with instilling the value of "karma yoga" and being of service in her and her siblings.
Tulsi Gabbard 's parents were of European descent; however, they followed Hinduism. Tulsi began practicing Hinduism and meditation at a very young age. As a Vaishnava, in 2012 Gabbard said that she looked forward to visiting India, especially the holy sites of Vrindavan, after starting her congressional term.
Gabbard has said that she is pleased that her election gives hope to young American Hindus who "can be open about their faith, and even run for office, without fear of being discriminated against or attacked because of their religion."
Gabbard called on Indian Prime Minister Narendra Modi when he visited New York on September 28, 2014, and presented him with a ginger flower garland from Hawaii. She also gave him her copy of the Bhagavad Gita, the one she used to take the Oath of Office.
In February 2015, Gabbard accepted the marriage proposal of Abraham Williams and they married on April 9, 2015, in a Vedic-style wedding.
Tulsi has been honored with several awards and accolades for her outstanding contribution to politics and raising concern for several social causes. She was awarded the prestigious John F Kennedy New Frontier Award for her efforts in politics. She also received the Outstanding New Member Award and the National Parks Award. The Italian Embassy has awarded her as the Women in Washington Power List.