Young Indian Americans Rising to the Top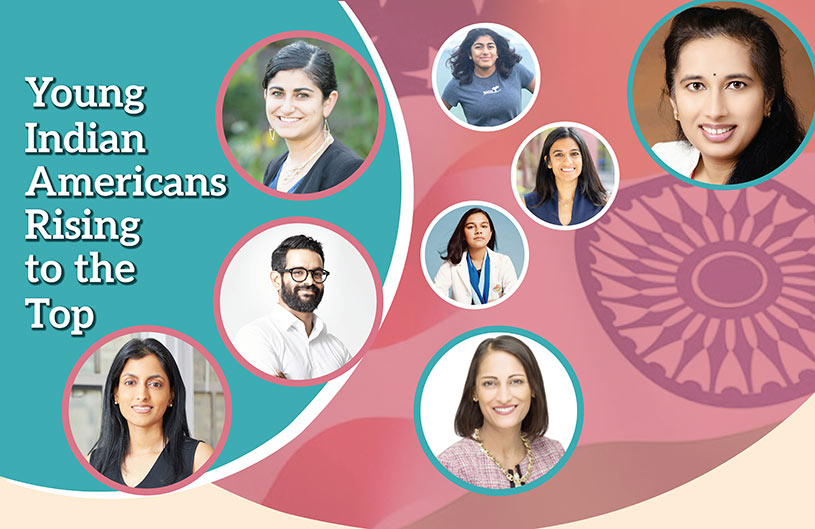 There is no doubt that Indian Americans  represent a segment of the United States population who make mammoth contributions across a variety of fields, whether in business, politics, entertainment, and many others.
In a recent conversation with NASA scientists after the historic landing of the rover Perseverance on Mars, even the President of the United States of America, Joe Biden had acknowledged this fact and remarked, "Indian-of-descent Americans (sic) are taking over the country. You (Swati Mohan), my Vice President (Kamala Harris), my speech writer (Vinay Reddy)." The 46th President of the United States is indeed qualified to make this statement having himself appointed at least 55 Americans of Indian descent to key roles in his new administration.
It has also been noted in the US that among the various minority groups residing in the country, those of an Indian origin are thought to be a "model" group due to their high levels of success.
Indian Americans:
In 2019, 75 percent of Indian Americans above the age of 25 held at least a Bachelor's degree, while adults from other immigrant groups as well as from those who were American born totaled 33 percent.
        Hold jobs across industries.
Indians and Indian Americans account for a sizable proportion of the US labor force as opposed to other immigrant groups. In addition, Indians are employed in a variety of industries including management, science, business and arts as compared to both US-born and foreign-born populations.
      Are more affluent than many other immigrant populations.
Indian Americans are known to hold jobs that pay well. A greater share of job holders of an Indian origin earn an average salary of $132,000 per year as opposed to $64,000 for other immigrants and $66,000 for US-born populations respectively.
      Hold influential positions in the fields of both politics and business.
According to a report in the Los Angeles Times, Indian Americans "have contributed more than $3 million to 2020 presidential campaigns – more than the coveted donors of Hollywood."
Indian immigrant population growing in the United States
Statistics provided by the Migration Policy Institute state that from the year 1980 to 2019, the population of Indian Americans in the United States has increased by nearly thirteen times. As of 2019, the number of Indian immigrants residing in the country was almost 2.7 million.
For people of Indian origin, the United States is the most popular choice for settling down after the United Arab Emirates (3.4 million). Other popular choices include Saudi Arabia (2.4 million), Pakistan (1.6 million), Oman (1.3 million), and Kuwait (1.1 million), according to estimates provided by the United Nations Population Division released in mid- 2019.
Indian immigrants are younger and of a working age
Additional data gathered by the Migration Policy Institute indicates that the average age of Indians who live in the US is less than other immigrant populations and also those that are native born. While the median age for all other immigrants was 46 years and 37 years for US-born natives, for Indians the average was 40 years.
This gives Indians an upper hand as when it comes to falling in the working age bracket (18 to 64 years). The higher numbers – about 81 percent of all Indian Americans fall in this category – as opposed to 78 percent of the overall foreign-born population and 59 percent of the US – born population.
CEOs of Indian descent
Even though Indians comprise just 1 percent of the total population of the United States, they account for 8 per cent of the total number of founders of some of the most high- tech companies there as well as one-third of technology startups in Silicon Valley.
Some of the big names include Microsoft's Satya Nadella, Alphabet's Sunder Pichai, IBM's Arvind Krishna, Adobe's Shantanu Narayen to name a few. Others include Ajaypal Singh Banga – CEO, Mastercard, and Indra Nooyi who was the CEO of PepsiCo.
However, apart from these world renowned names, there are several other Indian Americans who have made significant accomplishments in their respective fields. The younger generation is now doing their part to carry the torch forward, achieving top positions, breaking barriers and involving themselves in solving global issues.
Remarkable Indian Americans
Business

Sarita James
Named a 40 under 40 achiever, James is the CEO of Embark, an education technology company based in New York that assists young scholars to process applications to colleges and universities.
An Indian American from Indiana, James is a computer science graduate from Harvard University and earned an MBA from Oxford. She was a White House Fellow in 2008. Her career first began in product development at Microsoft. She is also a board member of the Asian American Writers' Workshop.

Gurinder Sangha
Also among Indians under 40 is Gurinder Sangha, a serial entrepreneur and attorney. The founding director of Intelligize, a software company empowering legal and financial professionals with technology that assists in production of reports and documents in a cost-effective fashion.
An economics and commerce graduate from the University of Toronto, Gurinder Sangha is a member of the New York State Bar Association and also worked for a while as a capital markets attorney for Sherman & Sterling in New York City before he moved into entrepreneurship.

Kal Vepuri
Yet another from the 40 under 40 list, Vepuri is the founder and chairman of Brainchild, an investment firm. He has invested in about 100 companies to date and since the year 2014, his company has served as the launching pad for three businesses. He is a triple major in electrical engineering, computer science and economics from Duke University.
Politics
Sumona Guha
Indian American Sumona Guha was named by President Biden to become the next Senior Director for South Asia at the National Security Council. Her previous experience includes serving as co-chair of the South Asia foreign policy working group on the Biden-Harris campaign.
A graduate of Johns Hopkins and Georgetown University, Guha also served as a senior vice president at Albright Stonebridge Group, and she was special advisor for National Security Affairs to then Vice President Biden during the Obama administration.
Sonia Aggarwal
Sonia Aggarwal was the recipient of a national award from the U.S. Department of Energy in 2019 for her leadership in clean energy advocacy, and she was named on the Energy News Network's top 40 under 40 list. She holds a B.S. in astronomy and physics from Haverford College, and an M.S. from Stanford University in engineering, focused on energy.
She is the Senior Advisor for Climate Policy and Innovation, Office of Domestic Climate Policy, before which she was the Vice President of Energy Innovation, a San Francisco-based energy policy firm that provides research and analysis to help put in place policies that reduce greenhouse gas emissions.
Science 
Pawan Singha
A Cambridge-based scientist who won the Presidential Early Career Award for Scientists and Engineers, Pawan Singha has contributed in experimental and computational approaches to studying human visual cognition.
Singha is also the founder of Project Prakash that combines cutting edge visual neuroscience with a humanitarian objective – eye-care camps in some of the most habitually underserved regions of India, and since 2003 gives free eye-health screenings to more than 700 functionally blind children who are treated without charge.
Parag A. Pathak
A recipient of the Presidential Early Career for Scientists and Engineers by the White House Office of Science and Technology Policy, Pathak was educated at Harvard University where he received a Bachelor's and master's degrees in Applied Mathematics (summa cum laude) and PhD in Business Economics in 2007 with the support of The Paul & Daisy Soros Fellowships for New Americans.
He joined the MIT faculty in 2008, and was voted tenure in 2010. At MIT, he also co-founded and served as Director of the School Effectiveness & Inequality Initiative, a group of economists who study the economics of education and the connections between human capital and the American income distribution.

Swati Mohan
Born in Bengaluru, Karnataka, Mohan studied Mechanical and Aerospace Engineering at Cornell University, before completing her master's degree and Ph.D. in Aeronautics and Astronautics at Massachusetts Institute of Technology.
She works at NASA's Jet Propulsion Laboratory in Pasadena, California, and is the Guidance & Controls Operations Lead for the Mars 2020 mission. Mohan joined the Mars 2020 team in 2013, soon after the team was formed. Her role included responsibility for ensuring the spacecraft that carries the rover was properly oriented during its travel to Mars and during its landing on the surface of the Red Planet.
She announced "Touchdown is confirmed," after which the JPL Mission Control Center rose in celebration.
Entertainment

Aziz Ansari
American actor, producer, director and comedian, Aziz Ansari has been nominated in four categories at the Emmys for his show Master of None on Netflix. He also won the Emmy for "outstanding writing for a comedy series" for the "Thanksgiving" episode in the first season.
At the Golden Globe Awards as well, Ansari has received nominations for "best actor in a TV series, comedy,""best TV movie or limited release" and "best TV series, musical or comedy" and was the first Indian American to host Saturday Night Live in January 2017.

Mindy Kaling
Mindy Kaling, originally Vera Mindy Chokalingam, is an American actress, comedian, writer, producer, and director. She rose to stardom after her role as Kelly Kapoor in the NBC sitcom The Office, where she also served as a writer, executive producer, and director.
She was nominated for a Primetime Emmy Award for Outstanding Writing in a Comedy Series and five times for Outstanding Comedy Series. She then went on to create, produce and star in the Fox comedy series The Mindy Project (2012–2017).
She created the NBC sitcom Champions (2018), appears in five episodes, the Hulu miniseries Four Weddings and a Funeral (2019), and the Netflix comedy-drama series Never Have I Ever (2020).
Kaling's film career includes voiceover work in Despicable Me (2010), Wreck-It Ralph (2012), and Inside Out (2015). She has worked in comedies, such as The Night Before (2015), A Wrinkle in Time and Ocean's 8 (both 2018), and Late Night (2019).
Kaling has also written Is Everyone Hanging Out Without Me? (And Other Concerns) (2011)  and Why Not Me? (2015), which made it to The New York Times Best Seller list.

Kal Penn
Kal Penn, born Kalpen Suresh Modi, is an American actor who has also been a White House staff member in President Barack Obama's administration.
Penn is best known for his role portraying Lawrence Kutner on the television program House, as well as the character Kumar Patel in the Harold & Kumar film series. He is also recognized for his work in the film The Namesake.
Kal has taught at the University of Pennsylvania in the Cinema Studies Program as a visiting lecturer.
The Next Generation 

Gitanjali Rao
Born in 2005, Gitanjali Rao is an Indian-American inventor, author, scientist and engineer, and also a science, technology, engineering, and mathematics (STEM) promoter. In 2017, she won the Discovery Education 3M Young Scientist Challenge, made her way to the Forbes' 30 under 30 list for her innovations and was named TIME Top young innovator in 2020 for her innovations and "innovation workshops" she conducts across the globe.
On December 4, 2020 was featured on the cover of TIME magazine and named their first "Kid of the Year".
Rao has also said she is interested in studying genetics and epidemiology and has spoken up about the gender pay gap. She is conducting research at the University of Colorado.
Angel More
Angel More, from California, is an award-winning long distance swimmer. She became the youngest swimmer to have successfully finished the California Triple Crown of marathon swimming: the Anacapa Channel (12 miles), the Catalina Channel (20 miles), and Lake Tahoe (21.3 miles).
Her passion for swimming and zeal for philanthropy has resulted in significant fundraising for Children International, a Kansas City-based non-profit that provides necessary resources for underprivileged children to learn and grow.
More is the youngest swimmer to have covered a distance of six miles from the Golden Gate Bridge to the Bay Bridge. She aims to raise $100,000 for Children International.

Anuva Shandilya
Teenage runner and Founder of Chance for Sports Non-profit, Anuva Shandilya from Naperville, Illinois, works for underprivileged children in developing countries like India with refurbished sports equipment. She believes that sports are transformative experiences that can make one confident and fearless.
Shandilya believes it is not fair that many children stay off the playing ground because they can't afford to buy sports equipment due to high prices. She, along with her younger brother, started the project by collecting used sports equipment from people in her neighborhood.
Today, having distributed over 3500 pieces of sports equipment, electric scooters and bicycles to over 1000 children, Chance for Sports is a 501 (c) 3 non-profit organization and has a team of 70 volunteers.

Mehaa Amirthalingam
Mehaa Amirthalingam was one of the five Indian American students among the 10 finalists of Discovery Education Network's 3M Young Scientist Challenge 2018.
A resident of Sugar Land, Texas, Amirthalingam has built an innovative water-saving toilet flushing system that uses recycled water and not only cuts water consumption in households but also helps deal with water scarcity.
The 8th grader wishes to be a patent-holding engineer by the time she is 30 and strongly believes that innovation should not degrade humanity for the sake of personal gain.
Karina Jadhav
This top ranked golfer in the United States, also the 4th ranked in the world in her age group, finished near the top of the leaderboard in the IMG Junior World Championships when she was 8 years old.
A student of Huntington Beach Pegasus School in Orange County, she showed an interest in playing golf, especially driving at the age of 4. Currently with her ability to drive the ball beyond 160 yards, she finished third for driving distance in the 'Drive Chip and Putt' local tournament where she participated in the 9-year-old girls' category.
Indian Americans
United States population
NASA scientists
Kamala Harris
Vinay Reddy
Young Scientist Challenge
Presidential Early Career
Migration Policy Institute
Gurinder Sangha
immigrant populations
Vice President
Jet Propulsion Laboratory
Anacapa Channel miles
Microsoft's Satya Nadella
Alphabet's Sunder Pichai
IBM's Arvind Krishna
Adobe's Shantanu Narayen
Ajaypal Singh Banga – CEO Mastercard
Indra Nooyi the CEO of PepsiCo