Bumps for Bigg Boss 13th Winner Siddharth Shukla
Pandemic or not, celebrations must go on, especially to show that we are not going to be cowed by a tiny virus. Siddharth Shukla obviously belongs to this school of thought and got together with his friends and family to celebrate his 40th birthday with gusto.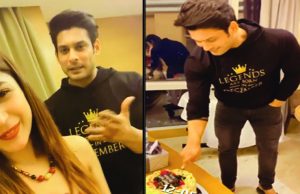 Though the Big Boss 13 winner did not or could not share photos, he did share a video of the December 12th celebrations. The video was shared on Instagram with the message, "I couldn't celebrate my birthday with you all… so here's an insight!"
One sequence in the video shows Siddharth held fast by his sisters and brothers in law while they administer 40 bumps to him, one each for the year he has lived so far and you can take vicarious pleasure at seeing him scream. It was fun and totally enjoyable for everyone. In a parody of the Manna Dey song "Kisne Chilman se Maara" Siddharth quips "Kisne itne khunnas mein maara?" To which his sister asks him to cut the cake. Siddharth's mother lovingly watches her offspring with a smile on her face, laughing at their antics. Appropriately, Siddharth's T-shirt displays the legend "Legends are born in December."
Along with his family Siddharth had his friend Shehnaaz Gill and others to light up the event. The only dark spot was when some goons tried to threaten the actor on his way back. Siddharth lodged a police complaint. Apparently matters are resolved. Police arrested the people when they harassed his brother-in-law's staff members in Versova.  Anyway, here's a big happy birthday to the boy with a big heart. He considers it the best one so far with lots of wishes pouring, numbers of cakes gifted to him and tons of blessing.
Click Here for More
pandemic
Siddharth Shukla
40th Birthday
Big Boss 13
Instagram
40 bumps
Manna Dey
Kisne Chilman se Maara
Kisne itne khunnas mein maara?
Legends are born in December
Versova