Our Time Has Come: How India is Making Its Place in the World by Alyssa Ayres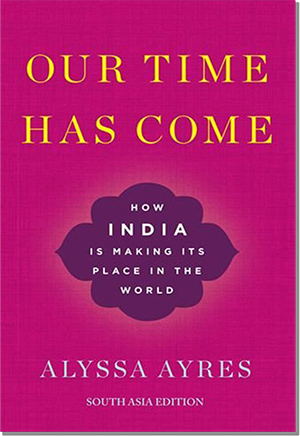 ---
Book Review by Raj Shah, Managing Editor, Desh-Videsh
---
In 2015, Indian Prime Minister Narendra Modi spoke to ASEAN world leaders and said, "Our democratic values and an alert judicial system ensure the safety of your investments. Most of the ASEAN economies have done their bit for Asia's resurgence. Now, it is India's turn. And we know that our time has come."
In the book Our Time Has Come, Ms. Alyssa Ayres, Senior Fellow for India, Pakistan, and South Asia at the Council on Foreign Relations, writes about this speech and it seems like she used this as inspiration for her newest book title.
Ayres, who has a very positive about India's current economic condition, is also exceedingly bullish about the future of India. She goes on to make a bold statement in the book:
India is now on track to become the world's third-largest economy at market exchange rates over the next fifteen years.
She adds:
India's middle class has grown by leaps and bounds, and the country's sheer scale-its huge population and $2 trillion economy-means its actions will have a major global impact. From world trade to climate change to democratization, India now matters.
In Our Time Has Come, Ayres presents a balanced and carefully researched analysis of India's prospects where she documents India's rise to global eminence over the past 25 years. Ayres covers India's economic journey in eight chapters, which are divided into three parts: "Looking Back,"  "Transition," and "Looking Ahead." The epilogue, and the most important section of the book in my opinion, has very specific and bold recommendations for United States and Indian policymakers alike.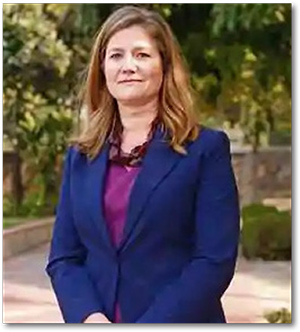 Ayres quotes her former boss, former under Secretary of State for Political Affairs and professor R. Nicholas Burns:
"We can now see clearly that India, a great civilization with thousands of years of history and the self-confidence that comes with it, will pursue its own interest as a 21st century great power. We will not become formal treaty allies. We will align on many issues, but we will not be "aligned"."
Ayres' use of her former boss' quote suggests to US policymakers how the partnership between India and US can be strengthened even though India wants to be a non-aligned nation. She writes:
India that seeks to be a 'leading power' rather than a 'balancing power', the present government no longer talks of 'strategic autonomy', and 'non-alignment' is a thing of the past, with Prime Minister Modi even skipping the NAM summit.
She then reminds US policymakers of the relationship between the US and India during the Cold war era:
Our [the United States'] relationship with democratic India—going from estrangement of the Cold War decades to partnership in the twenty-first century—as it emerges among the world's great powers will likely stand as a defining policy shift, one that we missed in the twentieth century but have pursued in the twenty-first.
Besides India's economic leadership, Ayres also discusses past and present leadership in other areas such as Swami Vivekanand's dominance at the Parliament of the World's Religions in Chicago in 1893, Chanakya's Arthashastra, and International Day of Yoga. She writes about passing the resolution of International Day of Yoga at the United Nations:
Indians Diplomats secured a formal general Assembly resolution on yoga, passed on December 11,2014, making June 21 as the International Day of Yoga. For the inaugural international observance the following year, Modi himself led Some thirty-five thousand people in a group yoga session in New Delhi.
In this remarkable book, Ayres does not leave any stones unturned when it comes to Indian foreign policy. She discusses Pakistan-led terrorism and recommends:
The United States should continue to pursue stronger security cooperation with India. While Washington should maintain its separate relationship with Pakistan, American officials should insist muchmore forcefully-as some members of congress have begun to do-that Pakistan take action against terrorists who are destroying its own society and damaging its relations with its neighbors. Should Pakistan refuse to take action against all terror groups-not just those that threaten the Pakistan state-Washington should prepare to reevaluate its relations with Pakistan.
Ayres concludes Our Time Has Come with an optimistic and bullish note about India's future. By 2040, India will be the third largest economy in the world after the US and China. The nation will have a powerful military, especially naval power, and she will emerge with a stronger manufacturing sector to complement its global services.

---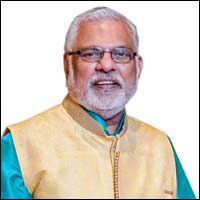 About Raj Shah

A software engineer by profession, Indian culture enthusiast, ardent promoter of Hinduism, and a cancer survivor, Raj Shah is a managing editor of Desh-Videsh Magazine and co-founder of Desh Videsh Media Group. Promoting the rich culture and heritage of India and Hinduism has been his motto ever since he arrived in the US. Raj has served as a board member of South Florida Hindu Temple and Hindu University of America and Chairman of the Board of International Hindu University. Raj has written two books titled Chronology of Hinduism and Understanding Hinduism. He has also written six children's books, We love Diwali, Holi Hai, The Complete Ramayan in 100 Tweets, The Mahabharat in 100 Tweets, Coloring and Understanding Hindu Symbols and Welcome to my beautiful Mandir.
---
Indian Prime Minister Narendra Modi
judicial system
ASEAN economies
Asia's resurgence
Our Time Has Come
Ms. Alyssa Ayres
India
Pakistan
South Asia
India's current economic condition
world's third-largest economy
major global impact
21st century great power
US policymakers
Prime Minister Modi
democratic India
Cold War
twenty-first century
India's economic leadership
Swami Vivekanand's dominance at the Parliament of the World's Religions in Chicago in 1893
International Day of Yoga at the United Nations
state-Washington
global services
Raj Shah
A software engineer
South Florida Hindu Temple
Hindu University of America
Chairman of the Board of International Hindu University
Chronology of Hinduism
Understanding Hinduism
Holi Hai
The Complete Ramayan in 100 Tweets
The Mahabharat in 100 Tweets
Coloring and Understanding Hindu Symbols
Welcome to my beautiful Mandir