A Journey Down the Aisle to Fitness

While you work backwards on your wedding planning, keep your health and fitness in mind. It can make all the difference during the actual event- as well as in those photographs you'll cherish forever. Whether you're the bride, bridesmaid, or mother of the bride, this is an opportunity to start a new, healthy chapter in your life! Use this to guide yourself on the path to bridal fitness.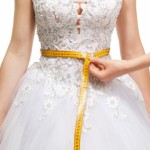 6 months out: Start your engines! This is a terrific starting point for your fitness journey.
Begin by outlining a plan to target your "problem areas." Take a "before" picture of yourself now and for every two weeks after to monitor your progress. Plan your routine: aim for 30-45 minutes, three times a week, in order to form a habit of working out. Start with free weights while sitting on a stability ball to target your abdominal muscles. Free weights, like dumbbells, are excellent to balance out your appearance, forcing you to stabilize your core while working out a particular muscle. Machines can help isolate a body part, but your overall posture and strength will improve efficiently while using free weights. Have more time? Go for an hour long brisk walk to get your circulation going while detoxifying through sweat.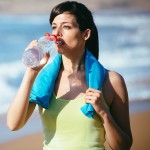 5 months out: While focusing on building a new routine, start incorporating a higher water intake. Try to drink 8 ounces of water 8 times a day. Label a water bottle by the ounce and track yourself. This will keep your skin moisturized from the inside out. Your face will continue to look rested and fresh throughout the months as your stress levels tend to rise. Also, stock up on protein powders and nutrition shakes if you find yourself skipping healthy meals. The added protein will satisfy your hunger while feeding hungry, working muscles.
3 months out: Increase your workouts to four times a week for 30-40 minutes, but at a higher intensity. Incorporate green tea into your diet to keep the bloating low and antioxidants high. Start limiting simple-carb foods like white bread, sugary drinks and white rice – all of which can increase your glycemic load and cause highs and lows of energy. Energy crashes can disrupt productivity and your sleep cycle. Focus on whole grains, brown rice, and fiber rich fruits & veggies.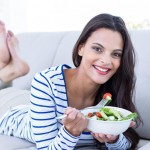 2 months out: Stay consistent! Keep post-it notes of motivational quotes around your mirror to remind you of your goals. Keep your workouts short, frequent, but intense. When you're not working out, check your posture throughout the day. Posture is key to looking great in your wedding outfits while boosting your confidence. Work those shoulder muscles, engage your core. While sitting at a desk, bring attention to the back – chin up, no slouching. Posture can be worked on by stretching out tight hamstrings and lower back muscles.
1 month out: The floodgates of anxiety are now wide-open. Stay hydrated! Delegate tasks so you can focus on rest. Sleep is critical. Every night for the next month, keep your wake up and wind down time consistent. Work out three times a week until the last week. Focus on deep stretching and yoga to promote flexibility, reduce anxiety, and enhance strength. Find your favorite herbal face masks, or use green tea bags on your eyes to relieve puffiness and redness under the eyes.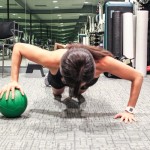 1 week out: I can't stress this enough. Keep your hands clean and don't touch your face too much! This keeps extra bacteria from depositing, causing breakouts you just don't want before your big day. No rigorous exercise now – you'll want to minimize your risk of injury. Drink lots of water and minimize sodium intake. Sodium increases overall body swelling, making you feel bloated. And of course, have fun! This is your moment. Reflect on your progress, and compare your before and after pictures. You've come so far.
The strength you've steadily built through your workouts these months will pay off. You'll realize how energetic you feel after following a steady regime. The hard work you put in will now radiate as confidence on your big day.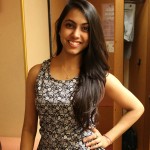 About the Author
Nisha Jani earned a Master's in Exercise Physiology and Sports Medicine from the University of Miami, where she also studied psychology and kinesiology. She currently pursues athletic training & strength conditioning, while working full time in cardiology. Nisha's expertise in exercise and physiology fuel her lifelong passions of dance, fitness, and teaching. She is passionate about bringing awareness to the community about the benefits of preventative medicine in the form of exercise and diet, favoring a holistic approach to well-being.