Aaliya Records Statement Before POCSO Court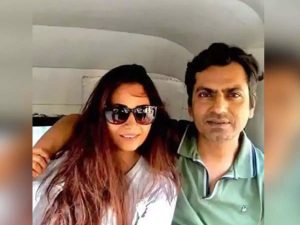 Aaliya, ex-wife of Nawazuddin Siddiqui, now goes by her maiden name Anjana Anand Kishore Pandey. She appeared before the POCSO court and recorded her statement before the magistrate. Her statement supported her allegation that the actor's brother had molested a family member in 2012.
According to PTI reports, Circle Officer Girija Shankar Tripathi said that Aaliya appeared before the POCSO court and recorded her statement under section 164 of the CrPC subsequent to her complaint against her ex-husband and his four family members. She alleges that the actor's brother molested a child family member.
The allegation has been denied by the actor's brother Saifuddin Siddiqui. According to him, Aaliya is trying to blackmail and extort money. Shamas Nawab Siddiqui, another brother of Nawazuddin, also came to his brother's defense in the wake of being accused of rape and cheating. Shamas too stated that these are false accusations and that he would approach the Bombay High Court for relief and to get the complaint quashed.
Since Aaliya filed for divorce in May 2020, the accusations have been flying fast and furious. Nawazuddin sent a legal notice to her when she filed for divorce. His lawyer accused her of trying to malign the actor. Aaliya, on her part, claimed that her ex-husband stopped paying her the legal monthly allowance, but this allegation was refuted by Siddiqui's lawyer who showed screenshots of payments made to Aaliya.
If that is not enough, Aaliya went on to accuse the actor of infidelity in July and further claimed that the actor's brother would keep her informed of women visiting their house while she was pregnant and was expecting her first child. The couple was married in 2009 and have two children.
Aaliya
Nawazuddin Siddiqui
POCSO Court
Anjana Anand Kishore Pandey
PTI reports
Circle Officer
Girija Shankar Tripathi
Section 164 of CrPC
Saifuddin Siddiqui
Shamas Nawab Siddiqui
Bombay High Court